Acne prone skin is hard to manage and is expensive to care for. Right? Wrong! You can totally treat your acne naturally and effectively right at home, without buying any conventional acne treatments!
Instead of buying that icky chemical acne serum, try making your own homemade face serum for acne, using pure and fresh ingredients from Nature!
I'll show you how you can make your own face serum in this post. Let's check out the ingredients we'll be using and how they work:
Ingredient Profile
Aloe vera gel – It's a soothing ingredient that has anti-inflammatory properties. It calms down angry red and inflamed acne. It also has a skin tightening effect which tightens pores that secrete a lot of oil onto the skin's surface.
Tea tree oil – It's the best essential oil for acne. Tea tree oil has disinfecting properties that fight off bacteria and germs that cause acne. It also purifies pores and keeps skin fresh.
Rose hydrosol – It contains vitamin C which is good for acne prone skin. It's also cooling and refreshing for inflamed and itchy red acne.
Argan oil – It's moisturizing and has a comedogenic rating of zero, which makes it a safe oil to use for acneic skin. Comedogenic rating is a scale from 0-5 which shows the pore clogging ability of an oil/skin care product.
Homemade Face Serum for Acne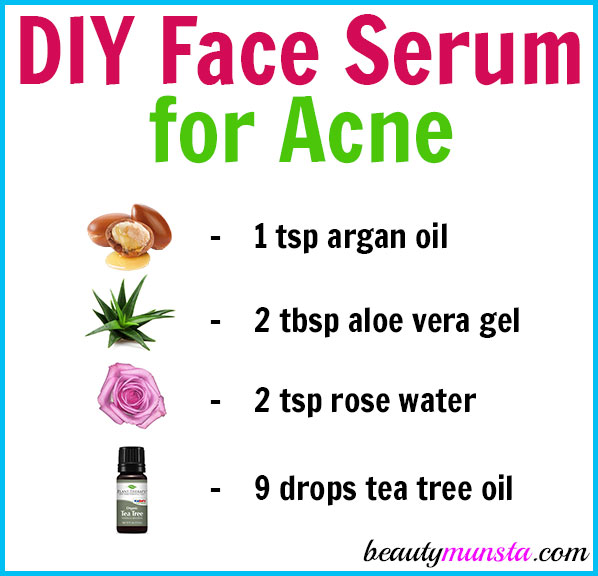 What you need
Directions
Into your amber dropper bottle, pour in the aloe vera gel, argan oil and rose water. Use a small funnel to help you with this process.
Now close the bottle and shake well to combine everything together.
Use 4 drops on your face right after cleansing it, before toning and moisturizing.
My Tips
Instead of argan oil, which can be pricey, you can use other non-comedogenic oils such as hemp oil, sunflower oil, safflower oil or prickly pear oil.
I used just a 1% essential oil dilution (1 drop of essential oil in 1 tsp of base ingredient: aloe vera gel) for this homemade face serum for acne. But the safe dilution rate for adults is up to 2% dilution (2 drops of essential oil in 1 tsp of base ingredient) so you can increase the number of drops to 18, provided your skin is not sensitive.
If this homemade face serum for acne is moisturizing for your skin, you can use it in place of your moisturizer! Especially if you're skin is overly oily and your pores get clogged up often – which means you don't have to keep piling products on your face.
So that's it! A simple but effective homemade face serum for acne! Give it a go and come share your results!