Let's look at the 7 best essential oils for skin brightening in this post!

Dull skin may be caused by a variety of factors including poor diet, not drinking enough water, constipation, sun damage, smoking, alcohol consumption, stress and even lack of proper exfoliation. If you're a victim of any of these, then try changing your lifestyle and you're skin will definitely get back its original luster! It doesn't hurt to drink enough water or add some antioxidant-rich fruit in your diet, does it?
I find that doing water therapy really helps keep my system clear of toxins and helps brighten skin complexion. You can read more about it here. Using turmeric face masks or orange peel face masks also help brighten skin from the outside.
Also Read: 11 Carrier Oils for Skin Lightening, Skin Brightening
7 Best Essential Oils for Skin Brightening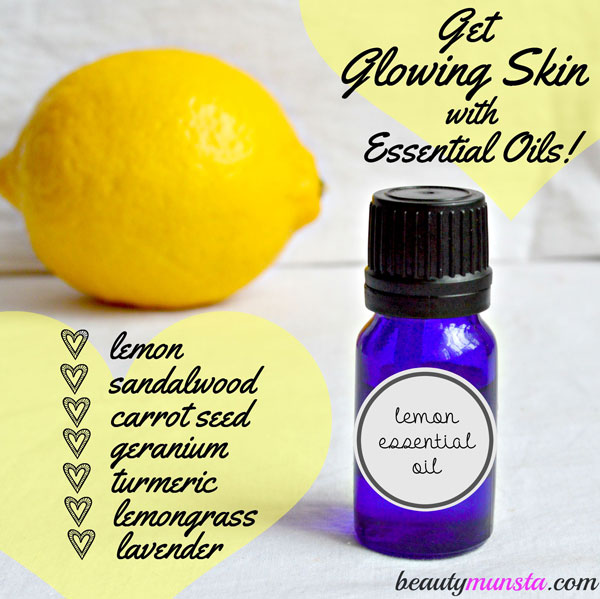 1. Lemon Essential Oil
Lemon essential oil is the BEST essential oil for skin brightening and repairing discolored or hyperpigmented skin. It's rich in two potent natural skin bleaching ingredients: limonene and citric acid. Limonene helps treat skin discoloration, protect against skin cancer and lightens skin. Citric acid is an Alpha Hydroxy Acid, which exfoliates dead cells and stimulates cell turnover thereby leaving skin looking bright. Don't miss: Top 10 Beauty Benefits of Lemon Essential Oil
► Night Time Face Cream:
What you need:
Directions:
In a Magic Bullet, add 1/2 cup of soft shea butter, 1 tbsp rose water and 10 drops lemon essential oil. Blend till creamy! Store this night cream in an amber jar and massage all over your clean face and neck at night time. This is among the best treatments for skin brightening, IMO! Caution: Lemon essential oil is photosensitive so do not wear it and go out in the sun as it may cause hyperpigmentation.
2. Sandalwood Essential Oil
Sandalwood trees can take up to 60 years to mature, after which it is cut and sandalwood essential oil is extracted through distillation. Their aromatic wood is prized in aromatherapy for the harmonizing and calming effect it gives. It is very popular in skin care for its moisturizing and hydrating properties which leave skin soft and supple. When it comes to skin brightening, sandalwood, also known as chandan in South East Asia, has been used to lighten skin, get rid of discoloration & hyperpigmentation as well as naturally brighten up dull skin! Don't miss: 10 Beauty Benefits of Sandalwood Essential Oil for Skin & Hair
► My Fav Sandalwood Blend:
What you need:
Directions:
In an amber glass dropper bottle, add 1/4 cup of argan. Next drop in sandalwood oil (5 drops). Close the bottle and roll it between your palms to evenly blend the oils.  Apply for natural radiance!
3. Lemongrass Essential Oil
Just like lemon essential oil, lemongrass essential oil also contains limonene which helps lighten and brighten skin. It also has detoxifying properties which clear skin congestion and remove impurities that make skin appear dull.
► Lemongrass Skin Brightener: Mix a few drops of lemon grass essential oil and any other essential oils for skin brightening that blend well with it such as lemon, geranium, lavender, cypress, fennel , clary sage and cedarwood, with a skin lightening carrier oil such as sesame oil and use it on your skin.
4. Carrot Seed Essential Oil
One of the best essential oils for sun damaged skin, carrot seed essential oil has a powerful skin brightening effect. If your skin is red and blotchy, using carrot seed essential oil will gradually transform it into a gorgeous golden color! Carrot seed essential oil is also a great essential oil for hyperpigmentation. It contains a lot of skin loving beta carotene, the antioxidant which gives carrots their orange hue, lightens dark patches on skin and is even said to cure melasma. Carrot seed essential oil also helps speed up cell regeneration and lightens skin tone. Don't miss: Carrot Seed Oil for Skin Lightening (The Essential Oil) | How to Use it
► Carrot Seed Sunscreen:
Consider making a carrot seed sunscreen as follows:
What you need:
Directions:
In a double boiler, melt together ½ cup olive oil, ¼ cup of coconut oil and ¼ cup of beeswax pastilles on medium-low heat. Stir occasionally to help the ingredients melt evenly. Once melted, stir in 2 tbsp of non-nano zinc oxide powder until well mixed. Now let it cool in the refrigerator until partially solidifies (15-10 minutes). When the time is up, add 1 tsp of cranberry seed oil, 1 tsp of vitamin E oil and 1 tsp of red raspberry seed oil. Whip the ingredients with a hand mixer until you get a fluffy whipped cream like texture. Store in amber plastic jars and take one jar to the beach with you! Slather it on after swimming as well!
5. Turmeric Essential Oil
Turmeric root has been used since 4000 years ago and is highly valued for its powerful antioxidant, antiseptic, anti-inflammatory and anti-cancer properties. In Ayurveda, the golden spice is prized and called the all-purpose cleaner because it purifies the body internally and externally. Turmeric essential oil is extracted from the roots of the turmeric plant through steam distillation. It has numerous beauty benefits for skin including brightening and lightening the skin. If turmeric itself has a powerful bleaching effect on skin, imagine what the essential oil of turmeric can do. Don't miss: Turmeric for Skin Whitening, Lightening & a Golden Glow!
► Moisturizer: Add just a few drops of turmeric essential oil in shea butter. or a carrier oil of your choice and apply it on dull skin to brighten it instantly.
6. Lavender Essential Oil
A must-have in every household, lavender essential oil is one of the best essential oils for skin brightening. It is well known for its skin soothing and calming properties which reduce skin reduce and heal inflammation, leaving skin looking healthy and flawless. It also fades dark spots, age spots and discolorations thereby making skin brighter.
7. Geranium Essential Oil
Geranium essential oil is one of the first essential oils I bought and it's safe to say that I'm hooked for life! It's especially good for women because of its hormone-balancing properties and beautiful feminine scent. Geranium essential oil is extracted by steam distillation from geranium flowers, which are native to Africa.
► Geranium Glowing Skin Gel:
What you need:
Directions:
Add the aloe vera gel to a bowl followed by the essential oil drops. Whisk everything well to create a well combined gel mixture. Transfer into an amber jar for storage. Massage the gel on your face at night time. If you face feels dry after using it, use a tiny piece of your usual moisturizer to moisturize or if you want to go natural, use a pea-sized amount of shea butter.
My Fav Skin Brightening Vitamin C Serum

In addition to using essential oils for skin brightening, you might want to try a high quality Vitamin C serum that works! Vitamin C is well known for boosting collagen production to keep skin youthful. It also makes skin brighter and clearer! You've got to try Amara Organics Vitamin C Serum with Hyluronic Acid & Vitamin E. I hope it does wonders for your skin! 🙂
Take Care, Lovelies 
Here are some safety measures to take before using essential oils:
♥  What essential oil are you going to try to achieve glowing skin? Please share in the comments below! ♥