Brighten your day and skin with this turmeric honey face mask!
Turmeric and honey, which are both natural skin bleaching ingredients will bring a beautiful glow to your face. Turmeric is an Eastern spice that is popularly used to bring a natural shine to skin. Honey is a natural bleach and contains anti-inflammatory and antiseptic properties that will promote a smooth skin complexion.
Let's look at the skin benefits of turmeric and honey 101!
Skin Benefits of Turmeric
Turmeric is a spice that has long been used as a face mask ingredient in the Eastern world, to bring out a special radiance to skin. At a closer glance, turmeric is not just a spice for curries. It actually has antiseptic, antibacterial, anti-inflammatory and antioxidant properties when used topically on skin. It contains the following potent nutrients for radiant skin:
B-vitamins: B-vitamins are powerful antioxidants that are necessary for cell regeneration and new cell turn over. They keep skin moisturized and healthy.
Calcium: The epidermal layer of skin contains a significant amount of calcium. It solves dry and itchy skin.
Vitamin C: A powerful antioxidant that boosts collagen production, vitamin C also fights free radical damage and promotes glowing skin. It maintains skin's natural elasticity and tautness thereby slowing down the aging process of skin.
Potassium & Magnesium: These two minerals solve dry skin by moisturizing and hydrating. They also promote youthful skin by preventing oxidative damage to skin cells.
Skin Benefits of Honey
Honey is one golden miracle when it comes to skin. It is a valuable face mask ingredient and you just can't afford to miss the skin benefits of this amazing super food! It contains anti-fungal, antibacterial, antiseptic, antioxidant, anti-inflammatory properties that will boost the skin's natural beauty. It contains powerful antioxidants and enzymes – some of which haven't yet been discovered by modern scientists.
Check out the skin benefits of nutritious honey:
Anti-oxidants: Powerful antioxidants such as b-vitamins, among others are bolster the skin's natural UV defence. They help fight off oxygen stealing free radicals that cause premature aging.
Enzymes: Active enzymes in honey have various topical benefits for skin.
Ingredients
How to make a Turmeric Honey Face Mask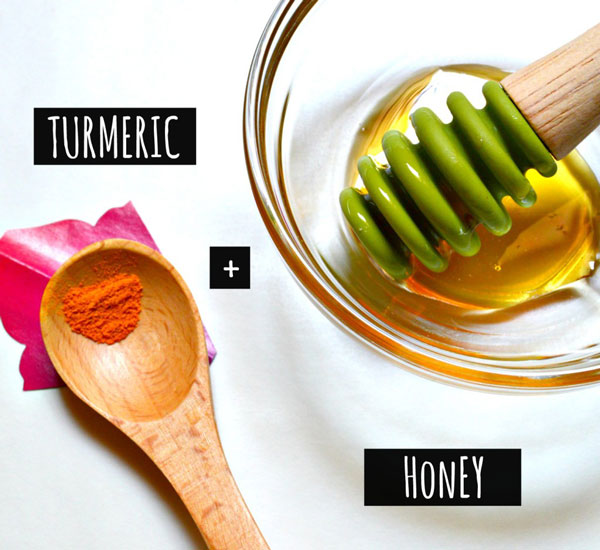 1. Fetch your ingredients. You will need a teaspoon of organic honey. Try not to use the regular honey in a bear bottle as this contains additives that may irritate your skin. Use only a pinch of turmeric powder. More than this might stain your skin yellow.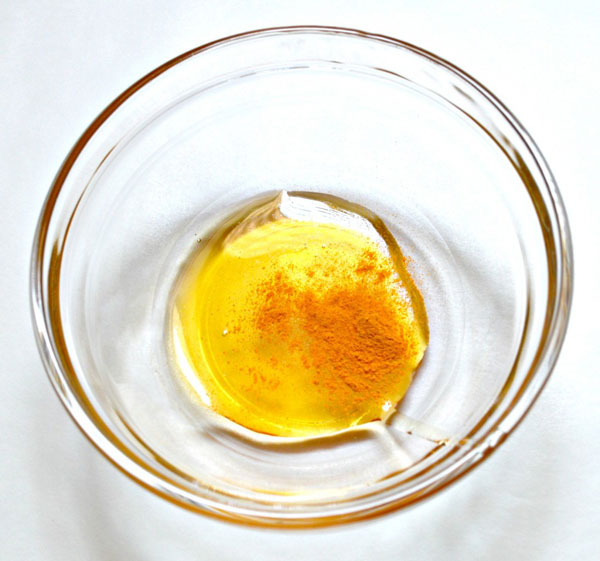 2. Pour the honey into a small bowl. Stir in the turmeric until you get a thick even consistency.
3. Now ready: Your turmeric honey face mask should look like this!
How to Apply the Turmeric Honey Face Mask
Start with a clean dry face. Gather away bangs and stray hair behind your head using a headband.
Wear an old T-shirt (preferably black) to avoid staining your clothes. Beware, turmeric can stain almost anyything!
Use a face mask brush or your clean finger tips to apply the mixture from your forehead downwards, moving in a gentle circular motion.
After application, wait for 15 minutes to let the face mask penetrate deep into the skin pores.
When the time is up, rinse off with warm to tepid water. Pat dry using dry tissue paper.
My Tips
A pinch of turmeric powder goes a long way. Plus, it won't stain your skin yellow especially since we're using a tiny amount and mixing it with something sticky like honey.
Apply this face mask at night especially if you're still apprehensive about using turmeric in your mask. Wake up to a dewy soft face!
Remove unwanted yellow stains on skin using a soft brown sugar face scrub. In case you get turmeric on your nails, work to remove the stains using lemon juice and a nail brush.
Store excess face mask mixture in the refrigerator and use within 4 days. Funky smelling mixture should be thrown away immediately.
 Do facial steaming before hand to open up your pores so that the face mask can sink deep into the skin.