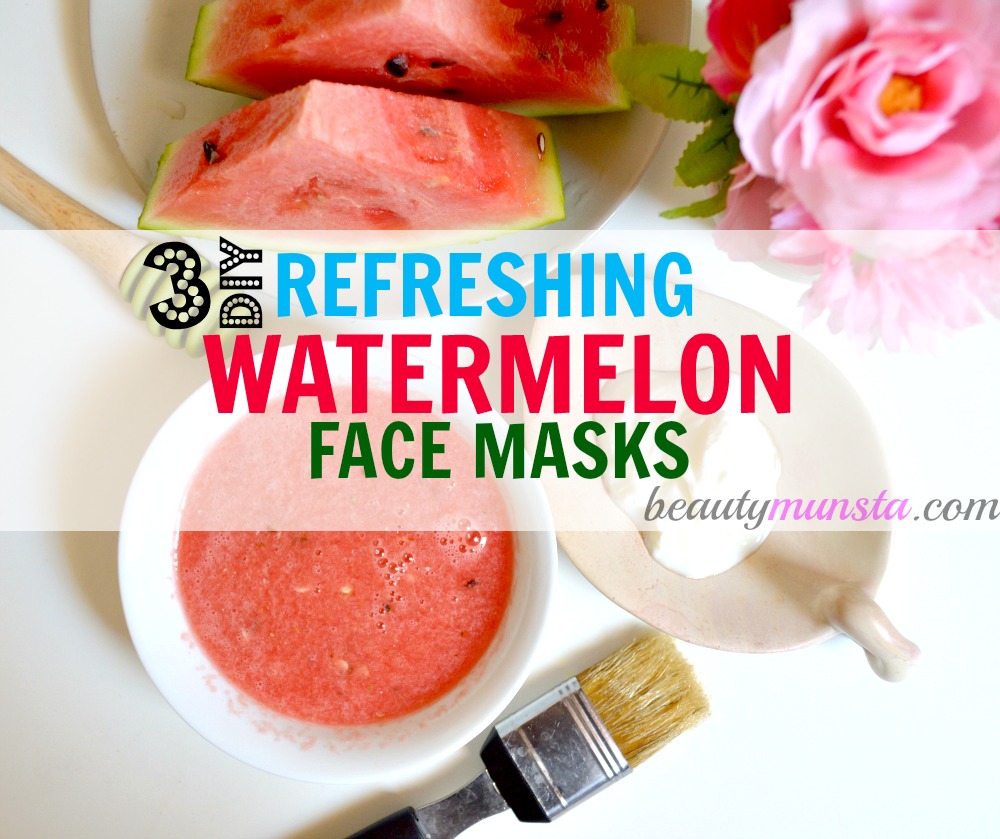 Here are three refreshing water melon face mask recipes to hydrate & rejuvenate tired skin!
Refresh your skin with these 3 refreshing watermelon face mask recipes for common skin types – dry, oily and combination skin. Watermelon is not just a huge fruit filled with water! Though it does contain over 90 % water, it is also enriched with natural sugars and antioxidants that are great for your health and skin too!  It has amazing skin benefits including toning and cleansing skin, anti-oxidant and anti-aging protection, hydrating and reducing skin oiliness as well as minimizing acne and inflammation. Let's take a look at the powerful nutrients in watermelon for skin:
Water– Rich in water, watermelon hydrates and locks moisture deep into skin. It also helps regulate sebum production thereby reducing oiliness.
Vitamin A– Heals dry withered skin. Essential for healthy new cell division.
Vitamin B6- Necessary for new skin cell formation. Keeps skin moisturized and healthy.
Vitamin C– Boosts collagen production. Protects skin from free radical activity and premature aging.
Calcium– Makes up the top most layer of skin. Boosts collagen production. Promotes skin elasticity. Fights free radical activity.
Potassium– Hydrating and moisturizing. Treats dry itchy skin.
Magnesium– For youthful radiant skin. Slows down the aging process of skin.
Lycopene– Natural color pigment which gives red water melons their beautiful color. Is a natural sunscreen and shields skin from harmful sun's rays. Powerful antioxidant which fights off free radicals that cause premature aging.
Choose one of these watermelon face mask recipes that best suit your skin type:
1. Oily/Acne prone skin : Watermelon and banana face mask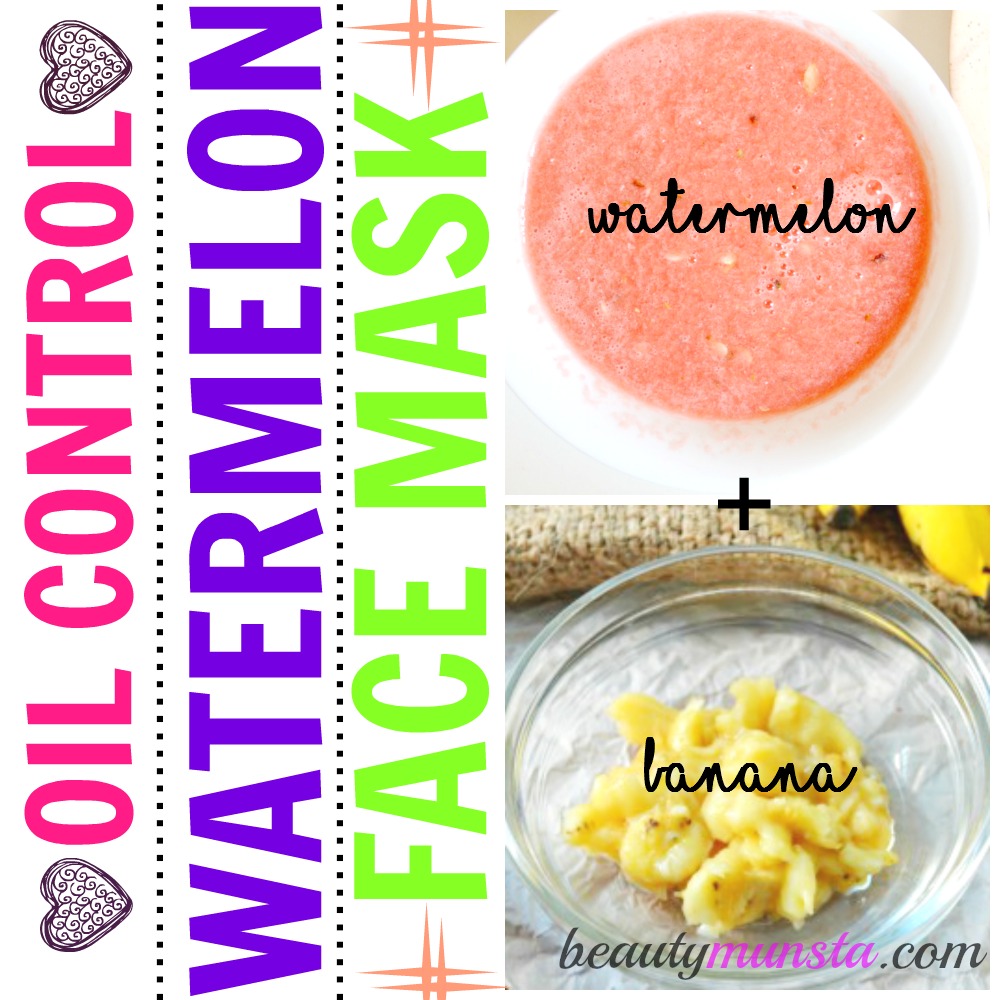 Rich in moisture, watermelon will hydrate oily skin from deep inside, moisturizing and nourishing skin cells. Most oily skin is dehydrated beneath the surface and so the skin's oil glands produce a lot of oils to make up for the lack of water. Such skin must be revitalized from the inside. Water melon coupled with banana will water skin and regulate oil production.
Ingredients
Directions
Cut 1/4 of a small watermelon, extract only the flesh without seeds into a small bowl. Mash 1/2 ripe banana and the watermelon flesh with the back of a fork thoroughly. Now add 3 drops of acne-fighting tea tree essential oil and mix again. Using clean hands, apply the mixture onto your face. Let it settle for 15 minutes. Rinse off using cool water. Pat dry using a soft clean towel.
My Tips
Sticky hair. Gather your hair away from your face into your ponytail and wear a headband to protect your hairline from the mask.
Skin reactions. Use a test patch in your inner elbow to make sure your skin isn't allergic to any of the face mask ingredients.
Protect your clothes. Wear an old t-shirt or apron over your clothes to prevent the face mask from ruining your clothes.
2. Dry Skin : Watermelon and yogurt face mask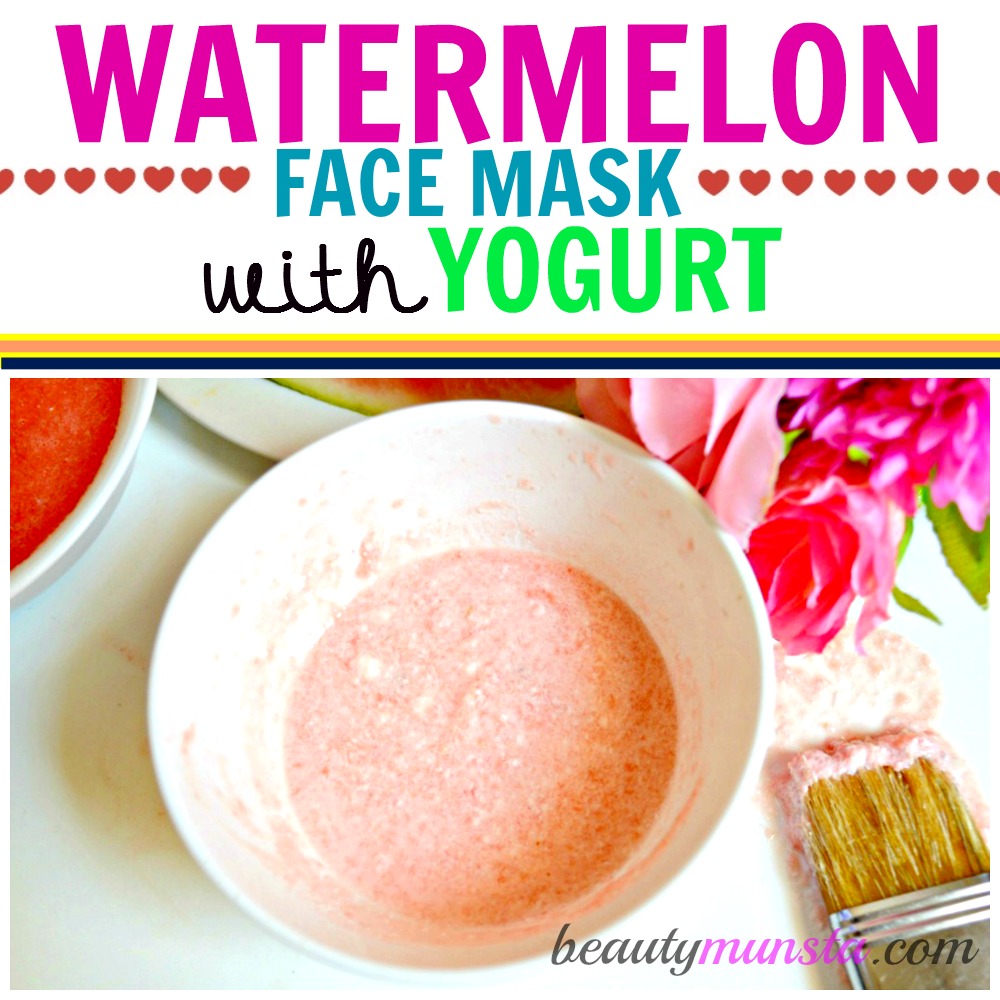 Dryness can come with itchiness and peeling skin. Watermelon is rich in water, vitamin A and potassium which will not only hydrate dry skin but also revitalize withered skin cells and moisturize them from within skin pores. Yogurt will also water and nourish dry skin as well as fight acne and heal inflammation.
Ingredients
Directions
Mash up the fleshy part of a 1/4 small watermelon in a small bowl. Or you can blend it instead for easier application. Stir in the yogurt and lavender essential oil until you have a paste. Apply the paste onto your clean face. Wait for 15 minutes. Rinse off with tepid water. Pat dry with a soft towel.
My Tips
Dry face. If your face feels a little dry after rinsing the face mask, use a drop or two of coconut oil to moisturize, when your face is still wet. Pat dry and let the coconut oil absorb into your skin.
Save the watermelon rinds. Rich in antioxidants ad collagen boosting compounds, the watermelon rinds are not to be thrown away. Rub the inner rind onto your skin and rinse with cool water for that rosy glow.
Which yogurt should I use? Plain, unflavored, unsweetened probiotic yogurt to avoid skin irritations and reactions.
3. Combination Skin : Watermelon and honey face mask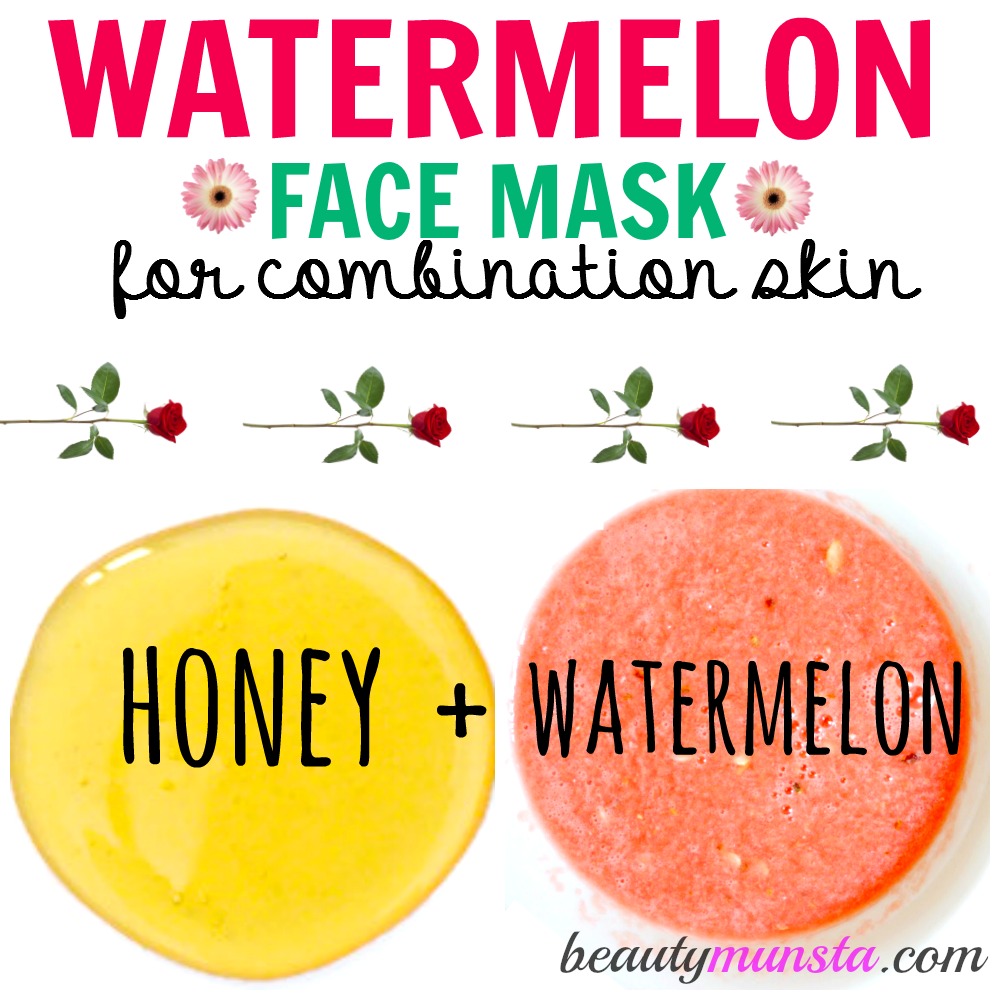 Combination skin is the most common skin type. For most people, the T-zone is more prone to oiliness and shiny skin more than other parts of the face. Some people may have acne coupled with flaky dry skin, while others may have dry cheeks with an oily forehead. With combination skin, you must hydrate the dry areas and tone the oily areas. Watermelon is an excellent toner which has oil control action and deep cleanses pores of excess sebum, dead cells and dirt. Honey is a natural humectant which preserves moisture in skin cells, hydrating dry skin. Here are more benefits of honey for skin:
[table id=61 /]
Ingredients
1/4 of a small watermelon
1 teaspoon honey
Directions
Cut 1/4 section of a small watermelon, remove seeds and rind. In a small mixing bowl, combine well 1 teaspoon honey with the watermelon flesh. Or simply blend for lack of time! Onto your clean face, apply this mixture and wait for 15 minutes. When the time is up, rinse off with cool water. Pat dry to refreshed skin!
My Tips
Raw Honey. Use raw/ organic honey. Processed honey contains additives which can irritate skin.
Warm honey. You can warm the honey a little before applying it on your face.
Sticky honey. This watermelon and honey face mask can tend to be sticky therefore hard to rinse off. Do not scrub your face. Simply use warm water to loosen the face mask or use a wet wash cloth. Rinse off with cold water.
Take Care
Please make sure that you are not allergic to any of the natural ingredients above, before using them on your skin.