This homemade papaya and honey face mask gently exfoliates skin and hydrates it!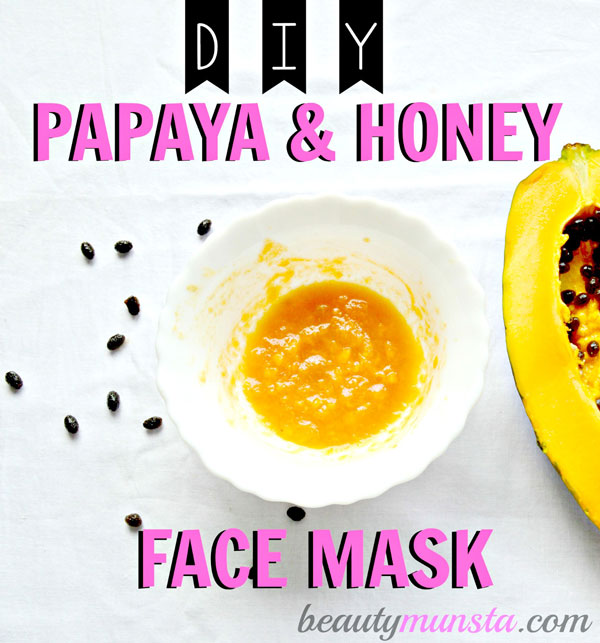 Papaya is full of natural enzymes that nourish, soften and exfoliate skin. The main beauty ingredient in papaya is papain, a natural enzyme that has skin bleaching & exfoliating properties. The honey provides a soothing and calming effect which helps tone down the acid nature of the papaya.
If you want a natural chemical face peel, then this papaya face mask should be your go-to face mask after this super effective pineapple facial peel mask!
Benefits of Papaya for Skin
Papaya contains anti-inflammatory, anti-aging, anti-oxidant, anti-bacterial, exfoliating and skin lightening & whitening properties that protect the skin from damage. Here are the benefits of papaya for skin listed down:
Whitens skin due to its natural bleaching properties
Fades away acne scars, blemishes & dark spots
Firms, tones & tightens skin
Shrinks large pores
Prevents & heals acne
Exfoliates skin due to its natural chemicals that dissolve & break down dead cells
Soothes acne and skin inflammation
Slows fine lines & wrinkles
Benefits of Honey for Skin
Honey is a natural humectant which means it draws moisture from the surroundings and helps plump up dry skin. It is rich in powerful anti-oxidants that will stave off pro-aging free radicals. Honey is antiseptic and will treat acne and prevent more acne. Check out more benefits of honey for skin:
Deep cleanses skin
Fights free radicals
Promotes youthful skin
Shrinks large pores
Hydrates & moisturizes skin
Lightens acne scars, blemishes & dark marks
How to Make a Papaya and Honey Face Mask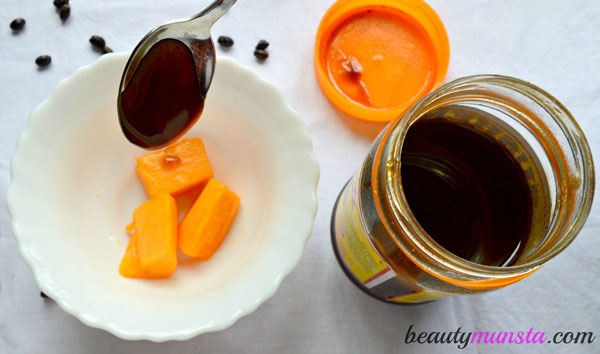 The thing I love about homemade face mask recipes is that you know all the ingredients you're going to put on your skin + only a few ingredients are needed! You will need only two ingredients for this papaya face mask: a ripe papaya and organic honey. The tools you will need are a small bowl and fork to mash up the papaya.
Ingredients
3 small chopped cubes of papaya
½ teaspoon honey
Directions
Chop ¼ a small papaya into 3 little pieces. Place them into a bowl and add ½ teaspoon of honey.
Mash and mix up the two ingredients thoroughly with a fork.
Your papaya and honey face mask is ready! Easy, wasn't it? It even looks and smells so amazing that I couldn't resist eating some of it! ;p
How to Apply the Papaya and Honey Face Mask
Start with a clean dry face. Using your fingers/ a face mask brush, apply the papaya and honey face mask mixture onto your face. Avoid the eye and mouth areas as skin here is thin and when stretched by the mask, can create fine lines.
Wait for the face mask to sink in and dry up for about 10 minutes.
When the time is up, rinse thoroughly with tepid water.
Pat dry with a clean towel and moisturize.
My Tips
Please use organic honey because there are many adulterated honeys out there that contain additives which may irritate skin.
Excess face mask mixture can be applied to neck, hands and legs before a shower. Or, store it in the fridge for future use. However, use it within 2 days and dispose of it if it smells funky.
Stand over your bathroom/kitchen sink when applying this papaya and honey face mask as it is drippy.
Tie up your hair and put on a headband to protect your hairline as the face mask can stick to your strands.
Take Care
This papaya and honey face mask will give your skin a slight tingling sensation which is normal. However, if the mask starts stinging badly, immediately rinse off with water and a mild soap. Please ensure to first use a test patch on your inner wrist/elbow to make sure you aren't allergic to papaya/honey before using this mask on your face.