It's so easy to whip up this honey oatmeal lemon face mask for acne scars & more!
Exfoliate acne-prone skin with this amazing oil-control & blemish busting honey oatmeal lemon face mask! Honey and lemon are some of the best anti-acne face mask ingredients out there, while oatmeal plays the helpful part of exfoliating and absorbing excess oil on skin. While this is a great face mask for acne scars, using the right amount of the ingredients, especially lemon juice on your acneic skin is very important.
While the lemon lightens acne scars and blemishes, the honey acts as an anti-bacterial acne fighter and the oatmeal will suck out 'stale' sebum from deep inside your pores, which contributes to acne. Before you make this anti-acne face mask, I want you to know how exactly honey, lemon and oatmeal will help heal your acne!
Skin Benefits of Honey, Lemon and Oatmeal for Skin
Let's take a look at all 3 ingredients that go into this oatmeal face mask and their respective benefits for skin below:
Honey – Honey is extra soothing for inflamed acneic skin. It's also a great fighter against acne bacteria. That's why honey is one of the best face mask ingredients for acne. It's not as harsh as undiluted lemon when it comes to eliminating acne. Honey contains powerful antioxidants and active enzymes which will fight free radicals that damage skin cells.
Lemon – Lemon has anti bacterial and antiseptic properties that will kill of acne causing bacteria and germs. Added bonus: The citric acid in lemon has natural skin bleaching properties that will heal your acne scars too!
Oatmeal – Oatmeal contains natural cleansing agents called saponins that will drive out grime, dead cells, sebum and dirt from deep within pores. For acneic skin, oatmeal has soothing properties that will calm acne inflammation.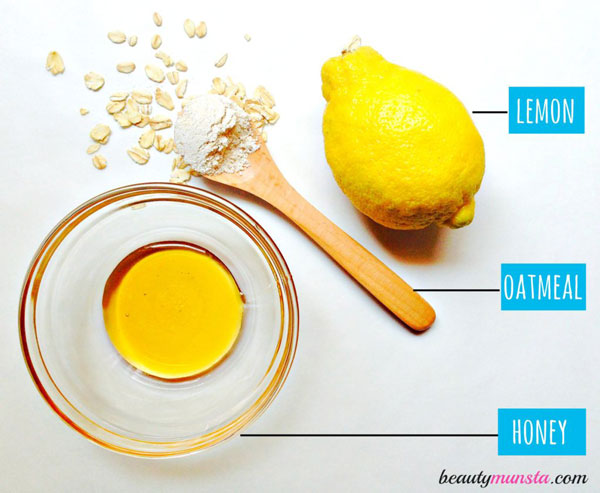 Ingredients Needed
1 teaspoon ground oatmeal
1 and 1/2 teaspoon raw honey
1/2 teaspoon fresh lemon juice
How to make the honey oatmeal lemon face mask:
1. Collect your ingredients. You will need to grind your oatmeal to fine powder in a coffee grinder/ kitchen mill. Extract fresh juice from 1/2 a lemon – don't use store bought lemon juice.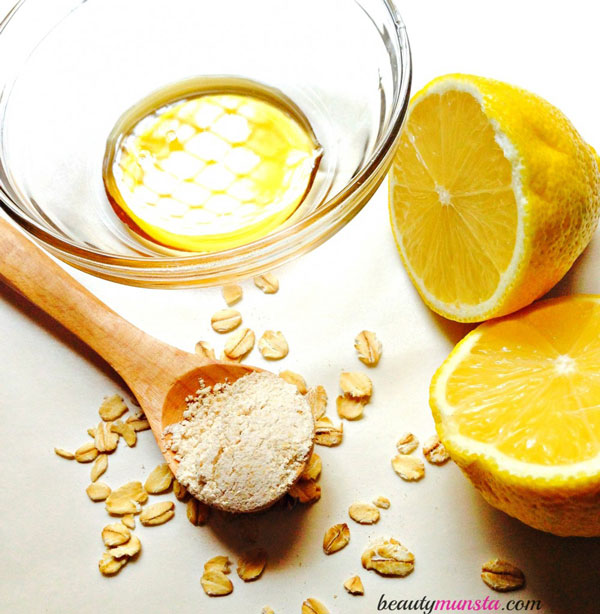 2. In a small bowl, add the ingredients and use a fork to whip them up into a thick mixture. The mixture should be a little liquidy but not drippy. It should have a slightly gritty feel.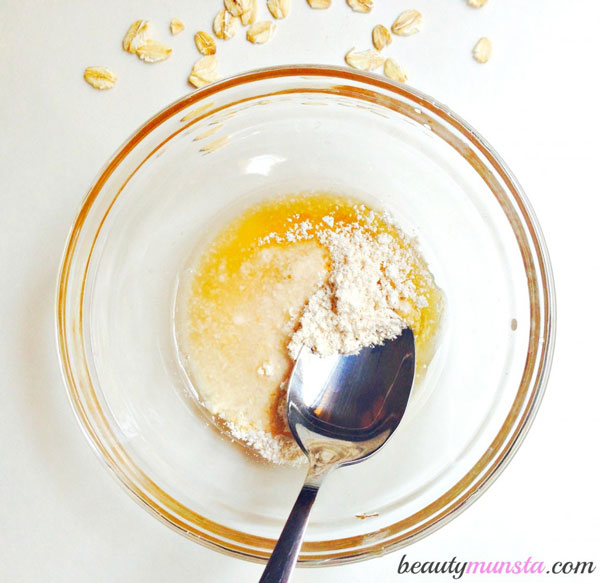 3. Complete! Your very own honey lemon oatmeal face mask is ready for use!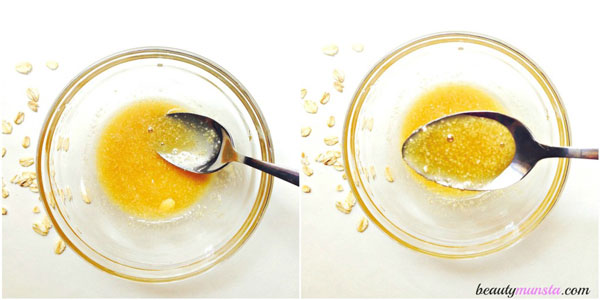 My Tips
If you have severe acne, then reduce the amount of lemon juice to just 1/2 a teaspoon or even less. Be careful with the amount of lemon juice. Adding even just a little more might aggravate your acne.
For best results, use raw or unprocessed honey.
Facial steam before applying the face mask. This is to soften dead skin cells and open up the pores, enabling acne matter to purge out easier. It also heals pimples faster by enabling them to pop open naturally, thereby driving out gunk from deep within your pores.