Prettify your skin by making this DIY coconut oil and egg face mask right at home!
Coconut oil is the new Holy Grail for many skin ailments. When applied on skin, it makes it glow with radiance. Mix coconut oil with egg and you'll make a fantastic face mask for pretty skin! Egg has natural skin tightening and firming properties. It also nourishes skin with its fatty acids and vitamin content.
The other ingredient we'll be adding to this DIY coconut oil and egg face mask is lemon juice. Use just a tsp because too much can aggravate your skin. You should use juice freshly squeezed from a lemon to experience quality results. The store-bought lemon juice has additives that won't sit well with your skin plus it isn't fresh so it won't give your skin the perk we're looking for.
More Egg Face Masks For Your Skin
Okay, now let's check out the DIY coconut oil and egg face mask:
DIY Coconut Oil and Egg Face Mask for Pretty Skin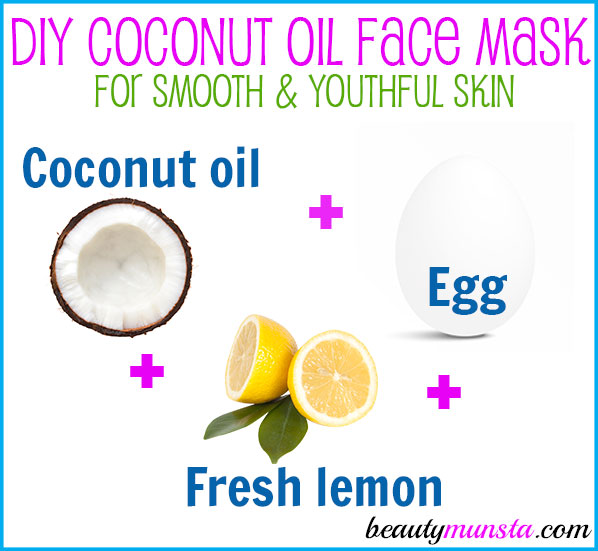 What you need
1 tsp coconut oil (where to get it)
2 tsp whisked egg
½ tsp freshly squeezed lemon juice
Small mixing bowl & spoon
Directions
Crack a whole egg into a bowl and whisk it up for a minute.
Now get 2 tsp of this whisked egg and put it in a small bowl. Use the rest of the whisked egg to make yourself an omelet, why don't ya?! 😉
Next add ½ tsp freshly squeezed lemon juice and 1 tsp of coconut oil into the bowl.
Mix all ingredients till well combined and creamy.
It's ready to use, baby!
Using clean fingers, scoop up the face mask and apply it all over your face, avoiding the area around the eyes and mouth.
Let the mask sit on your face for 5 minutes.
When the time is up, rinse off the coconut oil and egg face mask using warm water.
You can wash your face with your facial cleanser to get rid of the excess oil on your skin. Or, just splash your face with cold water and pat dry.
Moisturize if necessary. Admire how dewy and glowing your face looks!
You can use this DIY coconut oil and egg face mask anytime your face needs an instant dewy glow! xoxo