Find out the beauty benefits of egg white on face, when applied correctly and regularly.
Egg white is the clear liquid part contained within the egg. Often times, the egg white is referred to as glair or the albumen.
Basically, the general smell of an egg white is that of an egg. So, if an egg is still in a good condition, the egg white should possess the smell of the egg. However, if the egg is already rotten, the egg white together with the yoke will definitely give a foul smell. Egg white is formed around unfertilized or fertilized egg yolk and it is meant to serve as a source of protection for the yolk. It also provides added nutrition to aid the growth of the embryo.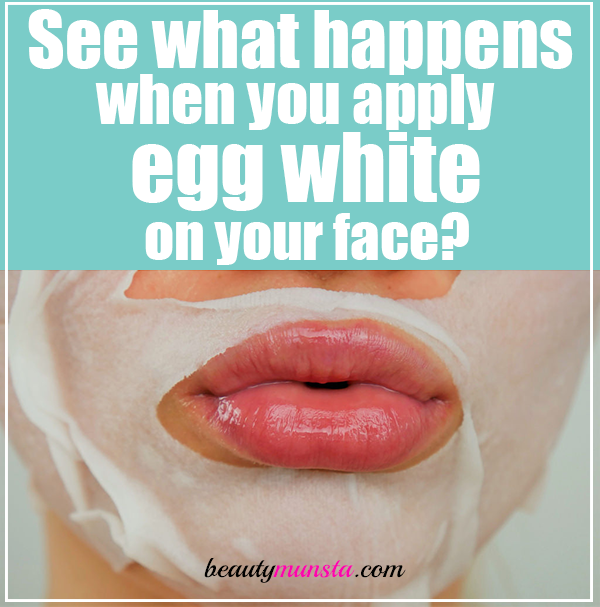 Egg white has a clear liquid color and it is made up of about 90% of water. It also contains about 10% of proteins like mucoproteins, albumins and globulins. The fat content of the egg white is almost 0%. Also, it is sticky in nature. Extracting the egg white from an egg is easily done with an egg white separator (device).
Top 6 Beauty Benefits of Egg White on Face
Apart from the fact that egg white provides a lot of nutritional benefits for the body, it likewise has number of beauty benefits. Egg white can be used on hair and skin in different ways to achieve excellent results. Below are the top 6 beauty benefits of egg white on the face.
1. Facial Hair Removal
Egg white is good for the removal of facial hair because of its sticky nature. Simply apply some egg white on your face or any part you want tiny hair strands removed. Place a paper towel over it, then apply more egg white on the paper towel too. Allow the egg white to dry out, then remove out the paper towel afterward. This will help in removing even the tinniest hair strand off the face. Check out other natural ways for hair removal: Gram Flour for Hair Removal | 3 DIY Masks to Use
2. Skin Toner
Egg white can be used to get rid of dead cells, excess oil and dirt from the skin. All you have to do is beat some egg white to make it foamy, then apply the beaten egg white around your neck and on the face. Allow it stay for some minutes to dry out. Wash off with lukewarm water afterward. Repeat the process a couple of times in a month to experience an even skin tone. Make your own soothing toner at home: DIY Chamomile Face Toner
3. Get Rid of Puffiness under the Eyes
A lot of things can make the underneath of the eyes become swollen; poor diet, stress because of a busy schedule and more. Puffy eyes can actually make you look older than you are. So, if you want to clear puffiness, egg white is the solution! Apply egg white under the eyes and allow it stay for some 10 minutes before wiping off with a water soaked soft cloth. Rinse with water afterward. Apply any natural oil like coconut oil after to keep the area moisturized. Don't miss: Top 6 Natural Remedies for Under Eye Bags
4. Tan Removal
Exposing the skin to the rays of sun either deliberately or due to work or other activities will tan the skin. To remove skin tan therefore, get a bowl and properly whisk 1 to 2 egg whites in it. Add  teaspoon of honey to it and mix again. Apply the mixture to your skin and allow to stay for some 10 minutes before washing off with water. Repeat the procedure regularly and your skin will gradually improve to its normal complexion. Brighten your complexion: Skin Whitening Face Scrub
5. Skin Tightening
Another of the beauty benefits of egg white on face is found in its ability to tighten the skin. If the skin is getting saggy, egg white can be used to lift the sagginess, thus tightening it. If a part of the face is sagging, the cheeks, for example, simply apply egg white to the affected area and give it time to dry out completely before you wash off with water. Repeat the procedure regularly. For youthful, firm skin: 6 Essential Oils for Collagen Production | Get Youthful Skin Naturally
6. Blackhead Removal
You can use egg whites to remove blackheads from your face, particularly the nose area. Unlike nose pore strips that you buy from shops, egg white masks for blackhead removal are safe and effective. You can use egg white regularly for blackhead removal, while commercial pore strips can be detrimental for your skin. Get extra fine toilet paper for blackhead removal. Whip some egg white until it is smooth and frothy. Apply an even layer on your nose, chin and other areas with black heads. Wait for it to dry. Then slowly pull the toilet paper in an upwards motion. You'll be surprised with all the blackheads that are plucked out from your pores! Another way to remove blackheads: DIY Gelatin and Milk Pore Strips for Blackhead Removal
Egg Whites Are Amazing for Hair, too!

Egg whites give great results when applied on the face. But did you know applying egg white on your hair is fantastic for hair growth? Increase the volume of your hair with egg white. Blend together egg white with the juice of a lemon, apply the mixture to your hair and let it sit for some 30 minutes. Wash off with shampoo. Ensure to repeat the process regularly. The antibacterial property of the egg white will help remove dandruff, oiliness in the hair, thereby promoting the effective growth of the hair. For luscious hair growth: Aloe Vera and Egg for Hair Growth