Use essential oils for collagen production to keep your skin looking supple and youthful for long!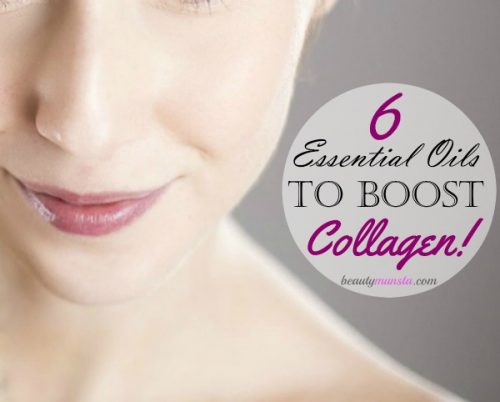 As we grow older, our skin gradually loses its ability to produce collagen which makes it sag, get fine lines and wrinkle up. Before we look at the top essential oil for collagen production, let's first understand what exactly collagen is and its role in anti-aging:
Collagen – What it is
In the world of anti-aging and skin care, collagen is a common term. You must have heard of collagen boosting serums, collagen cream and a myriad of other anti-aging skin care products that hype about restoring your skin's collagen.
So what is collagen anyway? Simply put, collagen is a type of protein found in connective tissue. It holds our body's skin, bones, cartilage and tissue together. It's basically a sort of glue that keeps our body joined together.
Did you know that about 80% of our skin is composed of collagen?! Also, skin that is smooth and supple has a lot more collagen than saggy and wrinkly skin. Collagen, along with keratin & elastin, which are two other proteins found in skin and hair, all give the skin its firmness, strength and elasticity.
The body naturally produces collagen but this production can be disrupted due to a variety of factors including UV radiation from the sun's rays, poor nutrition, cigarette smoke, alcohol consumption as well as environmental pollution. Even without any of these factors, collagen production still reduces as part of the natural aging process.
Can Collagen Be Got from Supplements, Pills or Crèmes?
The anti-aging market is brimming with collagen supplements, crèmes, pills and even drinks that are said to boost collagen and reverse aging. However, are these drinks, pills and supplements any different from simply consuming a balanced diet containing collagen-rich foods? After all, there is no real scientific evidence to show that these supplements pills or drinks actually boost collagen more than regular collagen-rich foods.
Moving on to crèmes and topical skin care products containing collagen – many of these products contain molecules that are too large to penetrate into the skin and boost collagen.
Even products containing micronized collagen don't have clear evidence of supporting collagen production. Instead, most of these topical treatments just sit on the skin without getting absorbed. What they can do though, is moisturize, smooth and soften skin – making it beautiful on the outside.
6 Essential Oils for Collagen Production
Anyway, the point of this post isn't to bash collagen supplements, pills or crèmes! We're just pointing out that instead of using chemical-laden anti-aging products that are very pricey but have no real evidence of boosting collagen, why not go the natural way and use essential oils instead?
Essential oils are natural concentrated substances extracted from aromatic plants and they have a really tiny molecular structure that enables them to penetrate deep into the skin and enter the blood stream! (1) Below, let's quickly take a look at some effective essential oils for collagen production and how they help support anti-aging:
1. Lemon Essential Oil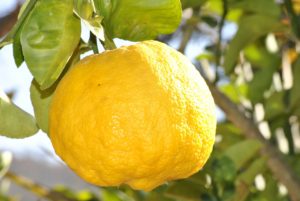 Lemon essential oil (where to get it) is extracted from lemon peels, which contains powerful compounds like limonene. This essential oil is great for skin brightening and it also contains strong antioxidant properties that protect skin from premature aging. When you use lemon essential oil on your face (diluted with a carrier oil or your face cream), you'll notice your skin looking and feeling supple and soft! Here's my night time facial cream for soft supple skin:
Night Cream: Into a medium-sized bowl, add 1/4 cup of fresh soft shea butter, 2 tsp blackseed oil, 4 drops lemon essential oil and 4 drops tea tree essential oil. Now using a hand held whisk, mash up the shea butter till it turns creamy. Then beat it to a silky white creme for 5 minutes. Transfer your cream into a 4 oz amber glass jar and store in a cool dry place. Massage a pea-sized amount on your clean face at night time.
2. Carrot Seed Essential Oil
Carrot seed essential oil (where to get it) is another collagen-boosting champion in the world of anti-aging. It's greatly preferred for mature and sun damaged skin types because of its high antioxidant properties as well as skin nourishing & tissue repairing qualities. The antioxidant properties not only ward off pro-aging free radicals but also help re-build the collagen layer under the skin. Since some people do not like the rich earthy scent of carrot seed essential oil, ensure to mix it with another essential oil that blends well with it (like citrus oils, lavender, geranium, etc) before diluting in a carrier oil.
3. Frankincense Essential Oil
One of the most popular biblical essential oils, frankincense essential oil (where to get it) is a miracle worker when it comes to naturally enhancing the skin's collagen production. It has cytophylactic properties, which stimulate the generation of new cells while protecting the existing ones from damage. Frankincense also tightens and tones sagging skin while improving its complexion!
4. Geranium Essential Oil
With a beautiful feminine scent, geranium essential oil (where to get it)  is among the top oils for women's health. It helps balance hormones, solve menstrual troubles and perk up skin! When applied topically, it not only increases collagen production but also promotes cell turnover, which means recycling of dead cells, as well as cell regeneration.
5. Calendula Essential Oil
Derived from the fiery bright marigold flowers, calendula essential oil (where to get it) has powerful anti-inflammatory properties that heal skin. What makes it one of the excellent essential oils for collagen production is its rich flavonoid content, which stimulates cell regeneration as well as promotes healing and repair of damaged skin cells.
6. Neroli Essential Oil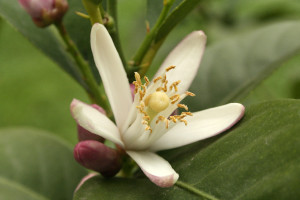 The exquisite scented neroli essential oil (where to get it) is a star when it comes to helping fade stretch marks and soothing sensitive skin – but it's also excellent for delaying aging! In addition to tightening droopy skin, it helps balance sebum and smooth fine lines. Its high vitamin C content boosts collagen production as well as regenerates skin cells.
Take Care
Please ensure to dilute essential oils before use (2 drops in 1 tsp of carrier oil). For more info, see How to Dilute Essential Oils
Always use 100% pure therapeutic grade essential oils.
Avoid essential oils during pregnancy and nursing.
Keep essential oils away from children and pets.
New to essential oils? Then please take some time to read this informative guide Caution and Safety when Using Essential Oils
References
(1) Jager W, Buchbauer G, Jirovetz L, Fritzer M. Percutaneous absorption of lavender oil from a massage oil. J Soc Cosmet Chem. 1992;43(1):49-54.
Which of the above essential oils will you try out to boost your skin's collagen production? Tell us in the comments below!