Use any of these essential oils for sensitive skin for soothing and cooling relief.
Do you have sensitive skin? Sensitive skin is usually characterized by redness, itching, stinging or plain discomfort in skin due to skin care products, allergic reaction and household products.
If you have sensitive skin, it's best to completely avoid using store-bought products including lotions, creams & serums and start using pure natural & organic ingredients such as aloe vera gel, shea butter, coconut oil, mango butter, cocoa butter, etc instead.
Making your own DIY creams and lotions is a great alternative as well! Check out my geranium shea face lotion and my non-greasy lotion recipe which are both all natural and help heal & soothe sensitive skin.
7 Soothing Essential Oils for Sensitive Skin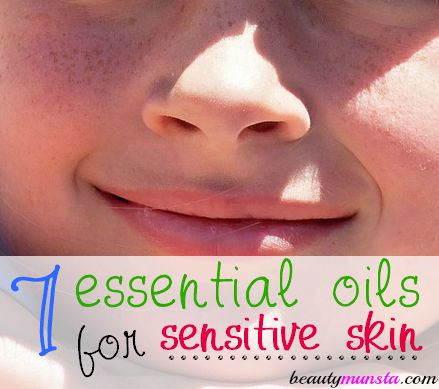 1. Lavender Essential Oil
The most popular essential oil in skin care, lavender essential oil is one of the best essential oil for sensitive skin. Its soothing properties calm down inflammatory skin conditions including eczema, rosacea, psoriasis and insect bites, stings as well as hives. Got a sunburn? Or sun damaged skin? Use lavender essential oil to instantly soothe and cool!
► Lavender Face Cream: To make a soothing face cream for sensitive skin, whip ¼ cup of avocado butter with 5 to 7 drops of lavender essential oil. Store it in a small glass container and apply just a pea-sized amount to your whole face.
2. Geranium Essential Oil
Geranium essential oil is one of my favorites and it's a great skin care essential oil. It balances the skin's pH, regulates the skin's sebum production, decreases redness & inflammation, fights acne & pimples and also encourages cell regeneration and turnover.
► Geranium Face Lotion: Go to my face lotion recipe with geranium essential oil, shea butter and wheat germ oil here.
3. Tea Tree Essential Oil
Tea tree essential oil is very effective in fighting acne and keeping germs away. It is a non-irritant and can be applied to skin undiluted in small amounts. Check out my night cream recipe below! It only requires four ingredients and it's great for sensitive skin types!
► Healing Gel: Fill an amber glass dropper bottle with pure aloe vera gel and add 3 drops of tea tree essential oil, 3 drops of lavender essential oil and 3 drops of geranium essential oil. Stir well with a spatula and apply nightly to soothe inflammation & sensitive skin as well as heal blemishes.
4. Sandalwood Essential Oil
Sandalwood essential oil does not irritate the skin and it has a beautiful calming and warm scent. My sister uses sandalwood essential oil for her little baby boy by mixing it in coconut oil and massaging it on his skin before a bath. It helps protect the skin against irritants, pollutants and impurities and reduces inflammation. It's also great for sensitive acne prone skin since it is a powerful antibacterial.
► Sandalwood Face Oil: In a glass dropper bottle, mix about 5 drops of sandalwood essential oil in ½ cup of sweet almond oil. Massage this on your sensitive skin as a soothing face oil.
5. Chamomile Essential Oil
Chamomile essential oil is known to reduce skin redness & inflammation. It's one of the most effective essential oils for sensitive skin and can even be used on baby's skin (diluted with a carrier oil first of course). For itchy skin, chamomile essential oil is the best. If your skin is prone to dryness or inflammation, try incorporating chamomile essential oil in your skin care routine for soothing relief.
► Relaxing Chamomile Bath: Fill the bath tub with warm water. Add about 7 to 10 drops of chamomile essential oil, 1 tbsp of coconut oil and 2 cups of milk. Soak in it for about 30 minutes to soothe irritated and sensitive skin.
6. Neroli Essential Oil
Also known as orange blossom, the delicate white neroli flowers are steam distilled to get neroli essential oil which has a sweet floral & irresistible aroma. In skin care, neroli essential oil is powerful against scarring and stretch marks yet at the same time gentle on skin of all types and can be used specifically on sensitive skin. It is non-sensitizing and non-irritant and encourages cell regeneration.
► Skin Healing Butter: Mix 3 to 5 drops of neroli essential oil in an ounce of raw shea butter. Store in an amber glass container. Apply to your sensitive skin to soothe and rejuvenate.
7. Rose Essential Oil
Rose essential oil is one of the best essential oils for skin care in general and it's got a BEAUTIFUL romantic scent that's among my favorites. I bought two bottles of this essential oil because it has so many amazing properties that you simply can't miss out on. It is hydrating and moisturizing on the skin, calms inflammation, redness & eczema and repairs broken capillaries.
► Romantic Rose Night Cream: Rose essential oil blends very well with aloe vera gel! Combine 5 to 7 drops of rose essential oil in a small container of pure aloe vera gel. Use as a night cream to calm sensitive skin & keep it looking youthful.
Take Care
First check with your doctor to see if essential oils are okay to be used by you if you suffer from hypertension, skin allergies and other medical conditions.
Always use 100% pure and high quality essential oils.
Never use essential oils 'neat' onto your skin. Always dilute first with a carrier oil (1 drop of essential oil in 1 tsp of carrier oil). For more info read: How to Dilute Essential Oils
If you are pregnant or lactating and would like to use essential oils for nail growth, please first consult your doctor as most essential oils are not safe to use for pregnancy/lactating women.