Bone broth is being touted as a powerful anti-aging food everywhere! It makes one wonder can bone broth reverse wrinkles?!
Bone broth has been around for centuries. Many traditional cultures have been cooking broth from mainly the unconsumed parts of meat – the feet, tendons, bones and cartilage for ages. It wasn't just made as a way of making use of leftovers – it was also consumed because it is VERY nutrient dense! Some of the unique nutrients found in bone broth include collagen, glycine, proline, glucosaminoglycans. It also contains protein, calcium and magnesium.
The major nutrient in bone broth is collagen. Collagen is the body's most abundant protein. It's the 'glue' that holds your whole body together from your bones to skin. Collagen makes up skin, teeth, tendons, ligament, cartilage and bones.
What makes collagen so important? As we age, the collagen production in our bodies naturally decreases. This causes weak bones & teeth plus sagging, droopy and wrinkled skin! Collagen is needed to keep skin firm, taut and supple. It increases the skin's elasticity and firmness. That's why collagen is so important in the world of anti-aging.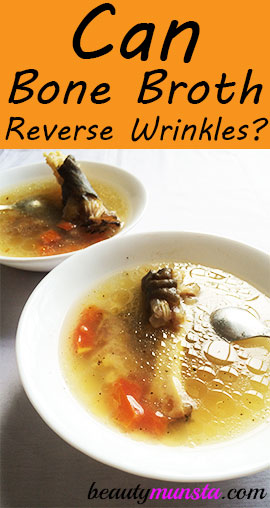 Can Bone Broth Reverse Wrinkles?
One of the ways of preventing your collagen from getting defective or decreasing is by eating collagen-rich foods. The top food on the list is of course bone broth!
Bone broth is one of the richest sources of collagen. In fact, you can't get this kind of nutrition from plants. Animal protein is the only source of collagen and that's why bone broth is a highly sought after food.
Increasing collagen production in the body helps makes skin more elastic, supple and firm! It also does a myriad of other things such as lubricates joints, strengthens the immune system and makes hair lustrous.
If you already have wrinkles, bone broth also works because increased collagen production helps smooth out fine lines and reverse wrinkles! Deep wrinkles will fade and become less prominent, making your skin appear youthful.
So can bone broth reverse wrinkles? Yes, it can! Regular consumption of bone broth (at least once a week) boosts collagen in your body and keep your skin looking young. Remember, collagen doesn't only make skin elastic and reverse wrinkles, it also fights acne, clears blemishes and helps brighten your complexion!
Our Favorite Bone Broth Recipe
Some people say you need to slow cook roasted bones for over 6 hours to get all the nourishing and healing benefits. But they couldn't be more wrong!
Pressure cooking makes bone broth within 1-2 hours, retains all the nutrients in it PLUS makes your bone broth taste so mellow and flavorful all the same!
So instead of wasting time, gas and even patience slow cooking your bone broth overnight or the whole day, try making The Easiest Bone Broth Recipe in a Pressure Cooker. I promise you won't regret it!

Are you interested in reversing your wrinkles and making your skin look youthful? Start drinking bone broth regularly!
You'll Also Love: