In this article, let's discover 12 beauty benefits of eggs for skin, hair and more! 
Eggs are undeniably rich in protein, in fact the protein in eggs is the highest quality protein you can ever find in food. People such as Native Americans and Chinese have been using eggs for so long to treat skin imperfections. Eggs are truly good for skin, hair, nails and the general body. Start using them in your beauty routine as soon as you read these 12 amazing beauty benefits of eggs!
12 Beauty Benefits of Eggs for Skin, Hair & More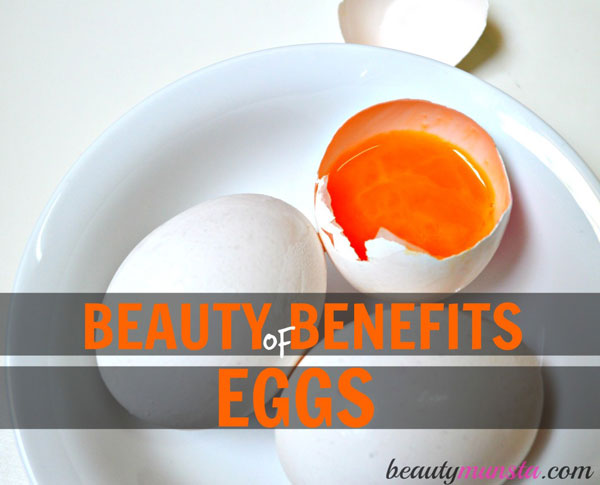 1. Nourish Hair
Eggs are rich in protein and sulfur, both of which are excellent hair nourishing ingredients. Protein is the building block of hair. Each hair strand is made up of protein also known as keratin. Sulfur is also known as a beauty mineral which is found in almost every protein-packed food including eggs!
2. Shrink Large Pores
Egg white are popularly known as a pore-tightening ingredient. It is a natural astringent that regulates sebum secretion by reducing the size of large pores. It also tightens the skin, thereby reducing the size of large pores.
3. Lift and Firm Skin
Egg white applied topically tightens your skin and lifts up loose sagging skin, promoting youthful radiant skin. An active enzyme in egg white, lysozyme, helps maintain the skin's natural elasticity and tautness, thereby slowing the aging process of skin.
Firming Face Mask: For a wrinkle removing skin firming egg white face mask, tie up your hair and apply whipped egg white from 1 egg all over your face and neck. Wait for 10-15 minutes. Rinse off with warm to tepid water.
4. Moisturize Dry Flaky Skin
Use egg yolks to plump dry skin cells with healthy fat and moisture. Egg yolks are great water binding ingredients that lock moisture into dry skin cells. To make a moisturizing egg yolk face mask, crack an egg and separate the egg yolk. Using a fork, pierce the egg yolk and mix till you get a thick consistency. Apply this onto your face and leave it on until it completely dries up. Use warm water to rinse it off. Apply coconut oil to moisturize while your face is still wet and pat dry.
5. Prevent & Remove Black Heads
As it is skin tightening, eggs especially the whites, serves as an excellent black head remover. It tightens skin around black heads and helps them naturally come out. Egg white also prevent black heads by driving out stale oils that are stuck deep within skin pores. These stale oils turn black and form black heads when they get oxidized by the open air.
Blackhead Treatment: To get rid of black heads, first do facial steaming to open your pores. Now get a blackhead extractor and start removing your blackheads. Finally, get one egg white, whisk it till frothy and apply it to your face using a face brush (or your handy dandy fingers!). Stick a piece of paper towel onto your face and apply another coat of the egg white on top of the paper towel. Wait 15 minutes for the egg white to dry up. When the time is up, quickly rip off the dried paper towel and rinse off using cool water. Pat dry and enjoy your smooth black head-free skin!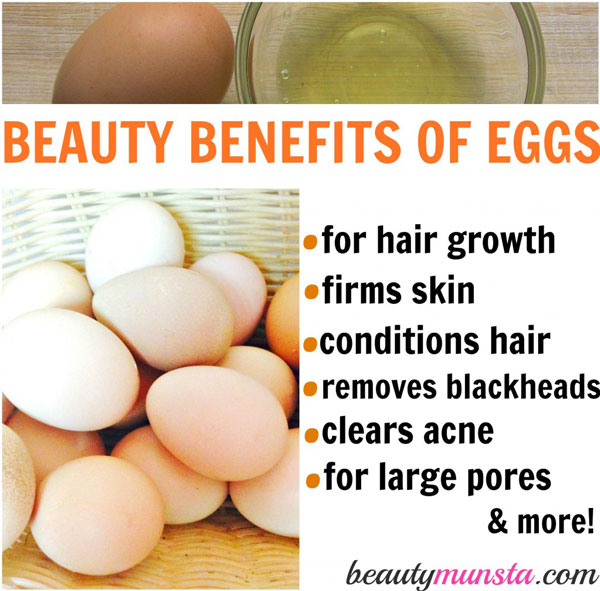 6. Clear Acne
Eggs are rich in moisture, amino acids, b-vitamins and anti acne enzymes such as lysozyme. Lysozyme is an enzyme that is found in egg white. It fights acne causing germs and bacteria by feeding on their cell walls. Egg yolk is also good for acne contrary to what most people say (that it's not good for oily/acneic skin). It's rich in vitamin A (retinol), which most acne sufferers have low mean serum concentrations of retinol. Egg yolk is also hydrating and some acneic skin is actually dehydrated on the inside.
Make a simple egg face mask using either egg white alone or better yet, using the whole egg. Don't worry about getting breakouts because you won't. If you have even the tiniest bit of doubt about using egg yolk for acne, then use egg white alone.
7. Hair Conditioner
Applying eggs to hair naturally conditions and adds volume to your tresses. Eggs are power packed with moisture, fatty acids, amino acids, sulfur and protein all of which are great for hair! Use a homemade egg hair conditioner to smooth rough hair and de-tangle faster.
Every week, just massage 1 whisked egg onto your scalp and hair follicles to naturally condition and nourish. Try my Weekly Egg Treatment for Hair!
8. Get Rid of Under Eye Puffiness
The skin tightening properties in egg whites helps get rid of puffy eyes and under-eye bags. Whip 1 egg white to stiff peaks, then using a face mask brush, carefully apply the egg white around your eyes. Wait for 10 minutes for it to dry up. Wring a clean washcloth under warm water and use it to gently wipe off the dried egg white.
9. Soothe Sunburned Skin
Using egg white to calm inflammation is a home remedy that has been used by many people to successfully soothe sunburns. It is said to provide a cooling sensation, and offer immediate relief. Crack an egg, separate the egg white and apply it over sunburned skin for a cooling sensation.
10. Reduce Oily Skin and Scalp
Egg whites have oil-blotting properties in them that are excellent in reducing extra oiliness on the scalp and skin surface. They reduce oily skin and scalp by tightening skin pores of hair follicles, hence regulating over secretion of sebum. Apply egg white onto your face and scalp to tighten skin and get rid of excess oils. See: Egg White Lemon Face Mask. For hair, apply this DIY Egg White and Lemon Hair Mask
11. Help Fade Acne Scars and Blemishes
The active enzyme in egg white, lysozyme, is said to lighten and help fade acne scars, blemishes, red marks, dark spots and pigmentation. Use a clean cotton ball to apply egg white onto your face and other blemish-filled areas to visibly lighten them. Be consistent to see true results!
12. Soften Dry Frizzy Hair
Frizzy hair is very dry and lacks the necessary oils and hydration. Using eggs topically provides the much-needed fatty acids and moisture for softening frizzy hair. Make an egg olive oil hair mask using 1 or 2 eggs blended thoroughly with 1 tablespoon extra virgin unrefined olive oil. Massage this onto your scalp and frizzy curls. Wait for at least 5 minutes for the eggs to nourish your hair. When the time is up, rinse off very well using cold water. If the egg stink is still there, use an organic shampoo to get rid of it.
Take Care
As usual, before using any ingredient on your face, use a test patch on your inner elbow to see if you might be allergic to egg white, egg yolk or the whole egg. If you notice any serious irritation like itching, redness and severe discomfort, wash off with cold water and do not use eggs on your skin.