If you are serious about hair growth, then you're probably already using some egg hair mask recipes on your hair. As you know, I always recommend that you do at least a weekly egg treatment to guarantee hair growth long term. Applying raw eggs on your hair is an age old beauty treatment that works to fortify your hair roots and supply your hair follicles with key nutrients. To put it simply, eggs work as an all-natural keratin treatment to boost the quality of your hair.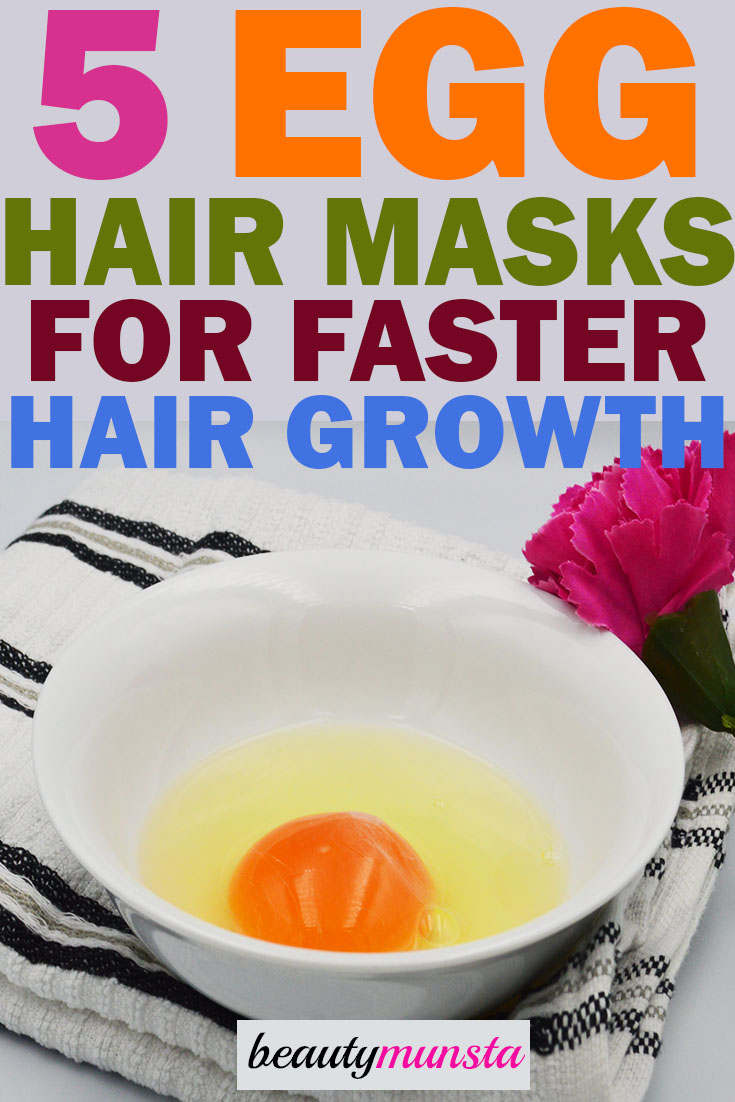 What are the Benefits of Using an Egg Hair Mask?
Eggs are perfect powerhouses of nutrients with a healthy balance of fatty acids and proteins, as well as important vitamins. When you apply an egg hair mask, you are triggering hair growth by supplying your cells with fresh nutrients. Here are some of the benefits of using an egg mask on your hair:
Natural keratin treatment: Eggs are rich in complete amino acids, which are basically proteins that can build and strengthen hair. The protein in eggs supply your hair with keratin that helps to strengthen the structure of your hair, makes it thicker, stronger and less prone to breakage.
Rich in Vitamin E: Vitamin E is one of the most important nutrients for both hair and skin. It is a powerful antioxidant that helps fight free radical damage caused from pollution, allergens and stress. Vitamin E protects your hair from environmental toxins. It helps to improve hair growth by stimulating blood circulation, renewing old hair and scalp cells and improving oxygen supply to the follicles.
Rich in Vitamin A: Vitamin A, commonly known as retinol, is not just important for healthy skin, but also for healthy hair! Eggs contain abundant amounts of vitamin A, which help stimulate the sebacesous glands in the scalp and promote the secretion of sebum. Sebum helps to keep the hair follicles nourished, prevents hair fall, reduces dandruff and strengthens the hair roots.
Presence of essential fatty acids: Eggs are rich in essential fatty acids that are vital for healthy hair. The fatty acids in eggs make your hair look lively, silky and lustrous. They also prevent the overgrowth of bacteria on the scalp, keep your hair dandruff-free and moisturized.
Other nutrients: There are so many other nutrients in eggs such as sulfur, which help trigger faster hair growth. Eggs also contain lecithin, which helps to smooth frizzy hair and prevents split ends. Egg hair masks can make your hair softer, bouncier and stronger, naturally!
Top 5 Egg Hair Mask Recipes to Boost Hair Growth Naturally
Now let's have a look at the best 5 egg hair mask recipes that you can try once a week for hair growth and healthy hair:
1. Egg Hair Mask to Clear Dandruff
Did you know that dandruff could be the reason why your hair isn't able to grow properly? In order to make sure that your hair has the best chance to grow and thrive, you need to first clear whatever dandruff you have. This egg hair mask to clear dandruff is perfect for that, thanks to the cleansing effect of lemon. Here's what you need:
Ingredients:
Egg whites – 2
Lemon juice – 1 teaspoon
Tea tree oil – 6 drops (where to get it)
Directions:
Begin by carefully separating the egg whites from the egg yolks. Place the egg whites into a separate bowl.
Squeeze the juice out of half a lemon. You can use 1 – 2 teaspoons depending on how sensitive your scalp is.
Using an egg beater or electric whip, beat the egg white and lemon together until it becomes frothy.
Finally add the tea tree essential oil and mix gently.
Now use your finger tips or a hair mask brush and apply the egg hair mask all over your scalp, without missing a spot. You can spread the remaining egg mask along your hair strands.
Let the egg hair mask do its magic for 30 – 40 minutes.
Rinse off the mask using lukewarm water and a mild natural shampoo.
2. Egg Hair Mask to Add Shine and Luster
This egg hair mask is perfect for frizzy, rough hair because it contains bananas. Bananas are rich in minerals such as magnesium and potassium which help tame and smooth out rough, frizzy hair. Jasmine essential oil not only smells enchanting, but also has intense moisturizing and anti-aging effects. It is one of the essential oils that adds sheen and shine to dull lifeless hair. What's more, argan oil contains essential fatty acids and unique antioxidants that add bounce and definition to hair.
Ingredients:
Directions:
For this recipe you will need a blender. Place all your ingredients into your blender, except for the essential oil.
Blend everything until it Is a smooth paste, without any lumps.
Pour your smooth banana-egg hair mask into a bowl.
Now add the jasmine essential oil and mix thoroughly.
It's time to apply! Simply scoop up the egg mask and apply all over your scalp and hair strands.
Note: Homemade hair masks can get messy, so make sure you are standing in your bathroom or over your sink to prevent spills. Also wear an old t-shirt so your clothes don't get ruined.
Some people like to apply hair masks onto wet hair, while others just apply to dry hair. Personally, I prefer applying hair masks onto slightly damp hair because the moisture from the water really helps the hair masks penetrate deeper. To make your hair damp, simply spray it with water using a spray bottle. Then, proceed to apply the hair mask.
Wash off the banana egg hair mask after 30 – 40 minutes using lukewarm water.
3. Deep Conditioning Egg Hair Mask for Damaged Hair
If you have damaged hair due to coloring treatments, lack of proper care or heat damage, don't worry! This deep conditioning egg hair mask with avocado and shea butter is a life saver! Damaged hair needs extra care and avocado is one of the most nourishing ingredients you can add to your egg mask. Both avocados and shea butter contain healing nutrients and antioxidants that help renew damaged cells. Furthermore, frankincense essential oil is another highly healing ingredient that will assist in the repair of damaged hair. Here's what you need to make this egg mask:
Ingredients:
Directions:
To deep condition your hair while promoting hair growth, use this avocado-egg hair mask. To make it smooth and easier to apply, just use a blender to make this mask.
Place all your ingredients into your blender. I love using my Nutribullet for hair masks (and other skin care recipes, as well!) Since I only use my Nutribullet for skin care/hair care recipes, I simply add the essential oils into it without worry. But if you're using your blender for food purposes, don't add essential oils into it. Add the essential oils after pouring the mask into a bowl.
Transfer your avocado – egg hair mask into a bowl and apply onto your hair with an applicator, or your clean fingers.
Allow the mask to rest on your hair for at least 30 minutes. You can also leave it on for an hour if you have time.
Wash off with lukewarm water and use a mild natural shampoo to clean your hair as usual.
4. Egg Hair Mask to Seal Split Ends
Split ends are the worst enemy when it comes to hair growth. They can wreak havoc on your hair by splitting perfectly good strands of hair and making your hair limp and frayed. This egg hair mask recipe with aloe vera gel and coconut oil works wonders for hair plagued with splits.
Coconut oil helps to deeply hydrate and moisturize the ends. Meanwhile, aloe vera gel helps to revitalize and rebuild damaged hair cells. Rose essential oil is incredibly healing. Its antioxidant properties help to resuscitate lifeless hair and what's more, it smells like heaven! Furthermore, rose essential oil is also rich in anti-oxidant properties that help in preventing premature graying of hair.
Ingredients:
Directions:
In a bowl, pour all your ingredients and mix thoroughly using a fork or whisk.
Now use a hair mask brush to apply the egg hair mask over your hair. Pay special attention to your ends. Make sure
the hair mask coats your hair ends very well.
Twist your hair and clip it up using a crocodile clip.
Allow the mask to work on your split ends for 30 – 40 minutes.
Now wash your hair using lukewarm water and use a mild natural shampoo to clean.
5. Egg Hair Mask for Dry Hair
Dry hair can be a big cause for hair fall. When your hair is dry, it tends to break easily along the shaft. Dry hair also means dry follicles or hair roots. When your hair roots are dry, they will fall out at a much greater rate from your scalp. Next time you brush your hair, examine the hair strands that fall out. Have a closer look at the hair root. Is it dry and flaky? Then you need to give it a boost with this egg hair mask for dry hair.
Ingredients:
Directions:
In a small mixing bowl, put your egg, yogurt, avocado oil and rosemary oil.
Use a whisk to evenly bring together the whole mixture.
Next, use a spray bottle to dampen your hair. Now apply the egg – yogurt hair mask onto your scalp and all along your hair, without missing a spot.
Place a shower cap over your hair to give your dry hair an intense moisturizing treatment.
Wait for 30 – 60 minutes before rinsing off with lukewarm water.
As usual, make sure you use a mild, natural shampoo to wash your hair. You can check out some helpful natural shampoo alternatives if you want to reduce the chemical load on your hair.
Making Sure You Enjoy Applying Egg Hair Masks
The number one thing that stops people from using egg hair masks to grow their hair is the fact that they don't know how to use one properly. When something is difficult or cumbersome to do, people often end up not doing it at all.
Not surprisingly, the only egg hair mask that works is one that is actually applied.
Here are some tips to help you apply your egg hair mask correctly, so you can derive maximum benefit from this great hair growth secret:
Never wash off an egg hair mask with hot water. This is pretty obvious because using hot water will end up cooking the egg on your hair and making it hard to remove. Always use lukewarm water to wash off egg hair masks.
Use a shower cap to prevent the egg hair mask from dripping everywhere. This is a handy trick to help you go about your usual duties while wearing an egg mask.
Essential oils are a great way to neutralize the egg smell in your hair. Furthermore, essential oils have their own hair growth boosting properties that just cannot be missed out on!
Consistency is key for hair growth! If you use an egg mask once in a blue moon, it probably won't have any effect. Get organized and set up a schedule where you use your egg hair mask at least once a week, say on Sunday morning.
How often should you use an egg hair mask? Well it truly depends on your hair goals, your schedule and how busy you are. I recommend using an egg hair mask at least twice a week. 1 – 2 times a week is more than enough, actually.
Don't use cold ingredients on your head. Brrrr! That's just uncomfortable. Make sure you get your eggs and other ingredients out of the fridge before-hand and allow them to come to room temperature before applying. This will help you have a comfortable experience while using an egg hair mask!
You'll Love:
DIY Egg Shampoo for Hair Growth
Homemade Herbal Hair Oil Infusions eBook
Complete Guide to Using Essential Oils for Scalp & Hair Care
3 Nourishing Smoothies for Super-Fast Hair Growth
9 Best Supplements for Hair Growth (Grow your Hair by Miles!)