Learn how to prepare an egg white lemon hair mask at home for beautiful, clean and shiny hair & scalp!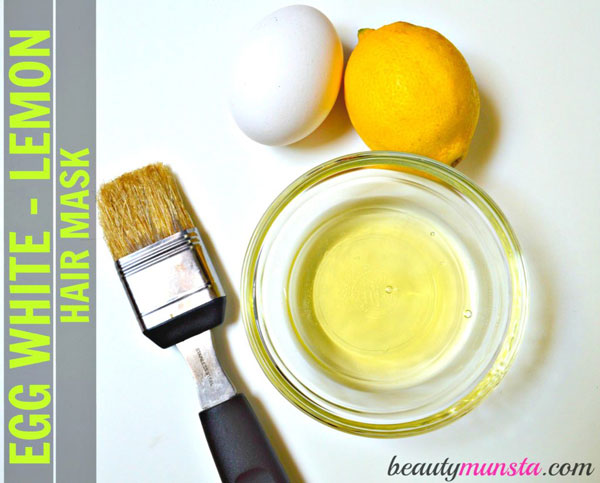 Greasy slick hair can be a huge beauty bummer for natural beauties who want to flaunt luscious hair. My hair is quite oily especially since I've stopped using shampoo and chemical hair products! I can safely say my hair is undergoing the 'transition period' where it's making up for the scalp pH imbalance from the switch to natural.
The egg white and lemon hair mask combo is amazing in controlling oily hair and scalp. Check out what exactly makes egg white and lemon good for hair below!
Egg White Benefits for Hair
Just like with oily skin, egg white controls sebum secretion in the scalp by tightening the hair follicles. This will reduce the amount of sebum secreted through the hair follicles and remove excess oils from your scalp and hair. What's more is that egg white contains lysozyme, an active enzyme that kills off bacteria and germs. It works by eating up bacterial cell walls which can keep off scalp bacterial infections as well as dandruff! See the table below for the nutrients egg white contains:
Protein: Protein is the building block of hair and skin. Hair is made up of protein called keratin. So it's only logical that using eggs or egg whites is ultra nourishing for our hair! Protein repairs worn out cells and promote hair growth.
Lysozyme: Enzyme found in egg whites that kills off bacteria by digesting their cell walls. Great for warding off scalp infections and dandruff.
Minerals & Vitamins: The minerals and vitamins found in egg white such as potassium, magnesium and b-vitamins nourish the hair follicles, delay signs of aging and promote hair growth.
Lemon Benefits for Hair
Juice from freshly squeezed lemons offers a myriad of benefits for hair. For oily hair particularly, lemon is most beneficial. It has oil control action that checks over production of sebum in the scalp. Lemon juice has an added bonus of antiseptic properties that fights bacteria and dandruff.
Citric acid: Citric acid is a type of alpha hydroxy acid with numerous beauty benefits. It will strengthen hair follicles and the hair shaft.
Vitamin C: Vitamin C is one strong antioxidant found in lemons. It will maintain the hair's natural elasticity, preventing breakage and damage. Vitamin C will also ward off oxygen stealing free radicals.
Antioxidants: Lemon contains powerful antioxidants that will fight off free radicals that degenerate hair cells by stealing oxygen from them.
Ingredients Needed
Note: These measurements are for shoulder length hair. Please adjust the measurements according to your hair length and thickness. For waist length hair, you will require 2 to 3 egg whites. You can leave the quantity of lemon juice as it is because too much of it can actually burn your scalp.
1 egg white
1 tablespoon lemon juice
How to Make an Egg White Lemon Hair Mask
1. Gather your ingredients. You will need 1 egg white and 1 tablespoon of freshly squeezed lemon juice. Don't buy store bought lemon juice as this contains additives which are not good for hair.
2. Start mixing! Add the ingredients to a bowl. Use a whisk or simply a fork to mix up the ingredients until you get a slightly frothy hair mask mixture.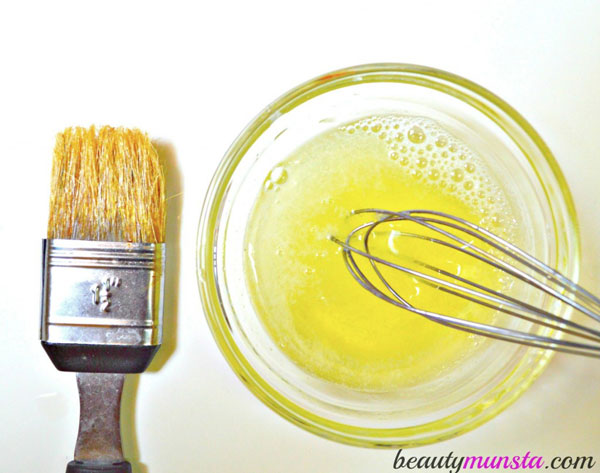 3. Voila! Your egg white lemon hair mask is complete!
Where to Get a Natural Shampoo
If you are going chemical-free on your hair, but want to save the time of making a homemade shampoo, this Maple Holistics Sage Shampoo is a game-changer. It contains powerful herbs such as sage: for dandruff & itchy scalp treatment, rosemary: for hair growth and prevention of hair loss and spikenard for dandruff treatment. It also has argan, jojoba and tea tree oils that all protect the scalp from germs, keep hair clean as well as hydrated and moisturized. This shampoo does not contain sulfates, so it will not lather the way you are used to, but you will quickly get used to it and notice the difference!
My Tips
You can beat your egg white for about 4 minutes until it you can see stiff peaks. (when it's very foamy and not runny at all) This is just to make your hair mask easier to apply. I didn't mix it that way as you can see above. This is totally optional.
Egg white stinks considerably less than a whole egg complete with egg yolk. The lemon juice practically masks the egg white smell and rinsing thoroughly will surely get the stink off of your hair stands. Still, you may want to use an organic shampoo or natural soap bar if you feel your hair stinks.
Apply this hair mask just before a shower to  remove it more thoroughly.
Leave the hair mask on for 10 minutes. You can blow your hair with a hair dryer to open up your hair follicles so the hair mask can sink deep. Make sure you don't dry out your hair. Dried up hair masks are a down right pain to wash off!
Most importantly, do NOT use hot water to rinse off this mask. Hot water will cook the egg white and leave you will cooked bits of egg in your hair. Use tepid to cold water.