Explore 3 fabulous DIY face masks without honey in them!
Honey is a star ingredient in many DIY face masks! People even use honey alone on their faces as a skin clearing & brightening face mask!
But what if you're vegan? Or you don't have honey in the house? Can you still make an effective face mask that helps beautify your skin?!
Yes, you can! Don't worry, you can still make a fabulous facial treatment without honey. In this post, I'm sharing 3 DIY face masks without honey to show you how!
DIY Face Masks without Honey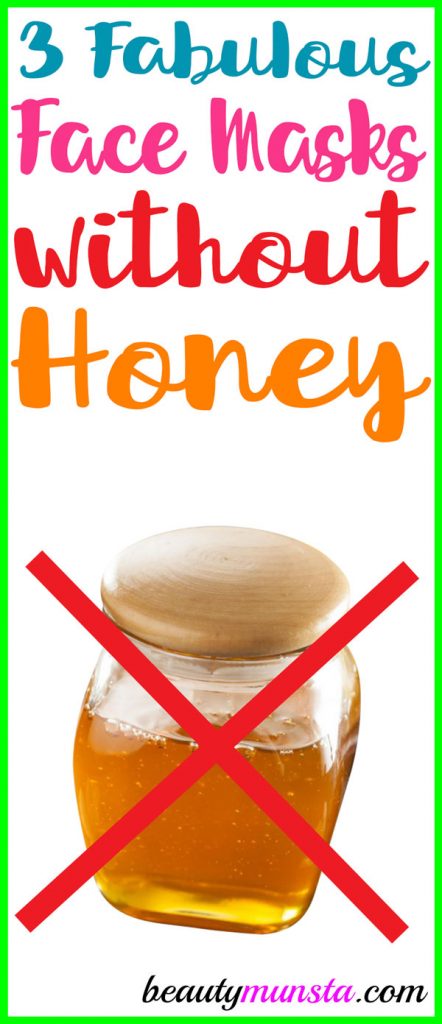 1. Cleansing Clay & Rose Water Face Mask
What you need
1 tbsp bentonite clay
2-4 tsp rose water
½ tsp lemon juice
Non-metal bowl and spoon *metal reacts with clay so use non-metal equipment.

Directions
Dump 1 tbsp of bentonite clay into a non-metal bowl.
Now slowly add rose water while mixing until you get an easily spreadable paste.
Squeeze ½ tsp lemon juice into the paste and mix again.
Spread the face mask on your face (and neck), avoiding the area around your eyes and mouth.
Leave it to completely dry then remove with warm water first then when it's all off, splash your face with cold water.
Moisturize with 3 drops of argan oil!
2. Calming Aloe Vera Face Mask for Acne
What you need
2 tsp pure aloe vera gel
2 drops lavender essential oil
Small bowl & spoon

Directions
Scoop 2 tsp of pure aloe vera gel into a small bowl then add 2 drops of lavender essential oil.
Mix up the two ingredients to form a white mixture.
Apply a thin layer of the mixture on your face and neck, avoiding the eye and mouth area.
Leave it on for at least 20 minutes, then rinse off with cool water. You can also use this face mask as an overnight acne treatment.
3. Moisturizing Avocado Chocolate Face Mask
What you need
Half an avocado
1 tsp unsweetened cocoa powder
Magic bullet
Small bowl & spoon

Directions
Scrape the flesh of a half an avocado and together with 1 tsp unsweetened cocoa powder, blend it in a Magic Bullet.
Your avocado chocolate face mask is ready! Transfer 2 tsp of the mixture into a small bowl. With the rest of the mixture, eat it up, save it for your neck, hands and feet, or store it for future use!
Slather the mixture on your whole face, avoiding the eye area.
Leave it on for about 10 minutes to sink into your skin cells then rinse off with tepid water.
Pat your skin dry with a soft towel and voila! Enjoy your silky smooth skin! You totally don't need to moisturize as your skin will be moisturized by the avocado!

Guys, try any of the above DIY face masks without honey and come share your results!