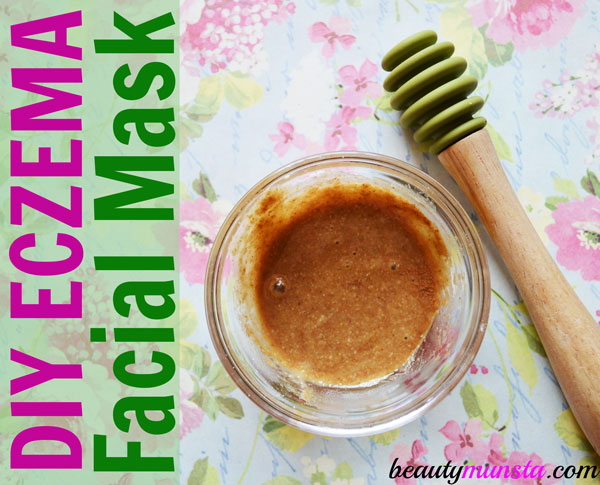 Eczema can be such a pain in the face! Your skin feels awfully dry, itchy and swollen. To top it off, it's on the face where everybody can see. Fortunately, there is something you can do to reduce the appearance of the flare-up quickly. And naturally.
Wanna know what it is? Why a DIY eczema face mask, of course! Face masks are incredibly easy to make. It can take literally 5 seconds to combine everything together then apply it on your face for instant relief.
If you ever get an eczema flare-up on your face again, use this soothing DIY eczema face mask as your emergency skin saver:
DIY Eczema Face Mask
Why these Ingredients
► Manuka honey – If you suffer from eczema, this ingredient should be something you must have stocked up. It is filled to the brim with antioxidants and other powerful compounds that haven't even yet been discovered by scientists. Manuka honey is a medicinal substance and cure-all. It can be used both externally and internally to combat eczema.
► Colloidal oatmeal – Oatmeal, for centuries, has been used as a home remedy for all sorts of skin problems. It is a great skin soother and has a healing effect on skin inflammatory conditions like eczema. If your eczema is on other parts of your body, taking a warm bath with a handful or two of colloidal oatmeal is a super beneficial thing to do every time you feel itchy and irritated.
► Nutmeg powder – Nutmeg is a strong anti-inflammatory agent. It is also good for calming irritated eczema and relieving painful itching. It can removes flaky skin and leaves your skin looking and feeling smooth and soft.
► Vitamin E oil – A powerful antioxidant, vitamin E is incredible for skin. It is an intense moisturizer, protects the skin from free radicals and also promotes smooth and soft skin.
How to Use the Face Mask
Into the bowl, pour in the manuka honey, colloidal oatmeal and nutmeg powder.
Then snip the edge of the vitamin E capsule using a pair of sharp scissors and squeeze out the oil into the bowl.
Mix up the ingredients vigorously with a spoon till well combined.
Now using clean fingers/face mask brush, scoop up the mask and slather it thickly on your face (and neck, if you want).
Let it sit for 5-10 minutes then rinse off with warm water.
Apply shea butter on your damp face to lock in moisture. That's it! Your face will look and feel much better!
My Tips
Double the above recipe and store the face mask in a small mason jar. Keep it in your bathroom cabinet for emergencies. Don't worry, it'll last months, provided you don't put any water or other contaminants in it!
If you don't have vitamin E, you can use 1 tsp of any other oil that is okay to use on your skin. For example, olive oil, coconut oil and others.