Treat your skin by using any of these 3 healing DIY face masks for eczema!
Eczema is a skin inflammatory condition which causes itchy, inflamed, red and sometimes oozing rough patches on skin. It can appear anywhere on the body, including the face!
Having an eczema flareup on the face can be terrible but you can help heal it quickly and prevent future outbreaks using healing face masks!
Use any of these DIY face masks for eczema, all of them containing nourishing ingredients from Nature, to heal your skin naturally!
3 DIY Face Masks for Eczema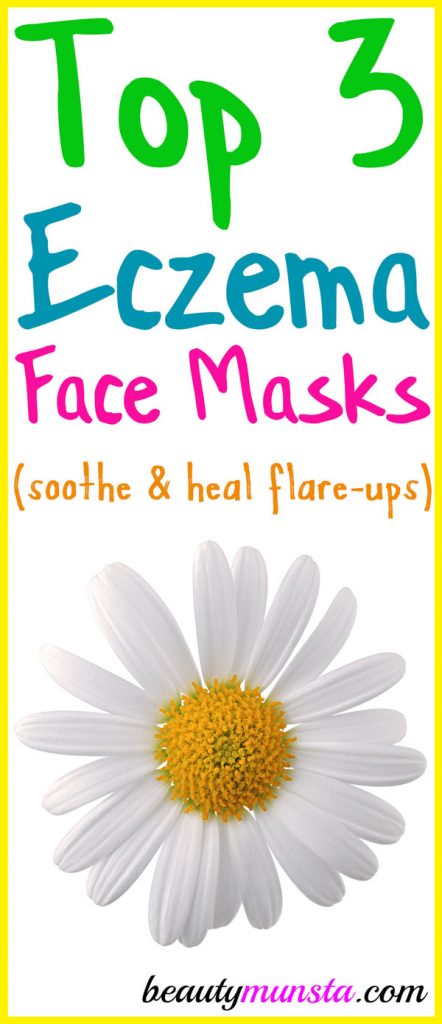 1. Emergency Eczema Face Mask
This is a face mask to immediately treat a flare-up and reduce it quickly so it's called the emergency eczema face mask. It's such a skin saver!

What you need
1 tbsp pure manuka honey
1 tsp colloidal oatmeal
¼ tsp nutmeg powder
1 Vitamin E capsule
Small bowl & spoon

Directions
Add the manuka honey, colloidal oatmeal and nutmeg powder into a small bowl.
Next add the vitamin E oil by snipping the edge of the vitamin E capsule using a pair of sharp scissors then squeezing out the oil into the bowl.
Mix up the ingredients vigorously with a spoon till well combined.
Now using clean fingers, scoop up the mask and slather it thickly on your face (and neck, if you want).
Let it sit for 5-10 minutes then rinse off with warm water.
Apply shea butter on your damp face to lock in moisture. That's it! Your face will look and feel much better!
2. Skin Saving Turmeric Face Mask for Eczema
Turmeric is works wonders for eczema! It speeds up wound healing, disinfects the area and helps get rid of inflammation. Couple with cooling and soothing yogurt, this mask a skin saving face mask you must seriously try out.

What you need
2 tsp thick plain yogurt like Greek yogurt
¼ tsp turmeric powder
Small bowl & spoon

Directions
Into a small bowl, dump in 2 tsp of thick plain yogurt. Make sure it's unsweetened and unflavored.
Next add ¼ tsp of turmeric powder. Just a little is enough because turmeric can stain skin yellow if used in excess.
Mix up the ingredients to form a yellow face mask for eczema!
Apply it on your clean face, avoiding the eye area.
Leave it on for 20 minutes then rinse off with cold water.
Admire your moisturized skin! Use this mask about 3 times a week to get rid of redness and rough skin.
3. Moisturizing Avocado Face Mask for Eczema
The benefits of this moisturizing avocado face mask are too good to be true! You'll be admiring your skin for at least an hour after using it because it leaves skin soft and smooth!

What you need
Half a ripe avocado
2 tbsp cooled green tea
Magic bullet
Small bowl & spoon

Directions
Scrape the flesh of a half an avocado and together with 2 tsp of cooled green tea, blend it in a Magic Bullet.
Your moisturizing avocado eczema face mask is ready! Transfer the mixture into a small bowl.
Now it's application time! Slather a thick layer of the mixture on your whole face, avoiding the eye area.
Leave it on for about 10 minutes to sink into your skin cells then rinse off with tepid water.
Pat your skin dry with a soft towel and voila! Enjoy your silky smooth skin! Your rough and itchy eczema patches will be greatly calmed!

Please try any of the above DIY face masks for eczema to heal your skin with Nature's own ingredients! Do you have any homemade masks you want to share with us? Tell us in the comments!