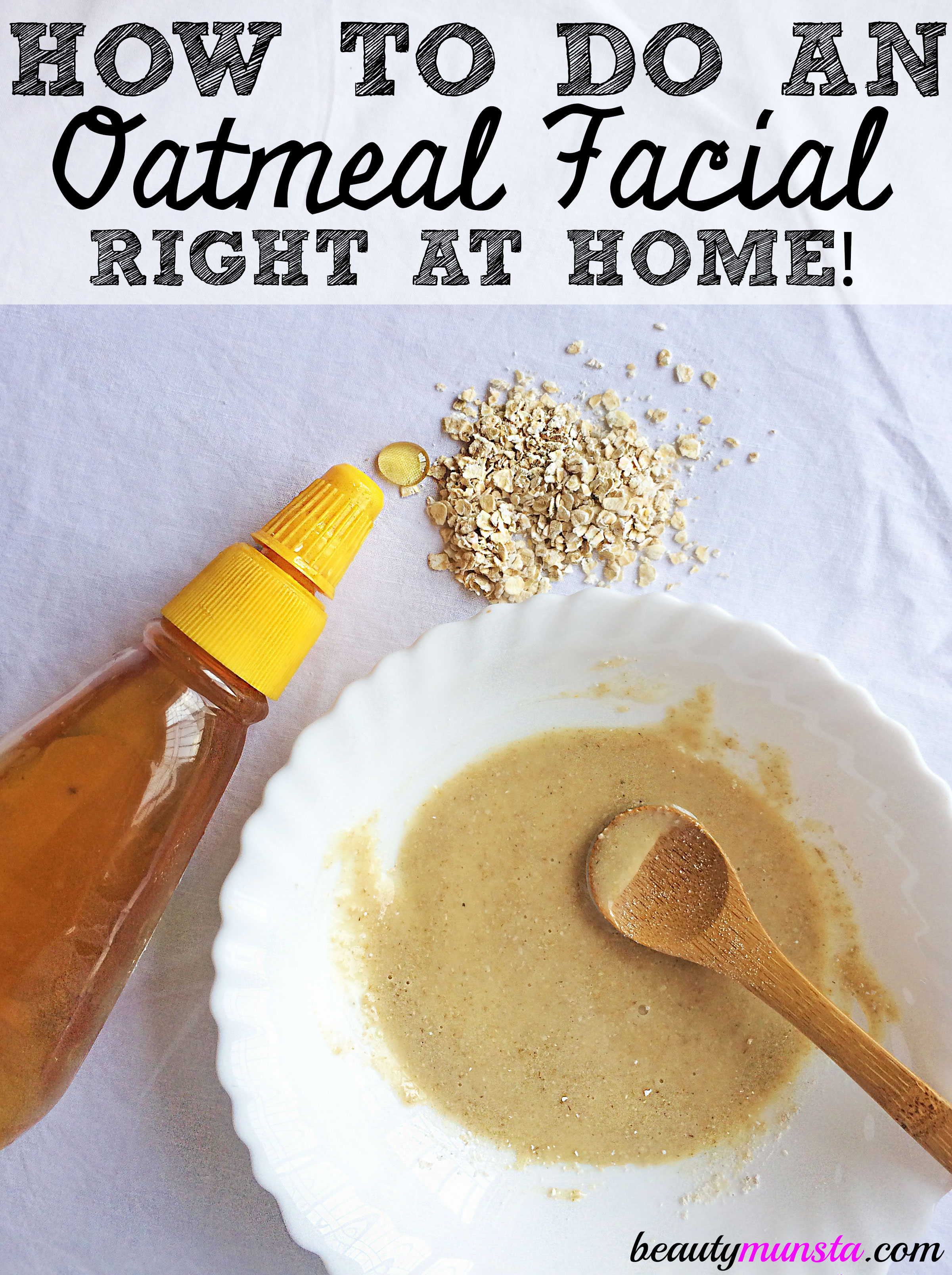 I had so much fun doing this delicious oatmeal facial – yes, I actually ate some as well! I couldn't resist because it smelled so yum! Oatmeal and honey aren't just a breakfast option anymore, more and more people are incorporating these all-natural ingredients into their skin care routine.
Making an oatmeal facial is one of the most popular ways of combining oatmeal and honey together for a gentle exfoliating plus moisturizing skin treatment.
Below, let's explore how oatmeal and honey help skin:
Oatmeal
Soothing Properties – Oatmeal is known to help soothe and calm skin irritations, rashes, redness and inflammation when mixed with water and applied to skin or when added to a warm bath.
Cleansing Action – It contains saponnins, also known as natural cleansing agents that are found in only certain powders including mung bean flour or rye flour, which make it a gentle cleanser on its own. It cleanses off dirt and grime from the skin.
Good Exfoliator – The mild gritty texture of powdered oatmeal helps slough off dead cells, stale oils, dirt and pollution from within skin pores and on the skin's surface. It also helps soften and smoothen dry flaky skin.
Soaks Up Excess Oils – Applying oatmeal on skin helps soak up excess oils that end up clogging pores and causing breakouts.
Honey
Anti-Inflammatory – Honey is known to be a strong anti-inflammatory food and it has the same quality when applied topically on skin! Whether you have dry skin inflammation or acne inflammation, honey will help soothe and heal it.
Skin Brightening – This sweet product of Nature also has skin lightening and brightening properties as well. It helps fade away blemishes, dark marks and acne scars as well as even out skin pigmentation.
Anti-Microbial – Got itchy skin or pus-filled acne? Use honey! Long ago, honey was even used as a salve for open wounds because it is a powerful anti-microbial substance that wards off germs and bacteria.
How to Have an Oatmeal Facial at Home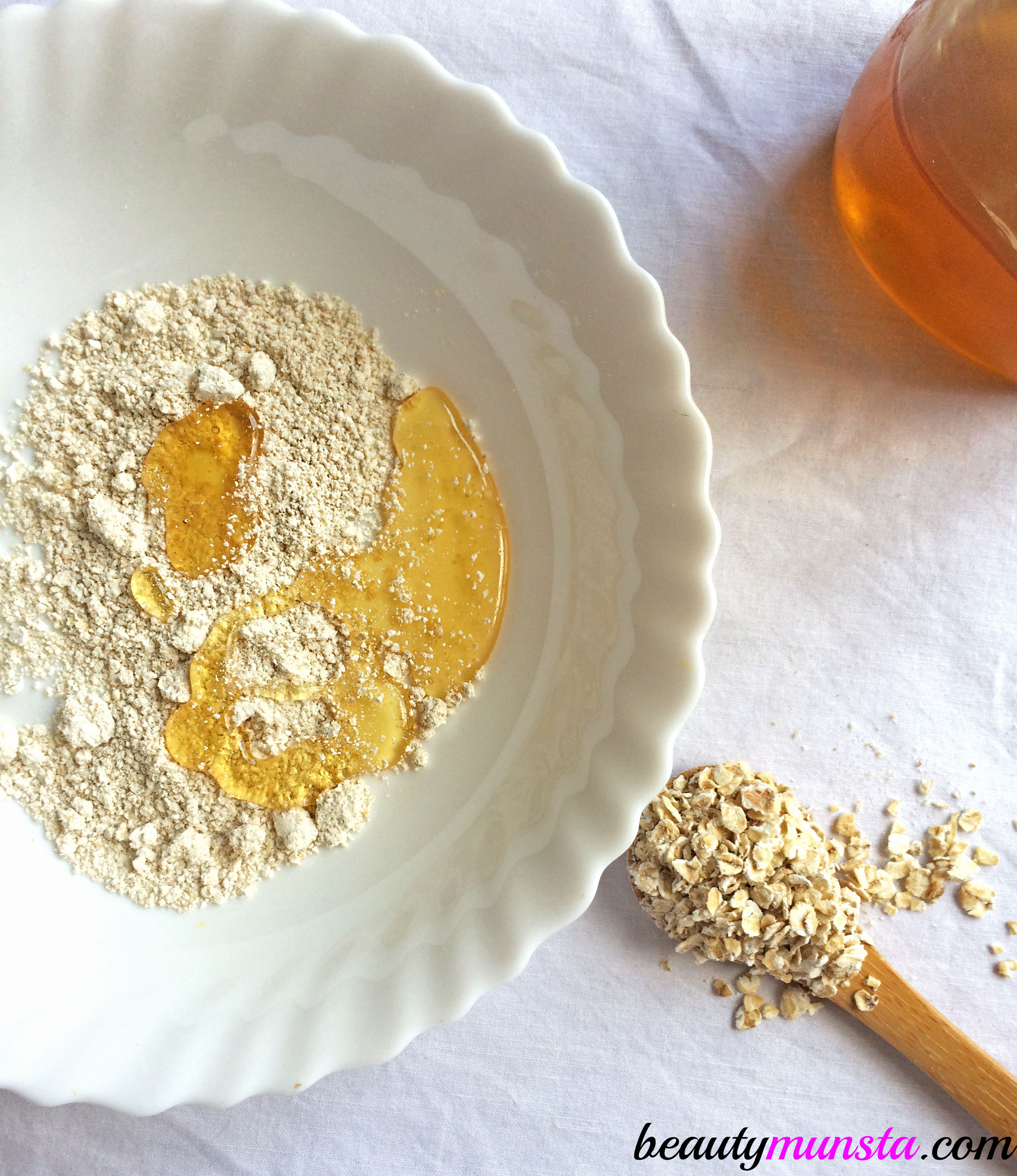 What you Need
2 tbsp oatmeal
1 tbsp liquid honey
A medium-sized bowl and spoon to mix
A headband to keep your baby hairs away from your forehead
Directions
Place the oatmeal in a small blender, coffee grinder or spice grinder.
Blend for a few minutes until it turns to fine white powder.
Add it to a medium-sized bowl and drizzle in the honey.
Mix it up together to form a delicious smelling treat!
How to Do the Oatmeal Facial
Step 1: Do Facial Steaming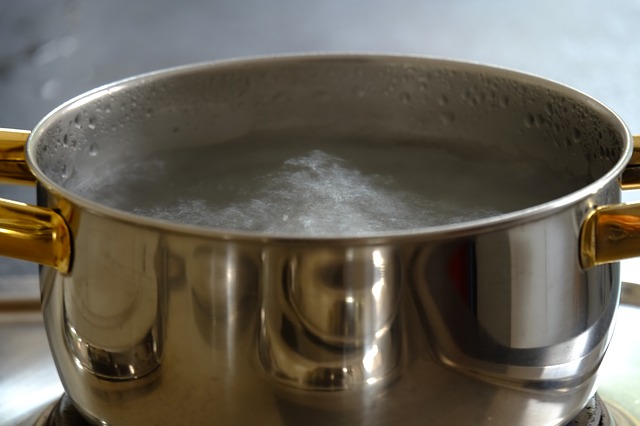 If you've ever been to a spa or beauty salon, the first thing they would do for you is setup a facial steaming session. Did you know that you can make your own right at home! All you need to do is:
► Collect about 4 cups of water in a medium-sized pot and heat it to a boil. When it's boiled, transfer the pot to a table, over a placemat.
► Now sit down and lean over the steaming pot and throw a towel over your head and the pot, creating a sort of tent.
► Allow the steam to work its magic for about 7 minutes. When the time is up, you can go and wash your face with cold water and your facial cleanser. Pat it dry with a clean towel and do step 2!
Step 2: Time for the Oatmeal Facial
► Bring the bowl containing the oatmeal facial mixture, a soft washcloth and a clean face towel to the bathroom.
► Gather your hair away from your face into a bun/ponytail and put on a headband to keep away tiny hairs from your forehead. This is because the oatmeal facial can stick on your hair strands, since it contains honey and the small oatmeal particles can also get stuck on your hair line and it's a pain to get them off, trust me!
► Scoop some of the honey oatmeal facial mixture using clean fingers, lean over the sink and start applying it gently on your face, starting with the forehead, going down to the chin and neck as well.
You'll feel the gentle abrasive texture of the oatmeal exfoliating your skin while the honey will help it all glide smoothly while making your skin baby soft.
► After application, leave the honey oatmeal facial treatment to sit on your skin for about 7-10 minutes.
► When the time is up, get the wash cloth and wring it out in hot water. Gently start removing the dried up oatmeal honey on your face using the wash cloth.
► Splash your face with cold water to close the pores. Pat dry with a clean towel and that's it! Marvel at how soft, smooth and supple your skin looks and feels! Yep, you don't even need to use moisturizer – that's how moisturized this oatmeal facial will leave you!
Tips
Wear an old T-shirt before doing the oatmeal facial because the facial mixture might drop down your clothes.
When you've boiled the water for facial steaming, you can add a few drops of lavender essential oil or tea tree essential oil to balance oily skin and fight acne. Alternatively, add a tsp of lavender flowers or a sprig of rosemary.