A chamomile oatmeal face mask is just what you need to soothe your skin and hydrate dry skin cells!
What do chamomile and oatmeal have in common for skin? They're both super soothing and calming!
If you have inflammation on your face, angry red acne, rosacea, a rash, itchy skin or even a sunburn, you can use chamomile tea or oatmeal on your face for a nice soothing relief.
In this chamomile oatmeal face mask, we shall be using chamomile tea and colloidal oatmeal or oatmeal powder. You can add other ingredients if you want such as nourishing raw honey, healing lavender essential oil and even a gentle facial oil like argan oil to lock in moisture!
You can read more about the beauty benefits of chamomile and oatmeal in the links I'm sharing below:
Okay, now let's head onto the chamomile oatmeal face mask recipe:
Chamomile Oatmeal Face Mask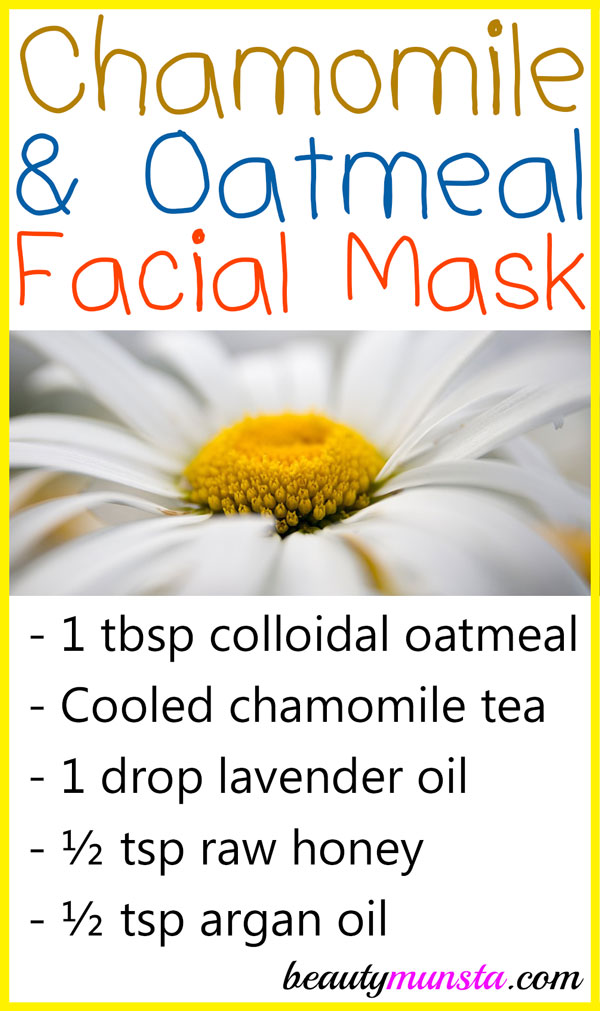 Ingredients:
1 tbsp colloidal oatmeal
Cooled chamomile tea
Optional: 1 drop lavender essential oil
Optional: ½ tsp raw honey
Optional: ½ tsp argan oil
Small bowl & spoon for mixing
Directions:
Into a small bowl, add 1 tbsp of colloidal oatmeal.
Next slowly add cooled chamomile tea into the bowl while mixing with the spoon.
Add enough chamomile tea to form a smooth spreadable paste.
Now you can add the optional ingredients: 1 drop of lavender essential oil, ½ tsp raw honey and ½ tsp argan oil.
Mix everything together till well combined.
Apply onto your clean face, avoiding the area around your eyes and mouth.
Wait for 7 minutes then rinse off gently with warm water first, then cold water.
You can then moisturize your face with 4 drops of argan oil!

This is a soothing and nourishing chamomile oatmeal face mask recipe. Please go ahead and use it often for beautiful skin!