Combination skin means having both dry skin and oily skin on different regions of your face. In most cases, the T-zone of your face, which is your nose, forehead and chin, is oily and shiny. Your cheeks and other parts of the face may be the dry areas and may even have acne and large pores.
With combination skin, it may be hard to choose beauty products that your facial skin is compatible with, being both oily and dry. Choose natural ingredients to care for this skin type which may even resolve combination skin issues and restore skin back to its original luster.
In this article, we shall explore three homemade face masks for combination skin, their skin benefits and nutrient content. You'll also find useful tips on storage and application at the end of each face mask.
1. Banana Oatmeal Honey Face Mask for Combination Skin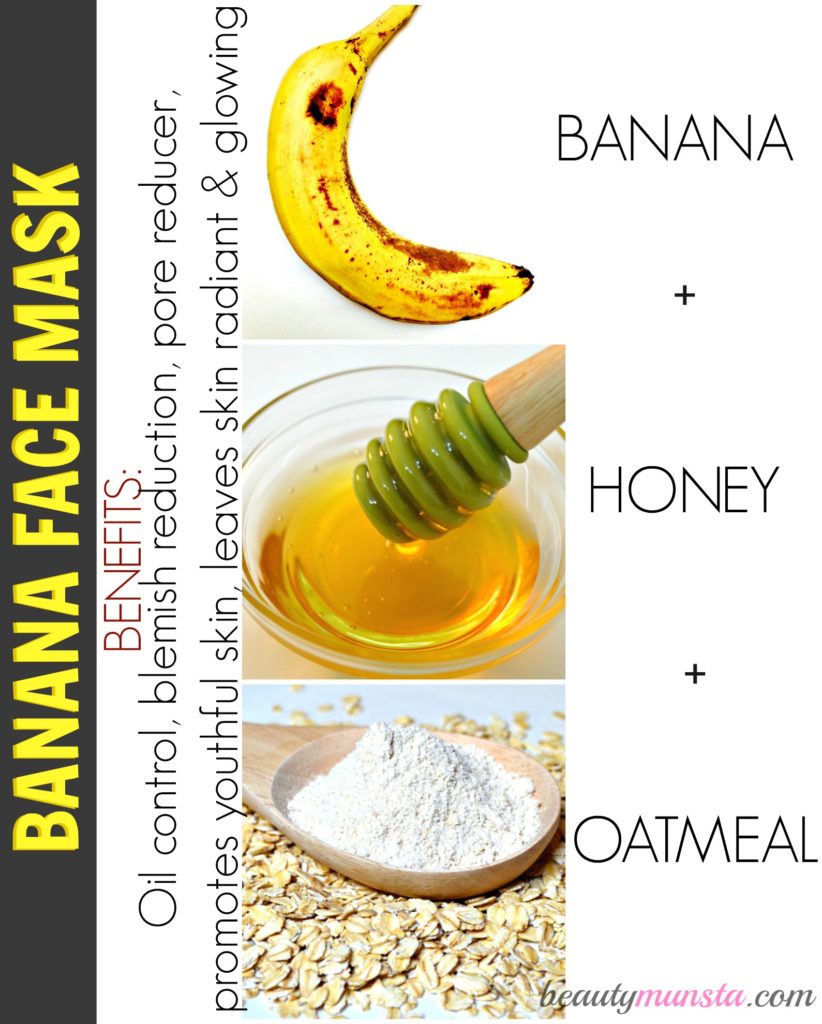 Popularly known in the beauty world as Nature's Botox, bananas have both hydrating and oil control properties which make it an excellent kitchen ingredient for combination skin. Coupled with honey and ground oats, this face mask for combination skin will hydrate, moisturize and gently exfoliate your skin cells.
Let's have a quick look at the benefits of banana, honey and oatmeal for skin below:
Banana– Rich in potassium and moisture. Hydrates and nourishes skin cells. Deep cleanses skin pores and surface. Fades skin discolorations and blemishes. Moisturizes oily skin hence controls excess oil production.
Honey– Natural humectant which locks moisture into skin cells. Contains anti-septic and antibacterial properties, which are potent in healing inflamed acne. Kills off germs and acne causing bacteria found on the skin's surface. Deep cleanses and unclogs pores blocked with germs, dirt, excess sebum and grime. Gently moisturizes skin.
Oatmeal– Natural absorbent which soaks up excess sebum from skin's surface and deep within pores. Gently exfoliates skin by sloughing off dead cells from the skin's surface. Nourishes and hydrates skin.
Ingredients
Directions
In a small mixing bowl, mash up the rip banana with the back of a fork until it reaches a gloopy consistence. Stir in the honey and oats until you get a thick paste. Onto your cleaned face, apply the banana face mask and sit for 10 to 15 minutes. When the time is up, gently remove the face mask using a warm wash cloth or using clean finger tips. When the face mask if off, rinse with cold water. Pat dry.
Top Tips
Concentrate on rubbing the oatmeal especially on your oily areas like your cheeks which may even have peeling skin/acne. The oatmeal will scour away the dead cells and gently exfoliate your oily skin into soft supple less oily skin.
After rinsing off the face mask, apply a drop of coconut/ olive oil to your dry areas to prevent peeling and further dryness.
Change your face towel everyday to prevent germs and oil from latching onto your face every time you use the towel to pat dry.
2. Yogurt Egg White Face Mask for Combination Skin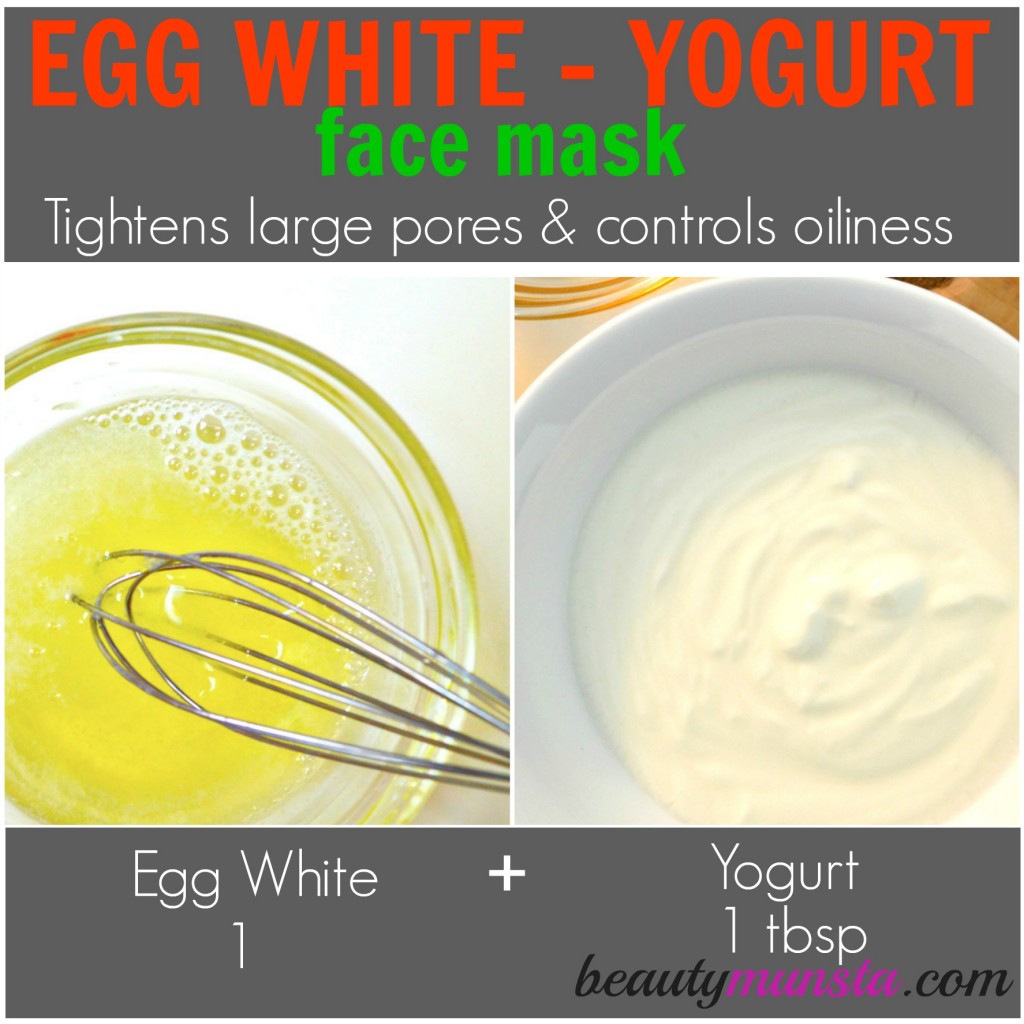 In this face mask for combination skin, you only need two ingredients : probiotic yogurt and egg white. Egg white is good for tightening large pores and controlling oil production. Yogurt is a a super food which fights acne, controls oil and hydrates dry skin. Let's look at in depth benefits of these three ingredients for combination skin:
Yogurt– Superfood that nourishes, softens, conditions and moisturizes skin. Helps fade skin discolorations. Lightens skin tone and blemishes. Fights off acne causing bacteria and germs in skin pores and surface. Hydrates dry peeling skin.
Egg White– Tightens large skin pores. Lifts up face and tightens sagging skin. Has oil control action and is effective against oily skin.
Ingredients
1 tablespoon yogurt
1 egg white
Directions
Combine the ingredients thoroughly in a small mixing bowl. Slather the mixture onto your face, avoiding the eye and mouth area. Sit for 10 to 15 minutes. When the face mask has completely dried up, rinse off with warm water first then cool water to cool off pores. Pat dry.
Top Tips
Do facial steaming before hand to open up skin pores. This will allow the face mask nutrients to penetrate deep and work their magic.
Always use plain, unsweetened, unflavored probiotic yogurt on your skin to prevent skin irritations and allergies.
Apply the egg white face mask over your kitchen or bathroom sink to prevent a drippy mess on the floor.
3. Avocado Coconut Oil Face Mask for Combination Skin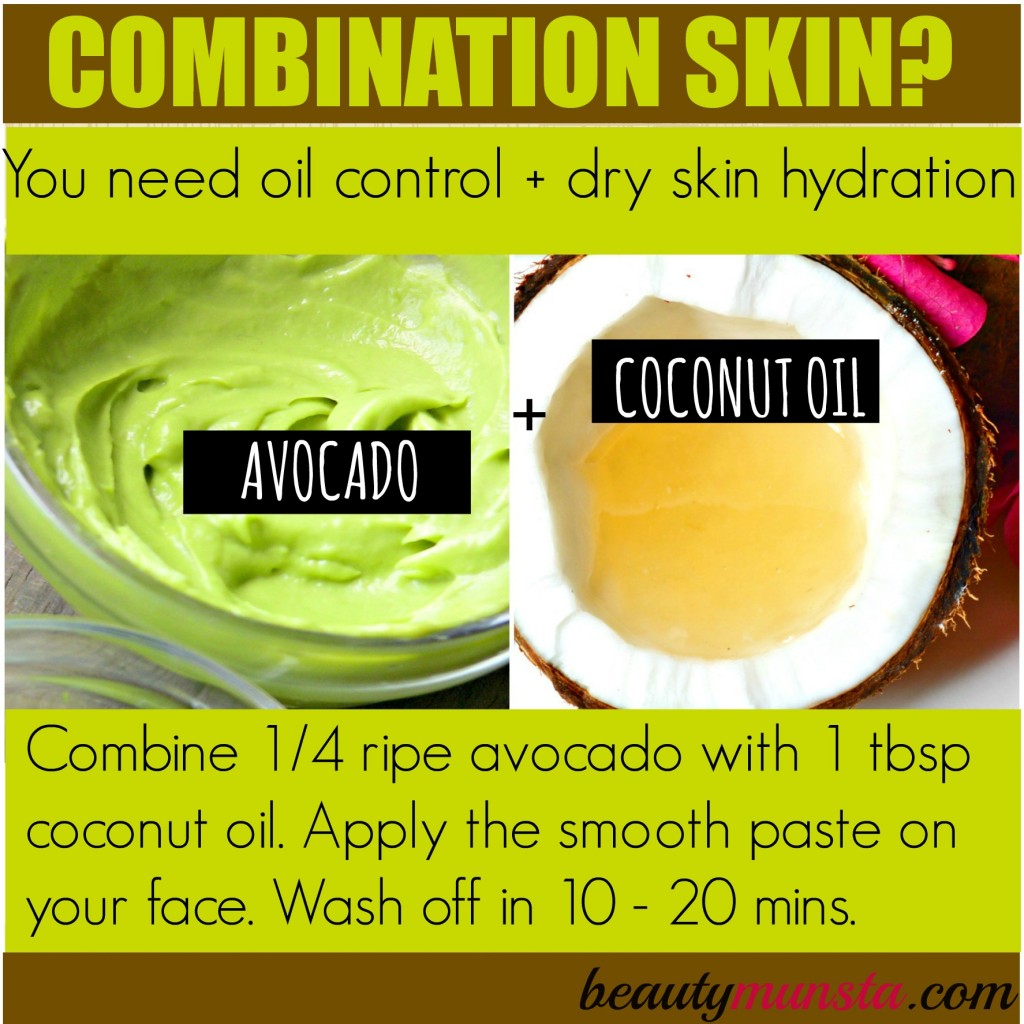 Coconut oil and avocado are by far the best face mask ingredients for combination skin. Both coconut oil and avocado have hydrating and oil controlling properties. Coconut oil will not only lubricate dry skin but also smooth out acne and push out the 'bad' oils which clog pores and cause skin oiliness.
Here's some data showing in-depth look at coconut oil and avocado and their benefits for skin:
Avocado– Superfood rich in potent phytochemicals, healthy fat, natural oils and antioxidants including a hefty serving of vitamin E. Hydrates and nourishes skin cells. Deeply cleanses pores. Contains anti-fungal, anti-inflammatory and anti-aging properties which promote youthful soft supple skin.
Coconut Oil– Contains Medium Chain Fatty Acids such as capric acid, caprylic acid, lauric acid and other antioxidants that condition, repair and nourish skin cells. Deeply penetrate into skin pores, hydrating and lubricating dry skin cells. Protect skin from free radical damage. Offer sun protection. Heal inflammations and clear acne
Tea Tree Essential Oil – A natural astringent, tea tree works in effectively reducing oily skin as well as tightening and toning large pores. It's also a powerful acne-fighter that's said to be just as effective as benzoyl peroxide!
Ingredients
Directions
Cut out 1/4 section of a ripe avocado. Remove the peel and mash the ripe avocado section with the back of a fork until you get a lump free paste. Stir in 1 tablespoon of coconut oil until the ingredients are well combined. Massage the mixture onto your clean face using clean fingertips. Allow it to sink deep into pores for 10 to 15 minutes. Rinse off with cool water. Pat dry with a soft clean towel.
Top Tips
Purchase organic, unrefined, cold-pressed, extra-virgin coconut oil for best results and to avoid skin irritations and breakouts.
Go ahead and use extra face mask mixture on your neck, hands, cleavage and legs before a bath for glowing baby soft skin.
Protect your hairline from sticky face mask mixture by wearing a headband and gathering your hair away from your face into a ponytail.