Let's explore the top 5 yogurt face mask recipes for acne cure and control!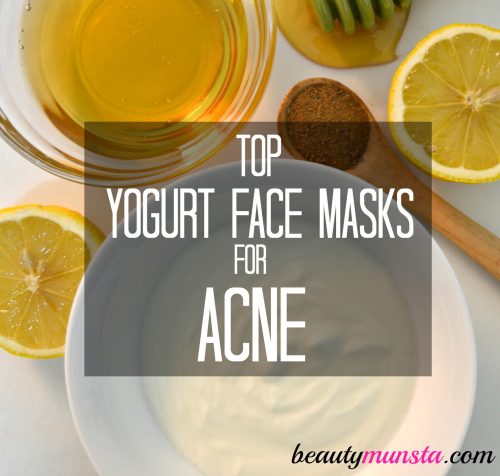 Yogurt and honey might be a great quick-fix for a simple breakfast before work/school but how about saving some of that breakfast for your face?!
Yogurt face masks are getting more and more popular in today's world where people want to be beautiful naturally. Don't be surprised that this multi-vitamin super food has been used since ancient times to achieve radiant skin! Ancient Ayurveda beauty texts talk about using yogurt/ curd for supple skin and some sources say Cleopatra got her gorgeous skin from sour milk baths.
What Makes Yogurt Great for Skin?
Rich in skin-friendly nutrients such as b-vitamins, calcium, lactic acid and zinc, yogurt is just an amazing beauty ingredient you must start using in your face masks. Let's check out the nutrients in yogurt for skin:
Lactic acid– This is a type of AHA that helps exfoliate skin by dissolving dead cells thereby keeping skin clean.
Calcium– The top most layer of skin is made up of vital nutrients and one of them is calcium. If your body lacks calcium, your skin will tend to be dry, flaky and scaly.
Zinc– Famous acne-fighting mineral infused in most acne products. When used topically, zinc is effective in treating acne, especially inflammatory acne. Zinc helps acne by destroying and inhibiting the development of acne bacteria such as Propionibacterium acnes.
B-Vitamins– Hydrate and moisturize dry skin. Combats free radicals that steal oxygen from healthy skin cells thereby damaging them. Slows down the aging process of skin. Promotes radiant and supple skin.
Note: Remember to use plain, unflavored and unsweetened yogurt with live cultures in your yogurt face mask. Also, using low-fat yogurt is less effective so remember to purchase the regular yogurt. Other varieties will cause irritation of skin and aggravate acne.
Yogurt Face Mask Recipes for Acne Cure & Control
1. Lemon Yogurt Face Mask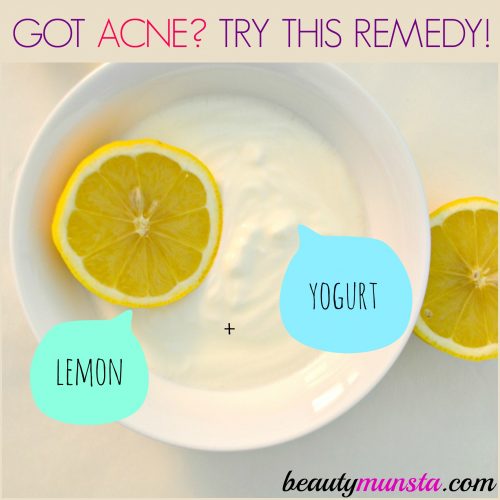 Did you know that yogurt contains useful probiotic bacteria that can kill off acne causing germs? Coupled with lemon, this yogurt lemon face mask will help clear your face as well as soothe inflamed acne.
Lemon is a natural astringent which will tone an oily pimply face and it also contains citric acid which help lighten already existing acne scars. Lemon juice also removes excess sebum/oils clogged deep within your skin pores, hence preventing more acne.
Ingredients
1 tablespoon plain yogurt
1/2 teaspoon freshly squeezed lemon juice
Directions
First cleanse your face with water and a mild soap to remove any traces of makeup and dirt. Next, combine the above ingredients in a small bowl. Using your clean finger tips, slather the mixture onto your face in a gentle circular motion. Wait for 10 minutes or until all of the mask has dried. Rinse your face with cool water. Pat dry with a soft towel. Apply a drop of olive oil to moisturize if your face feels a bit dry and stiff.
2. Honey Yogurt Face Mask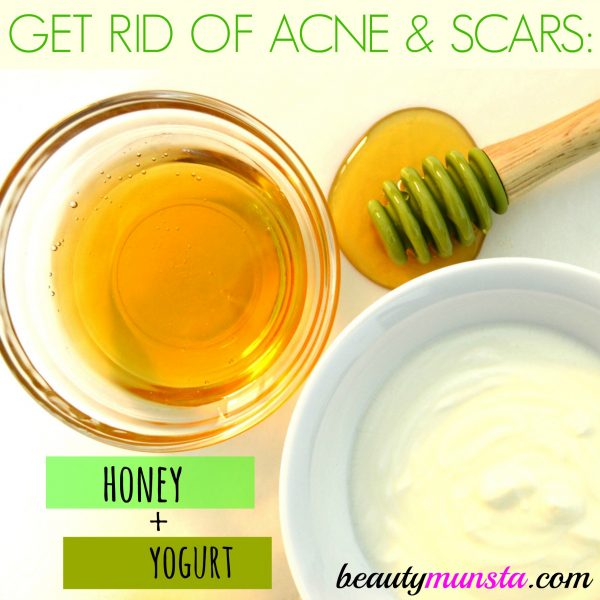 Eating yogurt is almost as good as applying it on your face. Yogurt contains lactic acid which not only kills acne but also maintains the skin's natural pH balance, thereby keeping more acne away.
Honey is a natural humectant, which means it locks moisture into your skin cells. Honey also contains antibacterial, anti-fungal and antiseptic properties that fights off acne germs as well as heals wounds from popped zits. We all have got such wounds when we simply can't resist popping those pesky pimples! Honey also has skin lightening properties which fades out acne scars and dark marks. If you've got red angry acne, honey is your saver! It contains anti-inflammatory properties that soothes inflamed and painful acne.
Ingredients
Directions
Start with a clean dry face. Mix the above ingredients in a bowl and apply the mixture onto your face. Let it sit for 10 minutes before rinsing with tepid water. The face mask can be sticky so use it over your kitchen/bathroom sink. Lightly pat your skin dry with a towel. Do not wipe as wiping can aggravate inflamed acne.
3. Egg White Yogurt Face Mask
Yogurt's antibacterial properties helps eliminate acne germs. Yogurt also has soothing properties for inflamed acne and leaves your face soft and smooth.
Egg white is for those who want to control excess oily skin – which includes acneic skin. Egg white shrinks large pores, which is really effective in regulating the amount of sebum pouring out of skin pores. This checks excess sebum, hence preventing more acne. Egg white also tightens skin and for some people, it has helped reduce their inflamed acne and prevents re-infection.
Ingredients
1 tablespoon egg white
1 tablespoon yogurt
Directions
Crack your egg, separate the egg white and get only 1 tablespoon of it to prevent any leftover face mask mixture. Combine the yogurt and egg white in a small bowl. Make sure not to get any egg yolk into your face mask mixture. Apply it on your face using your fingers or a face mask brush and let it sit for 10 minutes. Rinse off the mask after it dries up. Pat dry.
4. Oatmeal Yogurt Face Mask
The lactic acid in yogurt has amazing properties that not only clear acne but also improve your skin tone and complexion. Lactic acid gently exfoliates your skin through scouring off dead cells on your face. This really helps for people with peeling acne or acne with dry skin. Don't be grossed out, this is actually a skin type that affects many teens out there.
Oatmeal is a gentle exfoliant, perfect for exfoliating acne skin. It's gentle abrasive nature helps scrub off excess dead cells and sebum which may block pores and create acne. Oatmeal also soothes skin!
Ingredients
Directions
Whip up the above ingredients in a small bowl. Gently slather the goodness all over your face and wait for 10 minutes. When the time is up, don't tug on the hard mask but use warm water to loosen it and finally rinse with cool water. Pat dry with a clean towel.
5. Yogurt & Baking Soda Face Mask
Yogurt and baking soda is also another great face mask effective in checking acne and pimples. The yogurt in this mask will not only help control acne but will also check the grittiness of the baking soda, making it gentler for your acne.
Baking soda is effective in acne treatment because it can regulate the skin's natural pH balance. It regulates skin's pH balance which leads to acne formation. Baking soda is also an exfoliant which has a mild abrasive nature. It scrubs off grime, excess oils and dead cells clogged deep within skin pores. Eliminating this dirt keeps more acne away.
Ingredients
1 tablespoon yogurt
1/2 teaspoon baking soda (get it here)
Directions
Mix the above ingredients until you form a paste. Apply the mixture onto your face and let it work for 10 minutes. Please use only a little baking soda to prevent irritation. If it does sting your face badly, immediately wash off. Rinse off your face with cool water and pat dry. Notice the difference in your acne!
Take Care
Please remember to use a test patch of any face mask ingredient on your inner elbow or wrist. Some people may be allergic to some of the ingredients and may experience breakouts. If you are allergic to any of the ingredients in any of the face masks above, do not apply them onto your face.
 ♥  Try out any of the yogurt face masks and come tell me how it helped your skin!  ♥