Find out how to make a yogurt watermelon face mask for acne in the post below!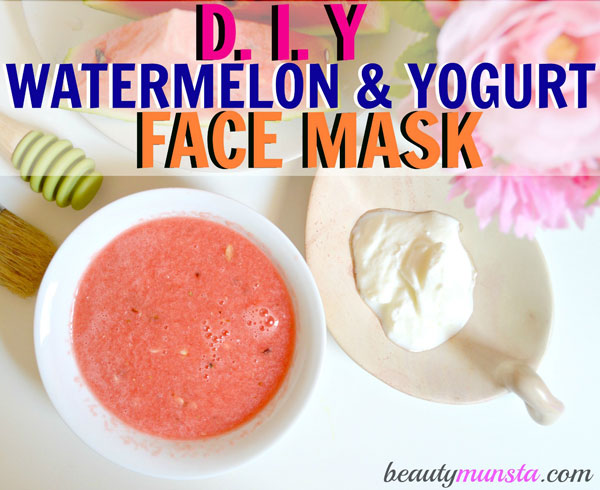 Watermelon is not just a huge fruit filled with water and natural sugars – it also contains a host of vitamins, minerals, antioxidants and amino acids which are the building blocks of collagen! It is rich in moisture that cleanses & hydrates oily acne prone skin.
Coupled with the anti-bacterial yogurt, this yogurt and watermelon face mask for acne helps fight off acne causing germs as well as remove dirt & grime stuck deep within the pores. The cooling properties of these two ingredients soothes and calms acne inflammation as well. Down below are more benefits of watermelon and yogurt for skin:
Benefits of Watermelon for Skin
Watermelon contains antioxidants such as lycopene, which gives watermelon its red color. These antioxidants help stave off free radicals and slow wrinkles and other signs of premature aging. The skin tightening properties of watermelon shrinks large pores as well as tone and firm sagging skin. Watermelon also has a soothing and cooling effect when applied on skin which makes it effective in calming down skin irritations & inflammations such as acne.
Benefits of Yogurt for Skin
Yogurt is antiseptic & antibacterial due to its natural live enzymes. It also contains soothing properties that cool down acne inflammation. Its lactic acid content gently exfoliates acne prone skin without being harsh on the acne and its water content makes it hydrating which enables it to lock moisture into acneic skin. Yogurt also has zinc, which is usually found in many over the counter acne creams to cure acne. The skin lightening properties of yogurt help fade away acne scars, blemishes and other dark marks on skin.
How to Make a Yogurt and Watermelon Face Mask for Acne
You will need to blend up/mash the watermelon into a smooth puree. Below, I've listed down the measurements you can use to make a face mask but you can always make more of the mask for your neck and hands as well.
Ingredients
1 tablespoon watermelon puree
1 teaspoon yogurt
You can use larger measurements like I did and use it for your neck, hands and legs right before a shower for soft moisturized & blemish-free skin!
Directions
1. Wash, chop and peel a ¼ section of a small watermelon.
2. Blend it to a smooth puree in a high-speed blender.
3. Add a teaspoon of plain yogurt and mix it with your puree thoroughly.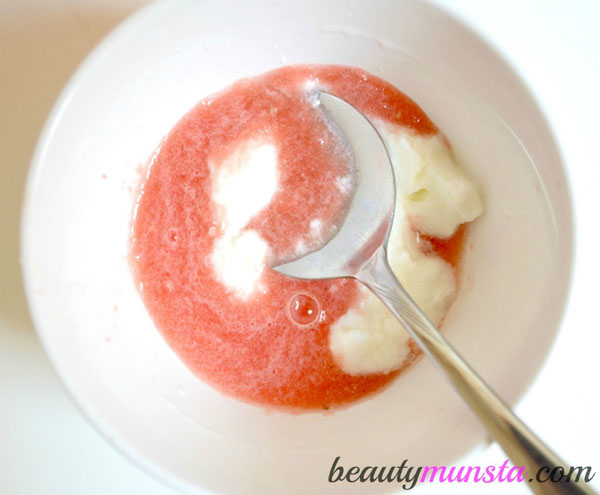 4. You should finally end up with a well combined mixture like so:
How to Apply the Yogurt and Watermelon Face Mask
1. The first step is to make sure your face is clean and dry so that the watermelon face mask can penetrate deep.
2. Using a face mask brush, scoop up the yogurt and watermelon face mask and start applying it on your face and neck.
3. Let it sit for about 10 to 12 minutes.
4. When the mask has dried up, rinse off gently with tepid water.
5. Pat dry with a fluffy towel.
My Tips
Save the watermelon rinds and rub them over your skin before a shower for refreshed, moisturized and the softest skin ever!
Get greek yogurt/labneh/kefir/any thick full fat yogurt for best results. Remember to use plain, unflavored and unsweetened yogurt.
Using a face mask brush is very effective for applying this drippy yogurt and watermelon face mask. However, if you don't have a brush, you can use a cotton pad or even your fingers. The only thing is to make sure you stand over a sink to prevent it from dripping onto the floor.