Make a creamy tomato face mask with yogurt to soothe and calm your acne!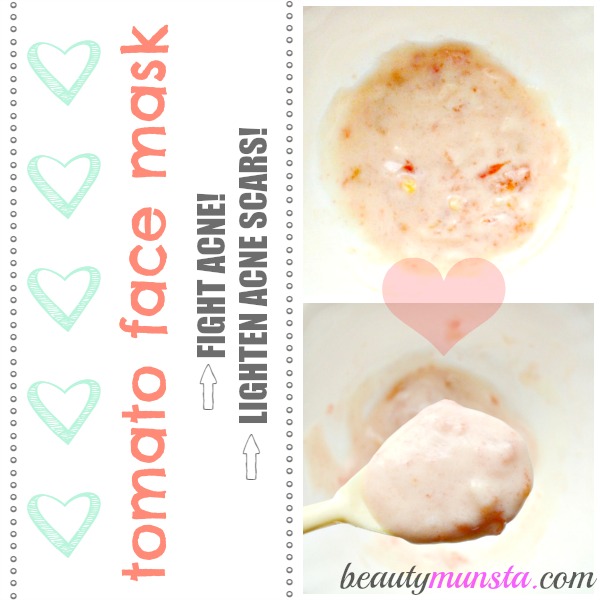 When I was a kid, I loved eating tomatoes! They tasted especially delicious when sprinkled with a generous amount of salt. Then someone went ahead and told me that eating too many tomatoes would give me terrible stomach ulcers and that just put a stop to my tomato slurping bliss. *sigh*
Anyway did you know that eating tomatoes – rich in lycopene, vitamins and other nutrients promotes youthful glowing skin? Yes it's true! Once known as the 'poor man's apple', tomatoes are rich in antioxidants that will fight off free radicals that cause wrinkles and fine lines. Start adding some cherry tomatoes to your salads to get radiant skin. When applied topically as a face mask for acne, tomatoes help treat acne naturally and gently lighten dark & red acne scars. In this post, I'll show you how you can make your own homemade tomato face mask for acne with the antibacterial yogurt! But first, let's check out the benefits of tomato & yogurt for skin below:
Benefits of Tomato for Skin
Containing vitamins C, B and A, this red fruit is deeply nourishing for lifeless dull looking skin. Tomato juice is also a natural astringent which means that it will regulate sebum on skin and tone, firm & lift droopy skin. The powerful antioxidants & anti inflammatory properties in tomatoes will help fight off free radicals that cause premature aging of skin & acne inflammation and redness.
Benefits of Yogurt for Skin
Yogurt is packed with multivitamins and effective anti acne nutrients like zinc and lactic acid that will keep skin free from pesky pimples. The lactic acid will help slough off dead cells on the skin's surface that may otherwise clog up pores and cause acne. Zinc is a popular ingredient found in acne creams for its acne fighting properties.
How to Make a Tomato Face Mask for Acne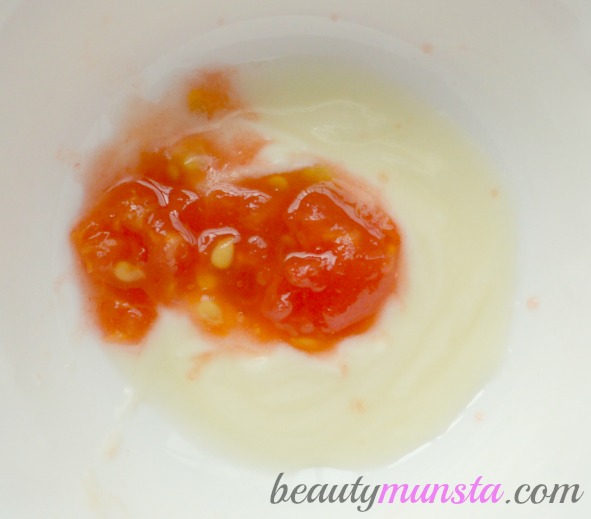 If you're using a ripe tomato, it will be easier to scoop out the pulp and juice. Make sure to be gentle when applying this tomato face mask for acne because acneic skin is sensitive and may get aggravated if you scrub on the mask. Now onto the ingredients & directions!
Ingredients
½ a ripe tomato
1 teaspoon of thick plain yogurt
Directions
1. Using a spoon, scoop out the pulp of ½ a tomato. Make sure you use a ripe tomato otherwise you won't be able to scoop out much.
2. Transfer that into a small bowl and add just 1 teaspoon of yogurt. Adding more yogurt can make a drippy face mask which is not what we want.

3. Mix the two ingredients till you get a light pink creamy mixture as shown below:
4. Your tomato face mask for acne is ready! Get prepared to zap some zits!