Enjoy using any of these 3 potato face mask recipes for toned, clear skin!
Potatoes, potato peels and potato juice are all useful for beauty skin care. Potato contains catecholase, an enzyme that has excellent skin lightening properties that help fade blemishes, acne scars and other dark marks. Potatoes also help even out skin discolorations and pigmentation. Rich in vitamin C, potassium and B-vitamins, potatoes also nourish skin and protect it from drying out. Let's check out some nutrients in potato that make it good for skin:
Potassium – Hydrating and moisturizing. Solves dry itchy skin.
Vitamin B6 – Necessary for new skin cell formation. Keeps skin moisturized and healthy.
Calcium – Composes the top most layer of skin. Heals dry skin.
Magnesium – For youthful skin. Fights free radicals that cause fine lines and wrinkles.
Vitamin C – Potato contains 70 per cent vitamin C. Vitamin C boosts collagen production. Help strengthen skin and maintain skin firmness and elasticity. Promotes youthful glowing skin. Protect skin form UV rays. Relieves sunburned skin. Neutralizes free radicals that destroy collagen and healthy skin cells. Promotes youthful skin.
1. Tighten and Brighten Skin : Potato Face Mask with Yogurt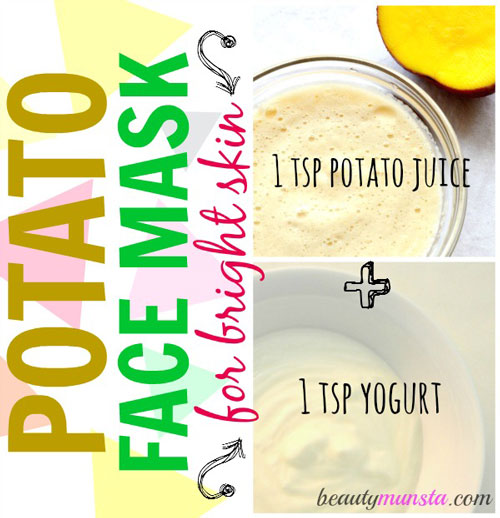 Fresh potato juice applied on skin can tighten pores and minimize large ones, creating supple smooth skin. Yogurt is rich in b-vitamins, lactic acid and zinc, all which protect skin from acne, blackheads and free radicals. Read more skin benefits of yogurt below:
Yogurt – Superfood for skin. Nourishes and hydrates skin. Locks moisture into dry skin cells. Contains live cultures that kills off acne causing germs and prevents further breakouts. Helps lighten skin tones and blemishes.
Ingredients
1 tsp potato juice
1 tsp thick plain yogurt
Directions
Blend half a potato with a little water in a small blender.
Next, add 1 tsp of yogurt and mix well. Slather the mixture onto your clean face.
Wait for 10 minutes.
When the time is up, first use warm water to loosen the mask. Rinse off with cool water. Pat dry with a clean towel.
My Tips
For your skin, always use unflavored, unsweetened plain yogurt with live cultures in it. Sweetened or flavored yogurt may irritate skin and will not produce the same results.
Gather you hair away from your face into a ponytail. Also wear a headband to protect your hairline from the potato yogurt face mask.
Wear an old t-shirt or an apron to protect your clothes from the drippy mask.
2. Cool Down Inflamed Acne : Potato Cucumber Face Mask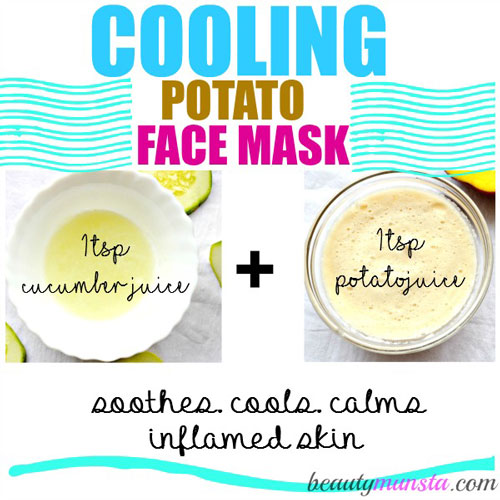 Got awful sunburned skin? This potato cucumber face mask will soothe and cool down your sunburned skin as well as even your skin tone, getting rid of unwanted pink patches. Cucumber is hydrating and moisturizing as well. Let's look at more benefits of cucumber for skin:
Cucumber – Contains 95 per cent water and potent phytochemicals. Locks moisture into skin cells. Soothes and relieves sunburned and inflamed skin. Protects skin from free radical and UV damage. Helps slow down fine lines and stave off wrinkles.
Ingredients
1 tsp potato juice
1 tsp cucumber juice
Directions
Blend a few slices of a cucumber and potato with a little water. Strain the puree to get the juice then apply it on your face.
Rinse off after 7 minutes then pat dry and moisturize your face.
My Tips
An all natural cucumber water toner can be made by blending a cucumber with water, sieving it and storing it in the refrigerater in a small spray bottle. Spritz away!
Always use a test patch on your inner elbow to check if any of the face mask ingredients agree with your skin. If you experience any itching or redness, do not use the face mask.
Use this potato cucumber face mask fresh as soon as you make it for best results.
3. Even out Skin Tone: Potato Lemon Face Mask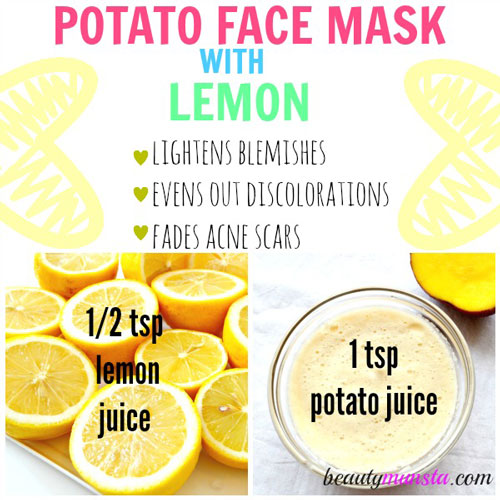 Add lemon juice to fresh grated potato for a great skin lightening boost. Lemon juice has powerful skin lightening properties that help lighten acne scars, blemishes, dark marks, age spots and uneven dark patches. Let's look at more benefits of lemon for skin:
Lemon – Natural astringent. Shrinks large pores. Lightens skin tone and fades blemishes and acne scars. Has antibacterial properties that help prevent further breakouts by killing germs on the skin's surface.
Ingredients
1 tsp potato juice
1/2 teaspoon lemon juice
Directions
Mix 1 tsp potato juice and 1/2 tsp lemon juice.
Onto your clean face, apply the mixture.
Let it sit for 15 minutes.
When the time is up, rinse off with cold water. Pat dry with a clean towel then moisturize!
My Tips
You can blend the potato together with lemon juice if it's ineffective for you to apply grated potato to your face.
For dark circles and puffy eyes, slice a potato like you would a cucumber, place over your eyes and relax.
If you have short hair, you can use the other half of the potato to make yourself a potato hair rinse by blending the potato with enough water and sieving it.
Will you try any of these potato masks? Share your thoughts in the Comments Below!