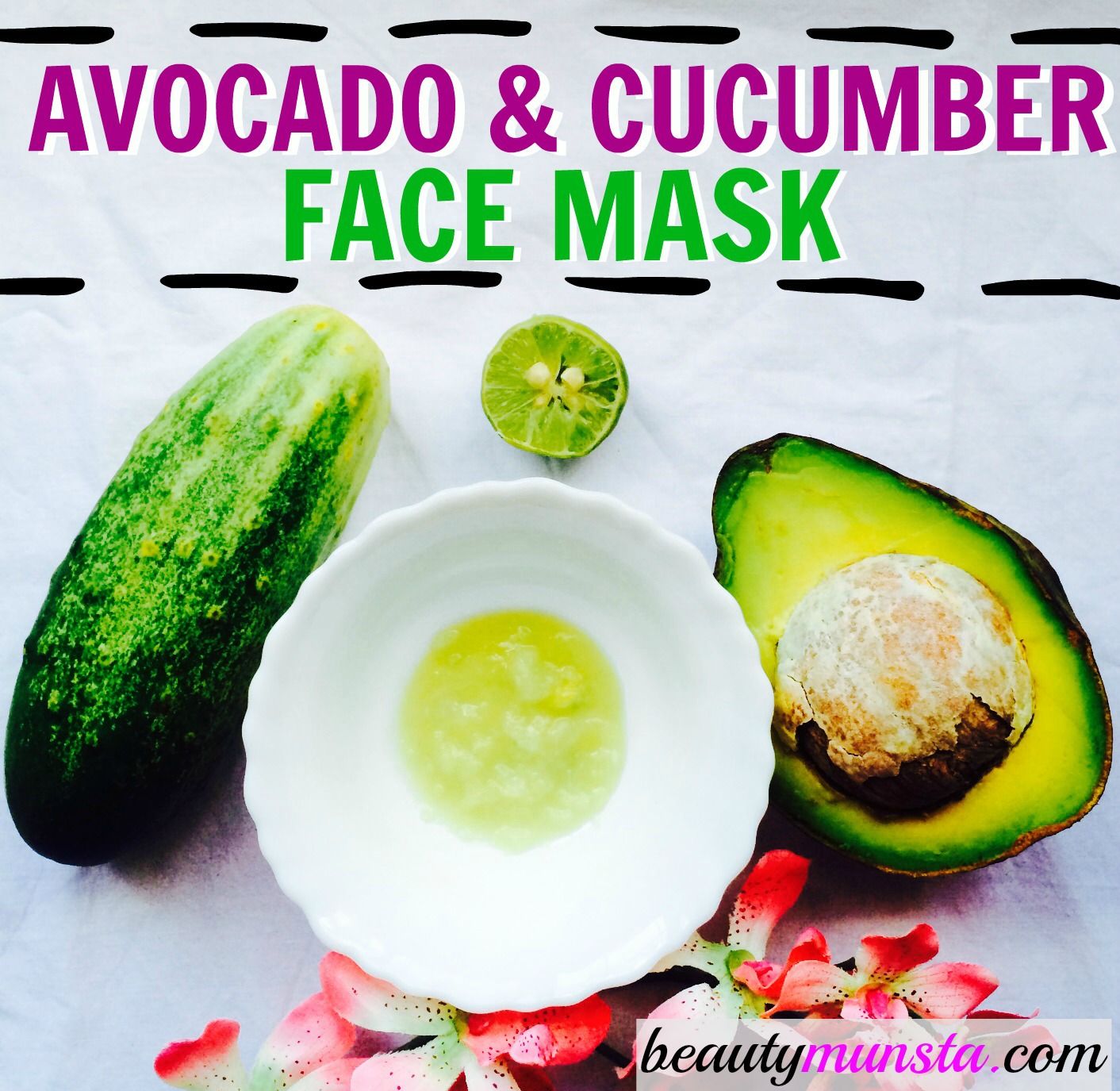 Got a sunburn? Or dry itchy skin? Then this avocado cucumber face mask might be one of the best remedies for you. Both avocado and cucumber have cooling and soothing properties that will instantly relieve itchy, dry, flaky and sensitive skin with dark patches. The avocado will leave a thin film of moisture and oils that will retain moisture and prevent your skin from drying out, while the cucumber will refresh and hydrate tired & dehydrated skin.
Benefits of Avocado for Skin
Avocado is the perfect ingredient for inflamed, swollen, dry and parched skin. It is rich in the skin healing vitamin E, which will moisturize skin and protect it from free radicals. The fat in avocado will seal in moisture and soothe inflammation.
Benefits of Cucumber for Skin
This water-rich vegetable contains 95% percent moisture, phyto-chemicals, antioxidants and anti-inflammatory nutrients. Cucumber provides a cooling relief when applied to skin and also helps tone, brighten and lighten it. For oily skin, cucumber will cleanse pores and drive out stale sebum stuck deep into the pores. For dry skin, cucumber will deeply hydrate, exfoliate and calm inflammation.
How to Make an Avocado Cucumber Face Mask
Grab an overripe avocado, a crunchy cucumber and let's make this cooling face mask!
Ingredients
A scoop of avocado (1 tsp)
¼ of a small cucumber

Directions
Halve an avocado. Using a spoon, scoop out a teaspoon of avocado and place it in a small blender.
Cut off ¼ of a small cucumber, peel and place it in a small blender.
Add a tablespoon of water. Blend till you get a well combined mixture.
Transfer to a small bowl for application.
How to Apply this Face Mask
If you're face mask hasn't been blended well, it will keep dripping down your face when you're applying it. Add more avocado to make it thicker if it's watery.
Make sure your face is make-up free, clean and dry. Pull your hair back into a bun and smooth out any fly away hairs.
Stand over a sink and using a face mask brush or just your fingers, apply the avocado and cucumber face mask onto your face gently.
Leave it on for 15 minutes.
Rinse off with lukewarm water and gently pat dry with a soft towel.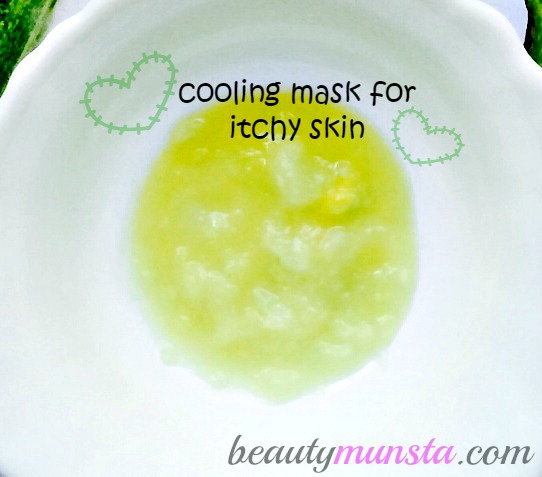 My Tips
To soothe sunburns, make a bigger batch and apply this all over your whole body before a bath or shower. Here's a list of essential oils you can use to calm sunburns.
Apply cucumber slices to your eyes and lie down while you let the mask work its magic.
More DIY Facials You'll Love!
– Oatmeal & Honey Mask for Acne
– Cooling Watermelon Face Mask