If you're vegan or allergic to eggs, use this flaxseed face mask which is a perfect substitute for an egg white face mask!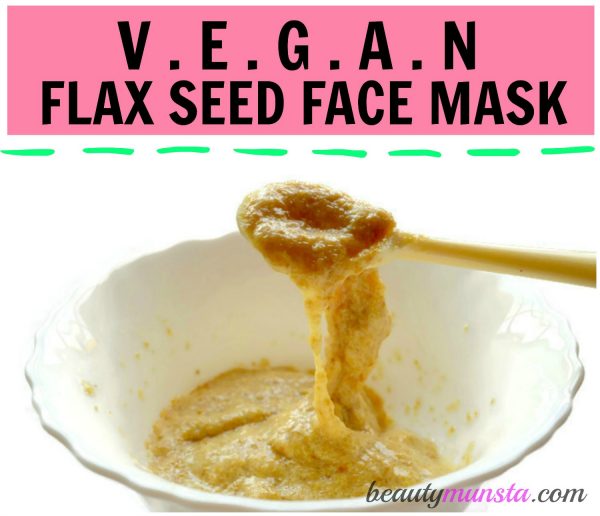 Flaxseed is a super food for beauty as it is rich in important nutrients including essential omega 3 fatty acids and vitamins. Flaxseeds have been cultivated since ancient times in Egypt and China, where they were consumed as a food and medicine.
Extremely nutritious for the body, flax seeds also have numerous beauty benefits including promoting beautiful skin, hair & nails.
Why Use a Flaxseed Face Mask?
Eating flax seeds offers a lot of benefits for skin but did you know that this tiny super seed can be used to make a face mask? Just like chia seed, flaxseed is a vegan substitute for eggs, meaning a flaxseed face mask is simply a great substitute for an egg white face mask. When mixed with water, ground flaxseed forms a gooey and egg like consistency which helps tighten large pores and tone the skin. So if you are vegan/allergic to eggs/can't use eggs due to other reasons, this flaxseed face mask will serve as a wonderful alternative to an egg white face mask or a replacement for eggs in any DIY face mask!
More Face Masks to Pamper Your Skin:
Benefits of Flaxseed for Skin
Flaxseeds are bursting with essential nutrients such as vitamins A, B and E as well as omega 3, 6 & 9 fatty acids, minerals and fiber. So it's no wonder they are a super food for skin. Eating flaxseeds also prevents constipation and promotes regular bowel movement which ensures toxins are flushed out of the body, thereby preventing acne. Vitamin E, found in flaxseeds, also known as the 'skin vitamin' along with omega fatty acids keep skin healthy and moisturized while b-vitamins promote youthful skin. Using a flax seed face mask firms, tones and tightens skin.
Here are just some of the amazing benefits of flax seed for skin when used topically as a face mask:
Thoroughly cleanses and removes impurities from skin
Firms, lifts & tones skin
By tightening skin, it helps minimize large pores
Moisturizes skin
Exfoliates skin
Reduces excess sebum on oily skin
Helps prevent and get rid of acne
Slows down wrinkle and fine line formation due to its anti-aging properties.
How to Make a Flaxseed Face Mask
I was flabbergasted to see that some flaxseed face mask recipes call for mixing up whole flaxseeds in water and applying it on skin. This is a really ineffective and not to mention a wasteful way of using flax seeds for a face mask! First off, the tough fibrous outer layer of the flaxseed will prevent the nutrients inside like the omega fatty acids from reaching your skin.
Secondly, if you apply whole flaxseeds onto your face, it's obvious they're going to keep sliding off and this will not only be really irritating but also create a mess on the floor.
Last but not least, you won't have to worry about clogging your drain when rinsing off a ground flaxseed face mask compared to a whole flaxseed face mask.
Below is a good flaxseed face mask tutorial with directions on how to get the maximum benefits of this face mask + tips on how to store without it spoiling.
Ingredients
1 teaspoon of ground flax seed/flaxseed meal (get it here)
3 teaspoons of water
Directions
Grind your flax seeds in a coffee grinder/spice grinder to get flax seed powder. Or if you already have store-bought ground flaxseed, you can use that. Soak 1 tsp of ground flax seeds in 3 tsp of water for about 15 minutes.
After 15 minutes, you will notice the ground face seed mixture is sticky and gooey with almost an egg like consistency. Tada! Your flaxseed face mask is ready for application.
Scoop up the flaxseed face mask mixture using clean fingers and start applying it on your skin. Make sure to avoid the eye and mouth areas.
Wait for the flaxseed face mask to dry up completely.
After about 7 to 10 minutes, rinse off with lukewarm water. I just wet a washcloth and used it to gently wipe off the mask.
Splash your face with cold water.
Pat dry with a towel and apply moisturizer.
My Tips
You can also keep the flaxseed and water mixture in the fridge while waiting for it to thicken.
Excess face mask mixture can be used on your neck and hands for softer and brighter skin. Or, you can store it in the fridge for future use. Use it within 3 to 4 days but it will last about a week maximum in the fridge. Remember to throw it out if it starts stinking.
Although this flax seed face mask won't drip, apply it over your kitchen/bathroom sink just in case.
Don't Miss:
Where to Buy Ground Flaxseed  
Here's where to buy ground flaxseed/flaxseed meal. In addition to making a flaxseed face mask, I use flaxseed meal to make vegan pancakes. I like to make my pancakes with ground flaxseed and it is a wonderful substitute for eggs! Flaxseeds give the pancakes a slightly sweet 'banana' flavor which I love. I've even eaten the pancakes without any syrup because they were so tasty all on their own.
Take Care 
Please ensure that you aren't allergic to flaxseed before applying it on your skin.