The skin on our faces is sensitive and can dry out quickly especially when exposed to harsh environmental conditions like winter and cold climates. For some people, certain makeup skin products can also cause dry flaky skin. Dry skin is prone to aging at a faster rate than any other skin type. Home remedies and natural ingredients are very skin friendly and will save your skin from severe dryness which can lead to chaffing and cracking of skin, which is really painful and unpleasant to look at. Using pantry ingredients which are totally safe since they are provided by nature, you can regain your soft smooth and supple skin. Here are 3 useful homemade face masks for dry skin!
1. Avocado Face Mask for Dry Skin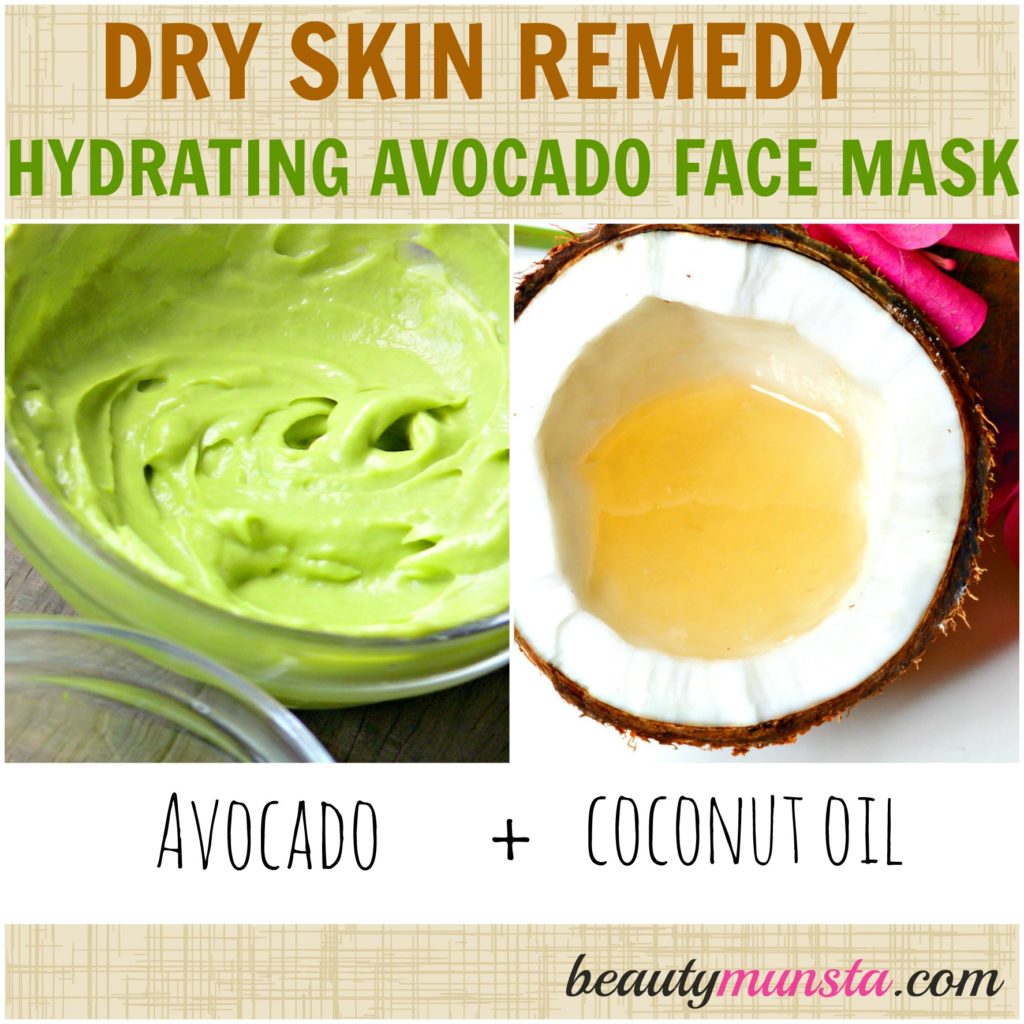 Add coconut oil to avocado and you have one of the easiest and most effective face masks for dry skin. They both have hydrating and moisturizing properties. Avocado is rich in vitamin E, antioxidants and healthy fat. This creamy food offers antioxidant protection, fights off wrinkles and lubricates dry skin. Coconut oil provides a natural shield against harmful sun rays that damage and remove moisture from skin. Coconut oil is the ultimate natural and safe lubricating agent for dry skin. It will help unclog pores as well as correct flaky skin.
Here are more benefits of avocado and coconut oil for skin:
[table id=20 /]
Ingredients
1/4 ripe avocado
1 tablespoon coconut oil
Directions
Slice 1/4 section of a ripe soft avocado. Peel off the skin and mash the 1/4 section with the back of a fork. Mix well until you form a smooth consistent mixture. Onto your clean face, massage the avocado and coconut oil face mask in a circular motion for 2 minutes.Let the mask sit for 15 minutes. When the time is up, rinse off with cool water. Pat dry.
Helpful Tips
Dry air which contains little or no moisture can contribute heavily to dry skin. Run a humidifier especially at night when your skin takes to repair and regenerate itself. This will protect your skin from harsh dry air which can damage skin cells and make them shed faster.
Avoid the eye and mouth area when applying the mixture as these are more sensitive compared to other parts of your face and the tightening and stretching of the mask may cause wrinkles.
Choose a ripe and soft avocado for making this face mask. An overripe avocado is the best for mashing up with the back of a fork.
2. Banana Face Mask for Dry Skin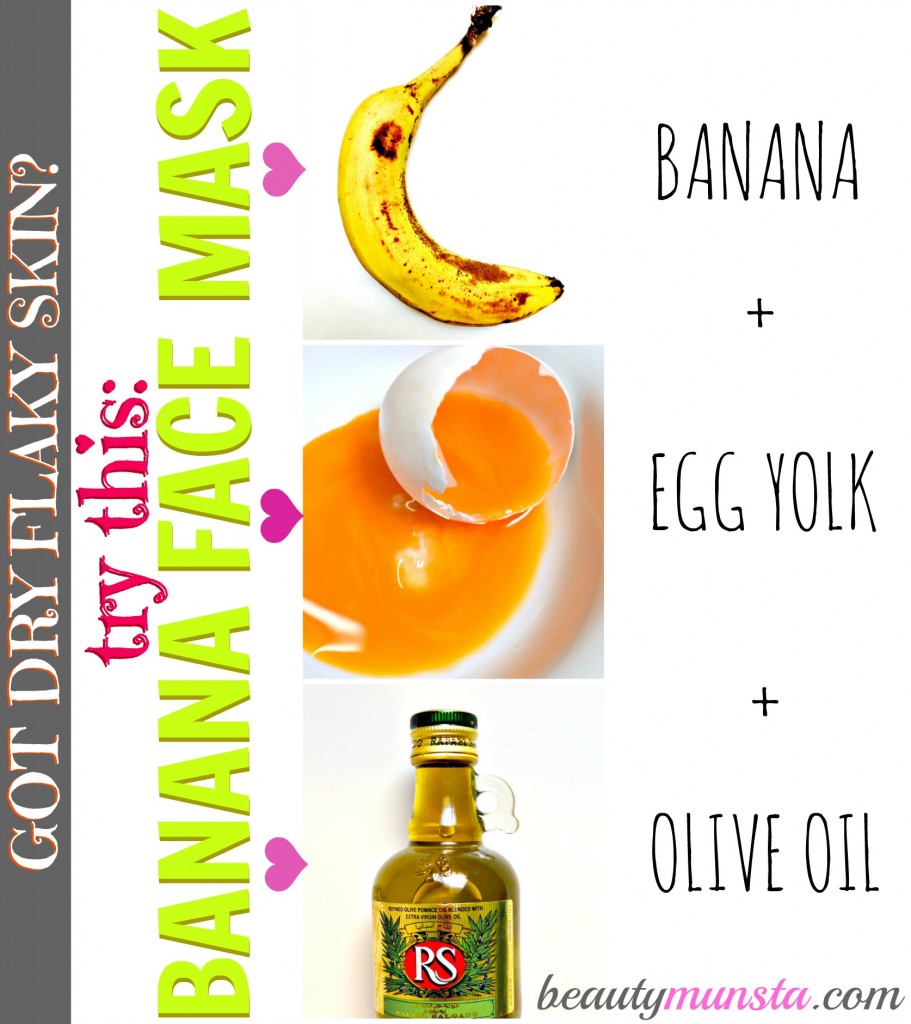 Banana, known in the beauty world as Nature's Botox contains a load of potassium that is very effective in healing dry skin. Potassium will help preserve moisture in skin cells and get rid of flakes and peeling skin. Olive oil, which has vitamin E, healthy fat and other nutrients acts as a lubricating and moisturizing agent. Egg yolk is made up of mostly water and fat which makes it perfect for treating dry skin.
Let's check out more benefits of these powerful nutrients for skin:
[table id=21 /]
Ingredients
1/2 banana (mashed)
1 tablespoon olive oil
1 egg yolk
Directions
Whisk the egg yolk in a small mixing bowl till it turns frothy. Stir in the mashed banana and olive oil until you form a smooth mixture. Apply a thick coat onto your clean face in a gentle circular motion. Let the face mask settle for 15 minutes. When the time is up, wash with warm water first to loosen the dry mask. Finish with a cold water rinse. Pat dry. Apply a drop of coconut oil for moisturizing.
Helpful Tips
Use unrefined extra virgin olive oil for best results. Processed products can cause skin irritations for those with sensitive skin.
Apply this face mask over your kitchen/bathroom counter to avoid the face mask from dripping all over the floor.
Gather your hair away from your face into a ponytail and protect your hairline to prevent the face mask from sticking onto your strands by wearing a headband.
3. Yogurt Face Mask for Dry Skin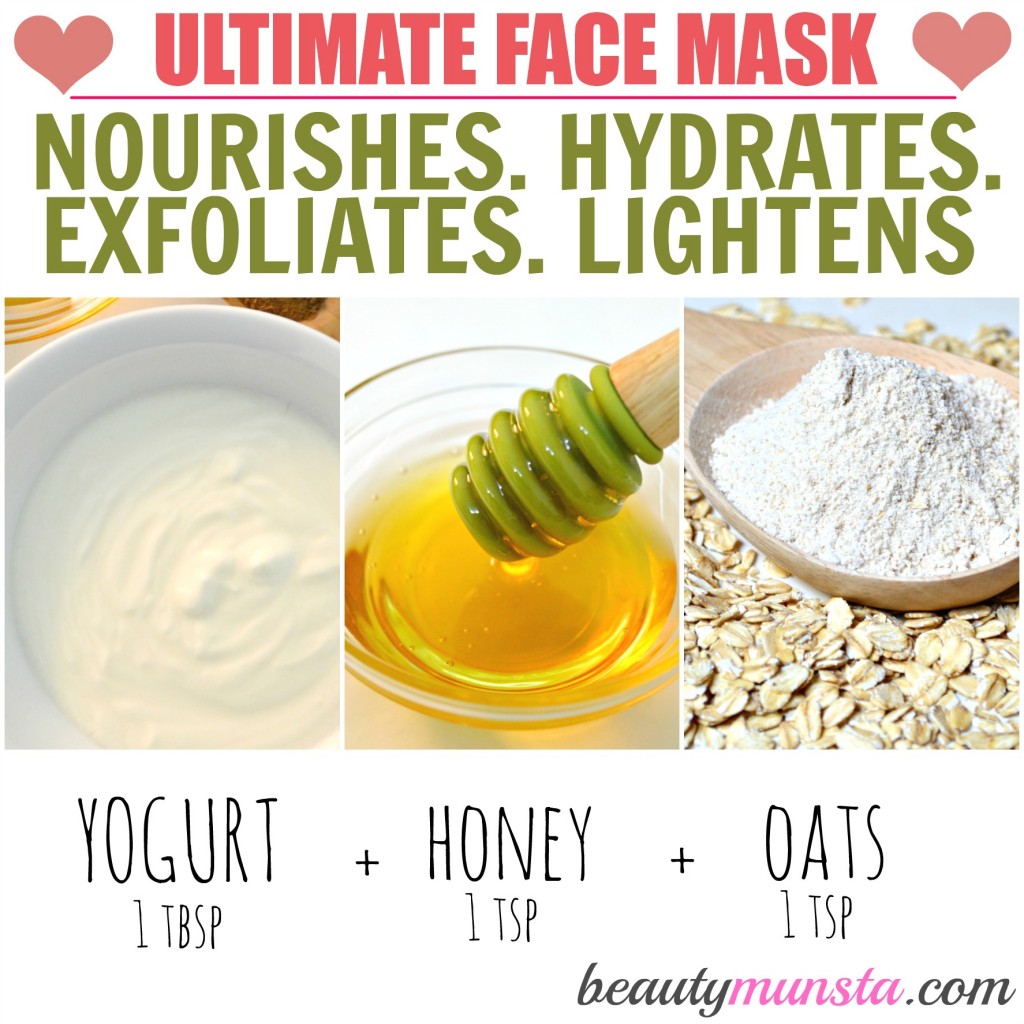 Yogurt is excellent for restoring dry skin back to soft smooth and supple skin. Oats will lock moisture into skin cells and nourish skin while scrouging off peeling flaky dead skin. Honey is gentle and softens the oats to prevent over exfoliating.
More potent benefits of yogurt, oats and honey for skin:
[table id=22 /]
Ingredients
Yogurt – 1 TBSP
Honey – 1 tsp
Oats – 1 tsp
Directions
Combine the ingredients thoroughly in a small mixing bowl. Using clean finger tips, apply the mixture onto your clean face. Allow the mask to sink deep for 15 minutes. When the time is up, remove the mask using a warm wash cloth. Rinse off with cool water. Pat dry.
Helpful Tips
You can also use really thick yogurt (labneh) to make the face mask. It will be certainly be less drippy and more moisturizing.
Use plain unsweetened probiotic yogurt. The sweetened and flavoured type will cause skin irritations. Greek yogurt can be used.
Place a plastic or metal strainer in your sink to keep the oats from clogging the drain.