Why is Shea Butter Good for Skin?
Shea Butter is one of the best skin care gifts provided to us by Mother Nature. Originating from the West, Central & East African regions, shea butter is extracted from the nuts of the Karite/Mangifolia tree, which grows up to 60 feet in height. The Mangifolia tree is revered in Africa for its healing properties and the tree has been referred to as the "Tree of Life" since ancient times because all parts of it have medicinal uses. Even the Egyptian Queen, Cleopatra is said to have used shea butter for its valuable cosmetic uses!
Nutrients found in Shea Butter & their Benefits for Skin:
➝ Vitamin A – Fights wrinkles and stretch marks; important for cell renewal; heals eczema & dermatitis; reduces appearance of blemishes; relief for sunburned skin
➝ Vitamin E – Reduces stretch marks, lightens dark spots & blemishes, promotes youthful looking skin, antiaging effects, protects from sun damage, seals in moisture in the skin
➝ Vitamin K – Skin healer; reduces dark circles under the eyes; evens out skin tone; promotes skin elasticity; promotes youthful & supple skin
➝ Vitamin F – Essential Fatty Acids including Linoleic Acid & Stearic Acid – Rejuvenates old, tired skin; moisturizes dry, chapped skin; heals various skin disorders, hydrates skin and plumps sagging skin.
➝ Allantoin – Heals irritated and inflamed skin; leaves skin feeling soft and smooth.
Where to Get Shea Butter
Please ensure you get high quality fair trade shea butter to use on your skin/hair. You can buy raw West shea butter from here. I use East shea butter, as you can see from the pictures below, and I find it much softer than West shea butter plus it's not greasy and doesn't have an unpleasant smell – I actually like its slightly nutty scent so much so that I can use it neat on my skin without mixing any essential oils. It's also a deep yellow because of its high beta carotene content. Find raw East shea butter (Nilotica) here. I've also linked where to get the rest of the ingredients down below.
3 Shea Butter Face Masks for Supple Skin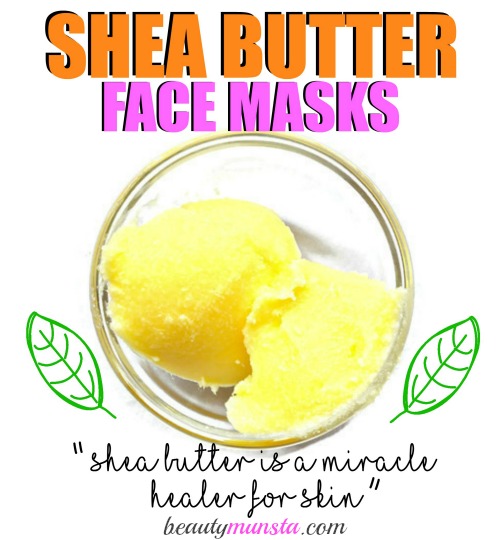 1.     Shea Butter Face Mask for Youthful Skin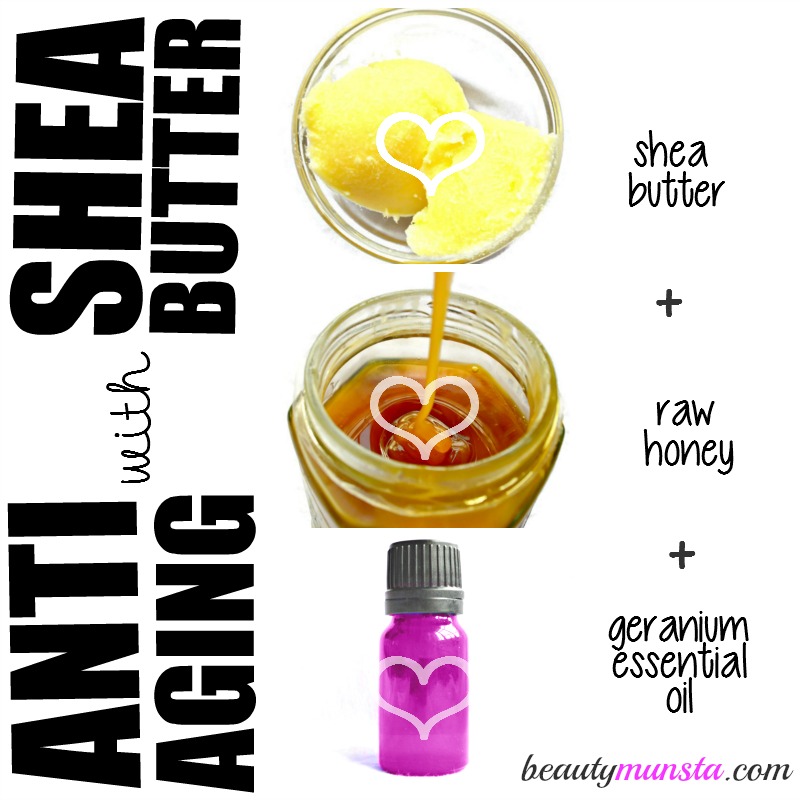 The qualities of youthful skin are that it is well-hydrated, supple, firm and wrinkle-free skin. It is free from fine lines, wrinkles, age spots and a dull tired tone. Although shea butter by itself has all the right properties to promote youthful skin, in this anti-aging face mask, we shall combine raw honey, which has intense hydrating properties and powerful anti-oxidants, as well as geranium essential oil, which is one of the best essential oils for the skin to get amazing results!
Ingredients
Directions
In a small bowl, measure out all your ingredients and mix them thoroughly using a spoon to form a cream. Now apply this cream onto your clean face using your clean fingers. You can keep this mask on from 10 minutes up to an hour, as long as you can tolerate. Wash off with cool water and gently pat your face dry. You should now be smelling lovely and looking more youthful than before!
My Tip
This shea butter face mask works great as an overnight facial treatment. However, be prepared because the honey is sticky and you will have to wear a bandana to keep your hair off your face, as well as throw an old towel over your pillow to prevent it from getting soiled. You may also have to make sure you try and sleep in an upright position for majority of the night to allow the mask to work its magic undisturbed.
2.     Shea Butter Face Mask for Intense Hydration
Shea butter is a great healer for dull, tired and dry flaky skin. The properties in shea butter facilitate the intense hydration of dehydrated skin and in this mask, the rose water provides high quality moisture for skin cells, which is locked in by the shea butter. The last ingredient: lavender essential oil is one of the best essential oils for hydration! So let's check out the ingredients;
Ingredients
Directions
In a medium sized bowl, add all the ingredients then mash them up using a spoon. Once you get a creamy mixture, your shea butter face mask is ready! Apply this luxurious face mask onto your clean face and let it rest for 10 – 15 minutes. Wash off with warm water and pat dry.
My Tip Make sure you use pure rose water, which is obtained through the process of distillation during the extraction of rose essential oil, and not the 'fake' rose water, which is just water mixed with synthetic rose essence.
3.     Shea Butter Face Mask for Rejuvenation
Sometimes, all your face needs is an exotic pamper treatment to restore its glow and radiance, and this face mask is not only easy to make but is full of antioxidants that will rejuvenate your skin from deep within. And best of all, it smells so citrusy and exquisite!
Ingredients
Directions
Drop your ingredients into a bowl and gently mix them together with a spoon until well-combined. Begin by preparing your face with a 5 minute session of facial steaming. This will open up your pores and really allow the face mask to penetrate into your skin. Dry your face of excess moisture and apply the mask onto your skin. Allow it to settle for 10 – 15 minutes and wash off with cool water. Pat dry and tone your skin with your favorite toner. Your skin should now feel absolutely pampered and rejuvenated!
♥ Want to make your own natural facial cleanser? Try this natural manuka honey cleanser! Want to make your own homemade toner? Try this antioxidant rich green tea toner. ♥
My Favorite Tried & Tested Shea Butter Recipes Ebook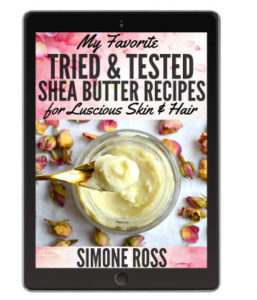 Do you love shea butter and want to make your own beauty products with it?! Check out my ebook "My Favorite Tried & Tested Shea Butter Recipes for Luscious Skin & Hair" for 30 awesome recipes, complete with step-by-step instructions, beautiful pictures and other valuable shea butter info!