Learn how to make an easy DIY green tea toner for oily skin with this step-by-step tutorial!
Toning is very essential for reducing oily skin after cleansing but why buy expensive toners when you can just make your own natural homemade toner using trusted ingredients?
Most store bought facial toners for oily skin contain irritants like witch hazel, alcohol and menthol which can not only severely dry out your oily skin but also aggravate acne and inflammation.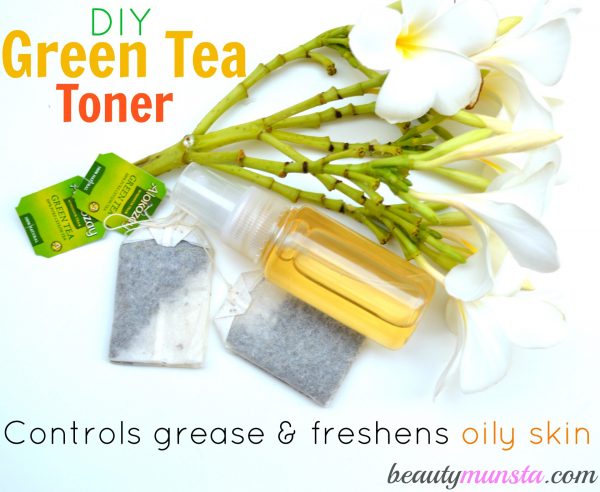 What makes Green Tea Beneficial for Oily Skin?
Tea leaves have been valued and used in ancient China for so many millennia for their effective healing properties. Green tea originated in China and has been gaining a lot of mainstream in today's world for its amazing medicinal properties.
Green tea contains as many as 200 bio active compounds including gallocatechin, epigallocatechin, epicatechin and others have excellent skin healing properties when used topically in high concentrations. Check out the wonderful constituents of green tea and their benefits below:
Polyphenols – Polyphenols belong to a group of antioxidants known as catechins. Catechins promote healthy radiant skin and prevent oxidative damage to skin cells. Green tea is rich in polyphenols, which enhance skin cell growth and regeneration. Polyphenols also bolster the skin's UV defense, increase blood circulation to the skin and hydrate skin cells.
Flavonoids – These are polyphenol compounds that act as a natural sunscreen. Flavonoids in green tea steer away harmful UV rays from the skin and also absorb UVB. Flavonoids also help soothe sunburns and protect the skin from sunburns through reversing UV-induced inflammation.
Anti-oxidants – Green tea contains powerful antioxidants that are very effective in fighting off free radicals that steal oxygen from healthy skin cells. Anti-oxidants strengthen skin cells thereby staving off oxygen-stealing free radicals. Green tea also contains b-vitamins which are essential for skin regeneration and vitamin C which boosts collagen production in skin and promotes skin repair.
How to Make your Own Green Tea Toner for Oily Skin
Now we know the awesome benefits of green tea for skin, join me in this easy step-by-step guide to making your very own skin-saving green tea toner!
Ingredients
Directions
1. In a small pan, bring the filtered water nearly to a boil.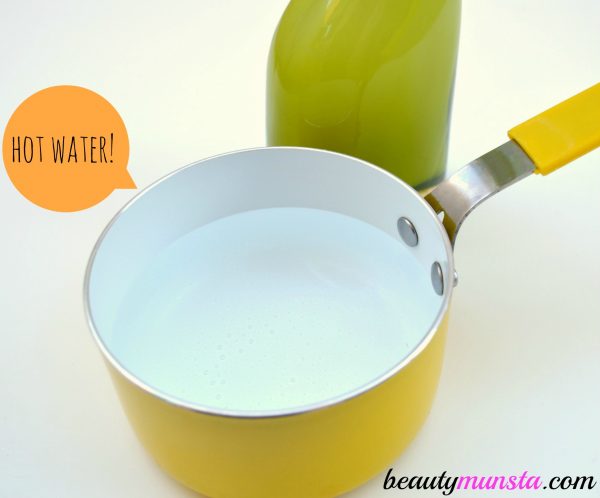 2. Remove the pan from the heat source and steep your tea bag for ten minutes. Remember the longer you steep, the stronger your green tea toner will be.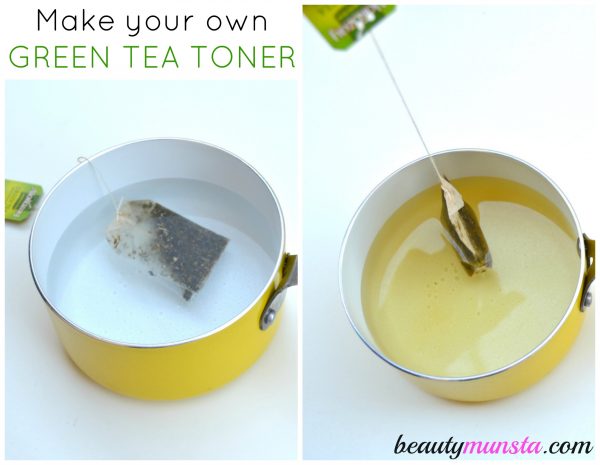 3. After steeping for about 10 minutes, remove the tea bag and allow your green tea to cool completely.
4. Pour your green tea into a clean spray bottle and store it in the refrigerator. If you do not have a spray bottle, store your green tea in a glass bottle with a cork.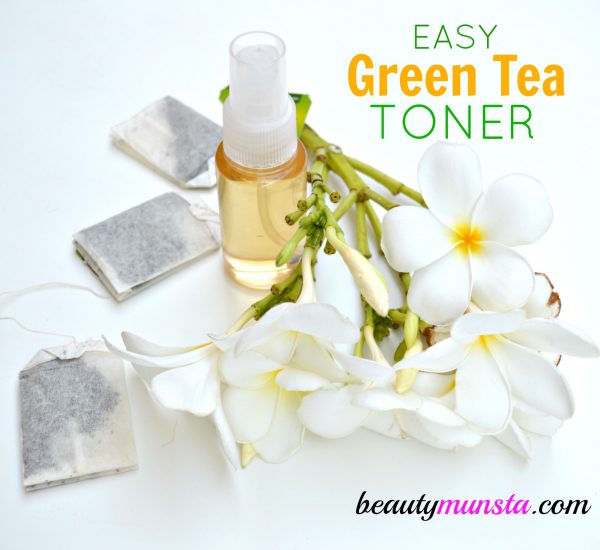 How to Apply the Green Tea Toner
I highly recommend getting a small cosmetic spray bottle. Make sure your face is free from dirt and traces of makeup. Spritz the cold green tea toner onto your face if using a spray bottle. If you don't have a spray bottle, don't worry! Simply soak a cotton ball with the green tea and dab it all over your face. Allow the green tea toner to dry up completely. When your face has soaked up the green tea, go ahead and apply moisturizer or makeup!