Cooling cucumber slices are a classic beauty trick to soothe puffy eyes. But did you know that cucumber is also a great toner for skin?! In this article, we'll see how to make a homemade cucumber toner!
Beauty Benefits of Cucumbers
I love snacking on cold salted cucumbers on a hot summer's day! They're so cooling and refreshing for the whole body. When applied topically, they also offer a lot in the beauty department! Check out some beauty benefits of cucumbers below:
Cools tired hot skin
Soothes sunburn
Relieves bug bites
Naturally tones skin
Firms aging skin
Hydrates skin
Makes skin soft, smooth and supple
Homemade Cucumber Toner
This is a simple recipe that will last several weeks in the refrigerator.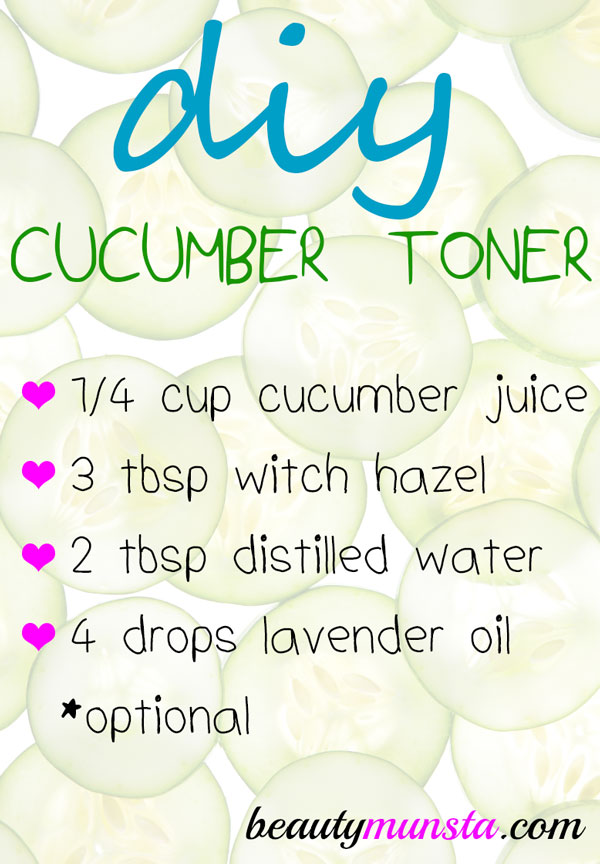 Ingredients:
Directions:
Peel and blend ½ of a peeled cucumber with a little water in your high speed blender. You can also use a small Magic Bullet blender.
Now sieve the blended cucumber through a fine mesh sieve to collect only cucumber juice into a bowl.
Add 3 tbsp of witch hazel and 2 tbsp of distilled water. Whisk them together to combine.
Pour the mixture into a fine mist spray bottle using a small funnel.
Your homemade cucumber toner is ready!
Mist it on your face and neck before moisturizing! Store in the refrigerator to make it last long.
My Tips
You can also use this homemade cucumber toner as a sunburn relief spray.
Hot flashes? Mist this cucumber toner on your face, neck and chest!
Cool down during summer by spraying this cucumber toner all body!
Want it to smell better? Add 5 drops of essential oils! You can use peppermint, lavender or geranium essential oils!
Don't have witch hazel? Use aloe vera gel instead!

Have fun misting your face with this homemade cucumber toner! If you make it, please let me know how you like it! xoxo