Make this lovely smelling DIY rose water setting spray at home!
I love spraying rose water on my face! Aaahhh…it is so refreshing, cooling, soothing AND smells so lovely! There are many reasons to spray rose water on your face and these include:
To tone your face
Hydrate skin cells
Provide nourishment to skin
Reduce excess oily skin
Tighten large pores
Cool down hot, red and irritated skin
Soothe skin
And acts as a makeup setting spray!
That's right! You can use rose water as a DIY makeup setting spray! Isn't it so exciting to know that you do NOT need to buy another bottle of $20+ makeup setting spray at the store? Yipee!
Here's how to go about making your own DIY rose water setting spray:
DIY Rose Water Setting Spray
Ensure to get 100% pure organic rose water, please! You do not want to spray pesticides on your face! If you're planning on making your own homemade rose water, then please also buy organic roses!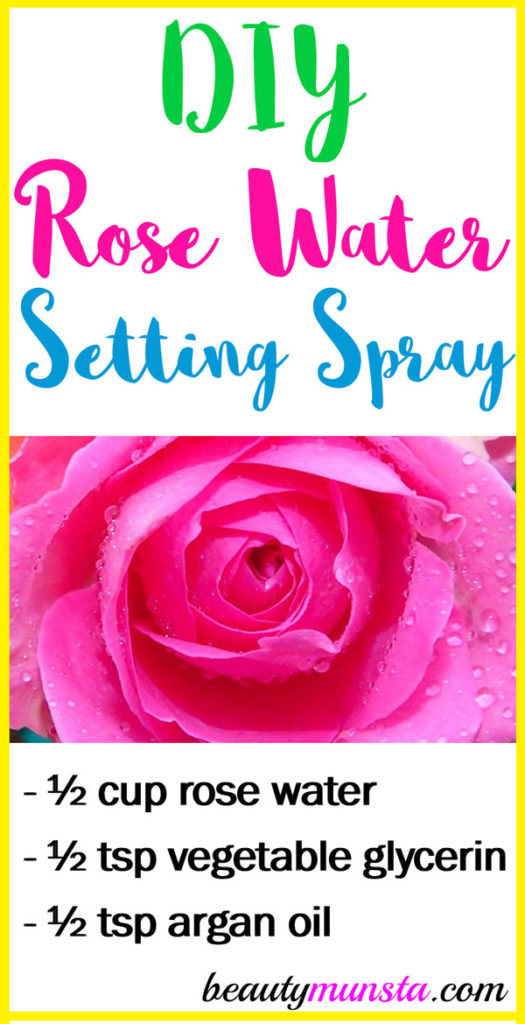 What you need:
½ cup rose water
½ tsp vegetable glycerin
½ tsp argan oil
Directions:
Pour ½ cup or your organic rose water into a 4 oz spray bottle.
Now add ½ tsp vegetable glycerin and ½ tsp argan oil.
Cap tightly and shake well to mix everything up.
Your DIY rose water setting spray is ready!
Spritz it on your face after applying makeup within 8-12 inches away from your face.
Let it dry and voila! Your face will be all 'set' for the day!

Please guys, avoid using chemical laden store-bought makeup setting spray and try this easy recipe instead. If there's one other reason you should use it – IT SMELLS LIKE HEAVEN! 😀