Try this DIY mattifying spray to keep your makeup from melting during summer!
If you want your makeup to last, especially during summer and when you've got the oily skin type, then you need a setting spray. And you can actually make your own at home. It's really very easy, much cheaper and most of all, get the job done fantastically!
So let's learn how to get that matte look using this DIY mattifying spray!
DIY Mattifying Spray
We'll be needing three main ingredients to make this setting spray. The other ingredients are totally optional: geranium essential oil and lavender essential oil. Let's check out the recipe!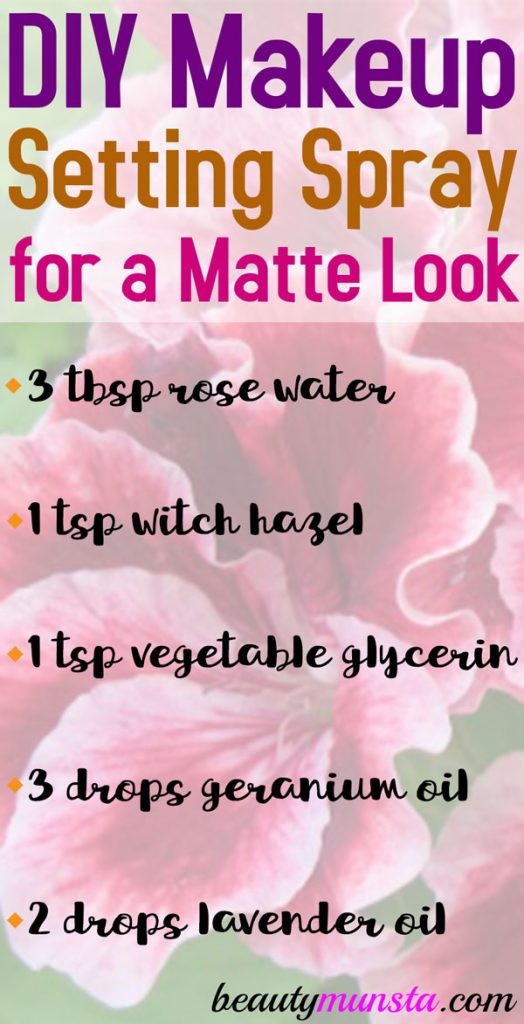 What you need:
1 tsp vegetable glycerin
3 tbsp rose water
1 tsp witch hazel
3 drops geranium essential oil
2 drops lavender essential oil
Small funnel
2 oz spray bottle
Directions:
Open a spray bottle and place a funnel in it then transfer 3 tbsp of rose water into it.
Now add 1 tsp of vegetable glycerin and 1 tsp of witch hazel.
Finally, add 3 drops of geranium essential oil and 2 drops of lavender essential oil.
Cap the bottle tightly and shake well to combine everything.
Store in a cool dry place.
Spray 6 inches away from your face in an X then T shape with your eyes closed.
Let it dry up and you're ready to go!
My Tips
Instead of rose water, feel free to simply use distilled water. You can also try lavender hydrosol which is floral water distilled from lavender flowers. It's incredibly soothing and calming for skin.
You can leave out the essential oils if you wish. I used geranium and lavender because have a skin toning and hydrating effect, plus beautiful scents! If you have acne, you can add tea tree essential oil.
If you want a hardcore DIY mattifying spray for extremely greasy skin, you can try this one with cornstarch: DIY Makeup Setting Spray with Cornstarch

See? It's so easy to make your own DIY mattifying spray right?!