Keep your makeup matte with a DIY makeup setting spray with cornstarch!
Making a DIY makeup setting spray is very easy. I actually have other versions on the blog (links down below)! Now making a setting spray with cornstarch is for you if your skin is extra oily. Using cornstarch makes your makeup set and stay matte for hours. You can use arrow root powder as well instead of corn starch! Make sure to warm the distilled water before adding cornstarch so it can dissolve well.
DIY Makeup Setting Spray with Cornstarch
I've added 4 drops of lavender essential oil for its soothing properties, because its hydrating and helps tone & tighten skin. It also smells nice and flowery! You can leave it out or use any other essential oils of your choice! I recommend using geranium, rose, ylang ylang, frankincense or lemongrass essential oils!
Okay, now onto the recipe!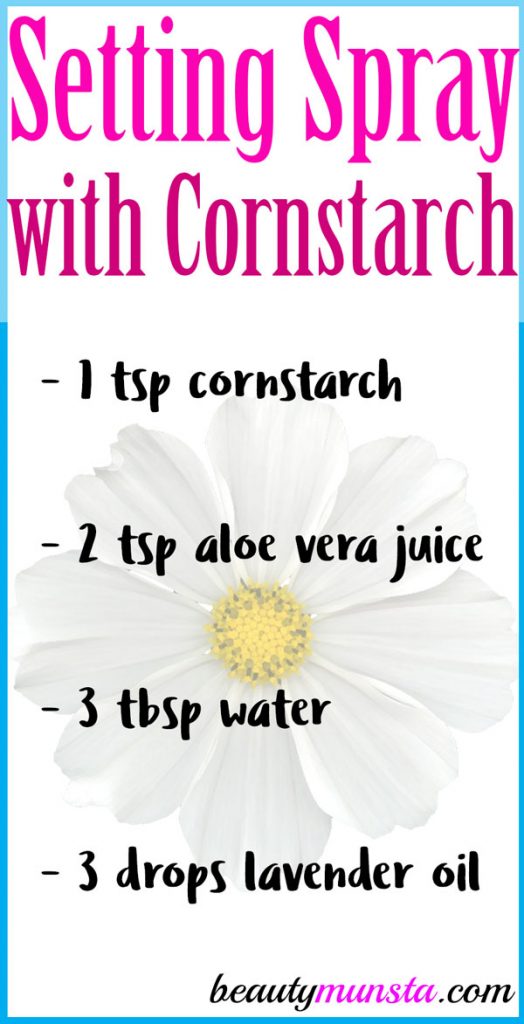 What you need:
1 tsp cornstarch
2 tsp aloe vera juice
3 tbsp water
Optional: 4 drops lavender essential oil
Small funnel
2 oz spray bottle
Directions:
Into a spray bottle, add 1 tsp of cornstarch.
Now add 2 tsp of aloe vera juice with the help of a small funnel.
Finally add 3 tbsp of warm distilled water into the bottle. Warm the distilled water so that the cornstarch can dissolve.
Cap tightly and shake well to combine all ingredients.
Your DIY makeup setting spray with cornstarch is ready!
Spray it 6 inches from your face following a X-shape first then T-shape. Your makeup is going to set very well and stay matte for at least 5 hours!
Other DIY Makeup Setting Spray Recipes:
Hope you try this diy makeup setting recipe with cornstarch and it works out for you!