In this post, I'll take you through a step-by-step tutorial on how to make your own all-natural neem toner for oily skin! But first let's look at the nutrients in neem and what exactly makes it beneficial for skin.
Neem is actually the Ayurvedic Indian name for Margosa. The leaves, oil, fruits, flowers, root and bark of the neem tree are very popular. In fact, neem was used ayurvedic medicinal remedies for well over 4000 years. Neem leaf powder or crushed neem leaves are often used in Ayurvedic face masks to rejuvenate skin, control oiliness, slow wrinkles and fight acne. Related: Difference between Toner and Astringent
Where to buy Neem
Spicy World Dried Neem Leaves 7 Ounce Bag | Nimtree Leaf – Indian Lilac | Margosa Leaves , Azadirachta Indica – Cut & Sifted and Ideal for Tea Infusions

What makes Neem good for skin?
Neem leaves contain antiseptic, antioxidant, antibacterial, antiviral, antihistamine, anti-fungal and anti-inflammatory properties. Whew! What an amazing list of benefits neem offers for healthy skin!
Vitamin C – Vitamin C is a powerful anti-oxidant which offers anti-aging benefits to skin. It boosts collagen production, fights off oxygen-stealing free radicals and promotes skin elasticity. Related: 8 Surprising Beauty Benefits of Vitamin C
Calcium – Calcium deficiency causes dry and flaky skin. Our skin's epidermal layer contains a significant amount of calcium, which promotes well-hydrated supple skin.
Healthy fatty acids – Nourish, hydrate and lubricate skin cells with enough moisture, keeping skin soft smooth and supple.
Anti-oxidants – Antioxidants play a vital role in promoting healthy skin. They combat free radical scavengers which steal oxygen from healthy skin cells, causing them to become dull and lifeless.
Ingredients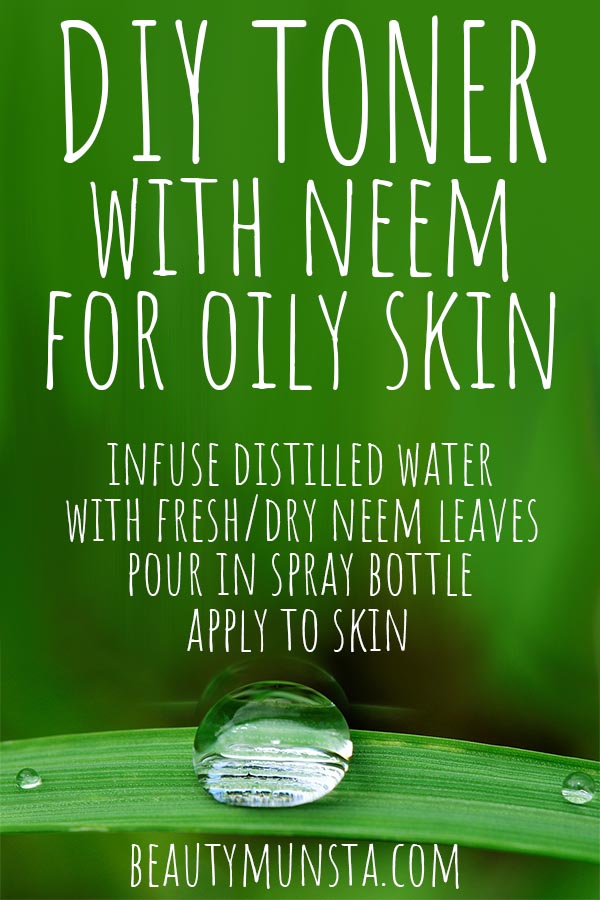 Directions
Wash a little less than a handful of neem leaves thoroughly. Or use 1 tsp of dry neem leaves.
Heat 1 cup of distilled water in a pan until it almost comes to a boil. Remove it from the heat source.
Add the neem leaves and let it steep for about 20 minutes. Remember the longer you steep, the more concentrated your toner will be.
When the neem water completely cools down, pour it in a clean spray bottle. Your all-natural antiseptic neem toner for oily skin is ready!
Tips
Ensure to allow the neem toner to completely cool down before you store it in the spray bottle/use it on your skin.
Store your neem toner in the refrigerator to keep it fresh and provide a cooling relief for your skin!
More Toners for Flawless Skin: