You'll be surprised of the beauty benefits of vitamin C that can be enjoyed by consuming the vitamin, as well as applying vitamin C products on your skin and hair.
Are There Any Beauty Benefits of Vitamin C?
Vitamin C (also known as Ascorbic Acid) is probably the most popular vitamin out there. It is a water soluble vitamin, meaning it is not stored in the body and is expelled every day (via the kidneys). This means you need to be taking adequate amounts of vitamin C EVERY DAY.
Which vitamin does every one reach for when they get a cold? Vitamin C, of course! Vit C is widely known for its health benefits such as boosting the immune system, aiding in the absorption of iron, prevents heart disease, curbs bad cholesterol and prevents scurvy.
But did you know that Vitamin C plays a key role in your BEAUTY?!
8 Beauty Benefits of Vitamin C
For beautiful skin, hair, nails and more, you cannot do without Vitamin C!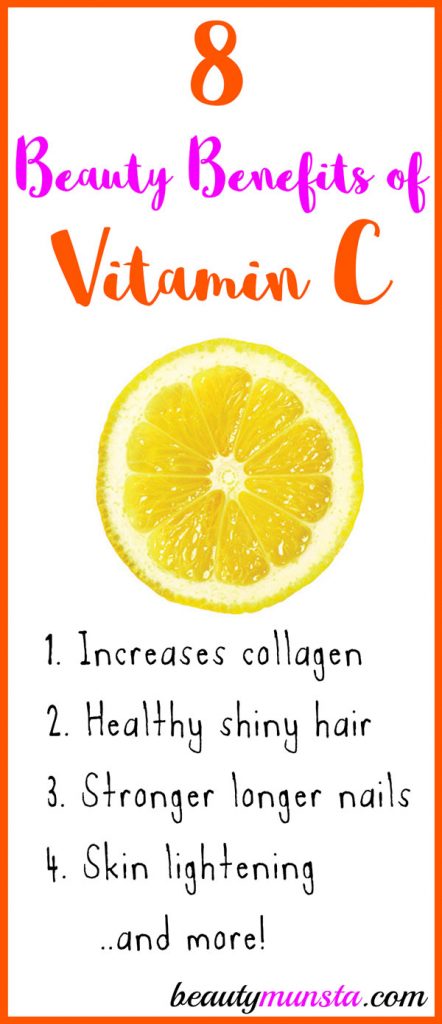 Let's take a look at some of the important beauty benefits of vitamin C:
1. Powerful Anti-Aging Secret
Vitamin C is a powerful anti-aging secret that many people overlook! It is an incredible anti-oxidant that helps neutralize oxidative stress and free radical damage on the skin and hair. It improves the suppleness and elasticity of your skin, making you appear younger! Vitamin C also prevents premature graying of hair!
2. Protects Against Sun Damage
Sun damage is inevitable, even when you wear sun screen. When you consume food sources or supplements of Vitamin C, you actually protect your skin from sun damage FROM WITHIN. It acts like an internal sun screen. Even after the damaging effects of too much harsh sun, consume and apply vitamin C to help repair the damaged cells faster.
3. Heals & Repairs Skin
Vitamin C communicates with our DNA and helps it repair and fix damaged skin in a seamless way. Our skin needs healing when it has been cut, injured, burned or even attacked by acne. In these cases consuming higher amounts of vitamin C helps speed up healing and repairs the skin properly. This also ensures scar tissue is minimized when healing.
4. For Longer, Stronger Nails
If your nails are short and brittle, they are in desperate need for vitamin C! Of course you should consume vitamin C to strengthen your nails from within. But to strengthen brittle nails and to bring some healthy color into dull nails, you can apply vitamin C serum onto your nails many times a day. It's a great home remedy for nail health.
5. For Strong, Shiny Hair
Many of us know that vitamin C helps prevent premature graying of the hair. It also helps prevent excessive hair fall that causes selective balding and hair thinning. Vitamin C can also help heal and prevent scalp acne and dandruff, which both cause hair fall. Doing a weekly vitamin C hair mask also helps imbibe your tresses with a silky sheen.
6. Skin Lightening
Looking to lighten your skin? Vitamin C should be one of your number one remedies. Apart from applying vitamin C serum 1 – 3 times a day, you can also do a skin lightening face mask with vitamin C regularly.
Skin Lightening Treatment: Simply mix ½ tsp of nutmeg powder, 1 tsp of bentonite clay and 1 tsp of lemon juice to form a paste. Apply this paste evenly on your face and let it rest for 10 minutes. Wash off to reveal lighter, more radiant and toned skin!
7. Reduces Acne and Pimples
Consuming vitamin C helps detoxify and cleanse the skin. That's why it's important to eat lots of citrus fruits and drink lemon water to flush out the toxins that cause acne and pimples. Face masks containing vitamin C can also help cleanse your pores and kill acne-causing bacteria.
8. For Smooth, Baby-Bum-Soft Skin
When you apply vitamin C on your skin, it naturally tightens your skin, regulates your pores and makes your skin velvety smooth. Or even, as smooth as a baby's butt! Exfoliate your face regularly using a DIY mask of baking soda and lemon juice. Rub this combination on your skin in a gentle massaging motion. Then wash off with cold water for silky smooth skin.
Food Sources of Vitamin C
Vitamin C is abundant in many foods. You can find high amounts of vitamin C in citrus fruits (oranges, lemons, mandarins), cabbage, tomato, asparagus, berries, bell pepper and more!
Best Vitamin C Supplement
Today, with our busy lifestyles, it's not always possible to eat a diet rich in Vitamin C, and that's completely understandable.
If you need to take a vitamin C supplement, choose a high quality, organic supplement like this one:
Natural Vitamin C Serum

Vitamin C serums are powerful skin care products for youthful skin, hyperpigmentation, acne, acne scars, oily skin, among others. Try this natural Vitamin C serum for amazing results!