Check out how to use chamomile tea on your face for healthy skin!
I love sipping on some chamomile tea (with a healthy drizzle of honey). It calms anxiety, treats an upset stomach and soothes frayed nerves. You should definitely try it in place of your usual mug of coffee at least once a week.
Chamomile has been used as a healing herb since centuries ago. It is best known for its soothing and calming properties. It not only soothes the mind, but also skin! You can apply chamomile tea on your face to help a lot of skin problems including irritated skin, rashes, rosacea, acne and oily skin as well.
In this post, I'll show you ways you can use chamomile tea on your face!
How to Use Chamomile Tea on your Face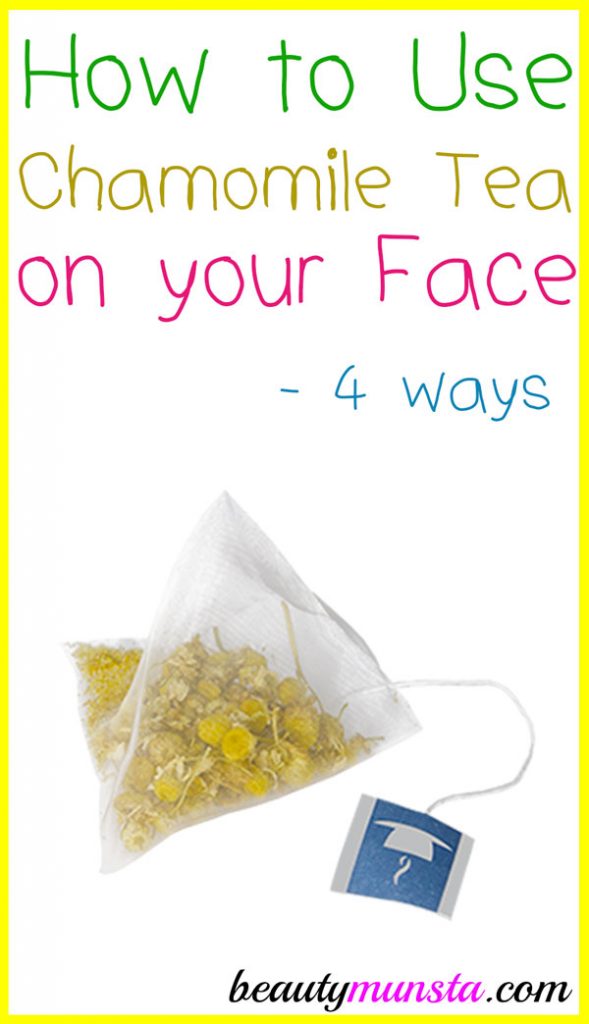 1. Facial Toner
What you need
½ cup cooled chamomile tea
1 tsp witch hazel
Directions
Brew a cup of chamomile tea by steeping 1 chamomile tea bag in 1 cup of boiling water. Discard the tea bag after 10 minutes.
Let it cool down completely then pour it into a spray bottle.
Add 1 tsp of witch hazel.
Cap the bottle tightly and spray it on your clean face with your eyes closed.
Let it dry then moisture as usual.
2. Chamomile Tea Face Mask
What you need
1 tsp chamomile tea
1 tsp pure aloe vera gel
1 tsp raw honey
Small mixing bowl and spoon
Directions
In a small bowl, add 1 tsp chamomile tea, 1 tsp pure aloe vera gel and 1 tsp raw honey. Mix everything up well with a spoon.
Scoop the mixture up and apply it gently all over your face, avoiding the eye area.
Rinse off with tepid water after 5-7 minutes.
3. Calming Chamomile Ice Cubes
What you need
Directions
Brew ½ cup of chamomile tea then pour it into an ice cube tray.
Wait for the ice cubes to freeze up then get one, wrap it in a hanky or cotton cloth and dab it on your face to cool acne, soothe rosacea, tone your skin or hydrate it. Follow up with moisturizer.
4. Puffy Eye Treatment
What you need
Directions
Brew 2 cups of chamomile tea then do not discard the tea bags.
Simply squeeze out the excess water from the tea bags and put them on a plate and store in the refrigerator for 10 minutes.
You can sip a cup of chamomile tea and give the other cup to your partner or store it for later!
When 10 minutes are up, lie down and place the chamomile tea bags over your eyes.
Leave them on for 15 minutes for natural puffy eye relief!

Have you learned how to use chamomile on your face? Here's to healthy skin naturally!