Whip up this cacao face mask for acne to get clearer skin!
Beauty Benefits of Cacao
Cacao is a superfood that Ancient Mayans used to consume regularly. It is what's processed to make chocolate powder we all love so much! What makes cacao a superfood is its incredibly high antioxidant content! Antioxidants are important for delaying premature aging of skin, improving blood circulation, improving collagen and elastin production and many other beauty benefits. Here are other beauty benefits of cacao:
Repairs skin cells and restores cell functioning
Fights acne
Reduces oily skin
Potent anti-inflammatory which soothes inflammation and redness
Reduces blemishes
Boosts blood circulation to skin, promoting a rosy glow
Smooths fine lines
And more!
For more beauty benefits, please see: 10 Beauty Benefits of Cacao Powder
DIY Cacao Face Mask for Acne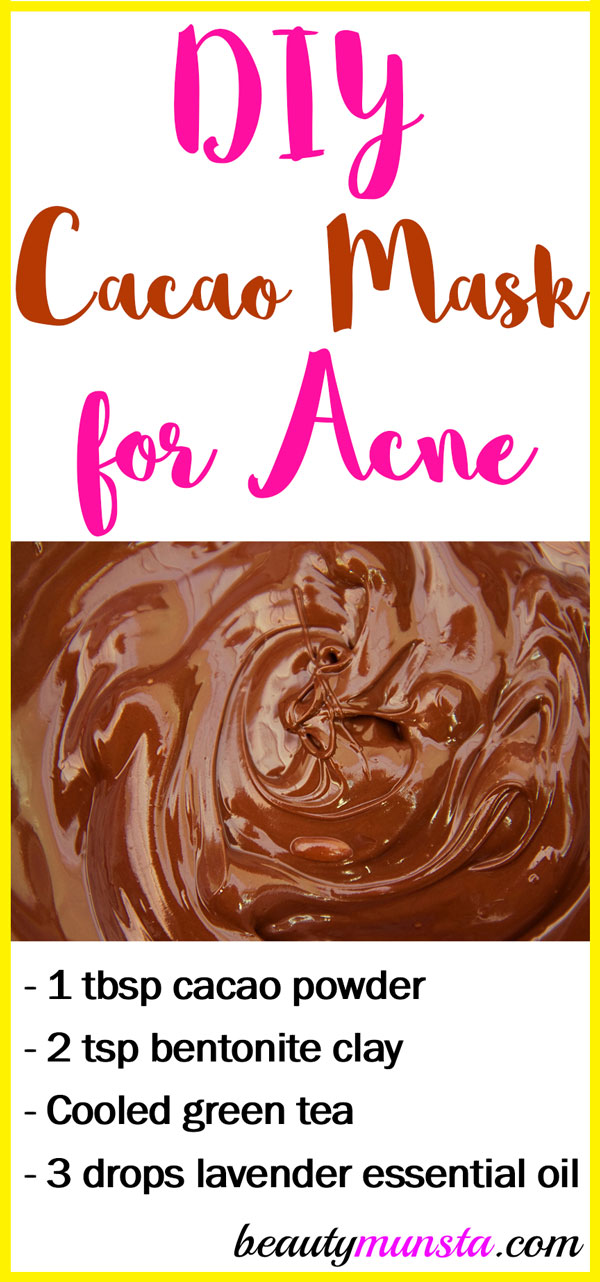 What you need:
1 tbsp cacao powder
2 tsp bentonite clay
Cooled green tea
3 drops lavender essential oil
Small non-metal bowl & spoon (Please don't use metal! It reacts with the clay and renders it useless!)
Directions:
Dump 1 tbsp of cacao powder in a small bowl followed by 2 tsp of bentonite clay.
Next add a little cooled green tea, splash by splash, while stirring with a spoon.
Stop when you get a smooth chocolate cream.
Now add 3 drops of lavender essential oil and stir again.
Your DIY cacao face mask for acne is ready!
Apply onto a clean face, avoiding the eyes and mouth.
Leave it on for 10 minutes then rinse off with warm water. You might need to use an old washcloth to help you remove the mask better. Just be gentle!
After removing the mask, splash your face with cold water then apply some of the cooled green tea to tone. While your face is still damp from the toner, apply your moisturizer or this DIY tea tree oil serum.

I'm sure you guys are gonna love this cacao face mask for acne! Come share your results!