Learn how to make a cleansing and antioxidant-rich DIY chocolate clay mask!
You've seen chocolate clay masks from beauty companies going for as much as $70, haven't you?! What a ridiculous amount to pay when you can actually make your own right AT HOME!
I strongly believe in DIY beauty because it's cheaper, all natural, much easier and healthier for you! When I first began my DIY beauty journey, I would make a lot of DIY face masks because they are super easy to make and so nourishing to delicate facial skin. One amazing face mask that you simply must try if you're into homemade face masks is this DIY chocolate face mask!
It used just 4 ingredients but it's AH-MAZING for your skin!
Ingredients You'll Need
Raw chocolate powder: Don't use cocoa powder which also uses sugar, flavor and what not. Go for cacao powder or raw chocolate, the bitter kind with absolutely no flavorings. This is what I drink in place of coffee every single day. I cannot go a day without it (unless I've run out but it's quickly replenished). It is brimming with powerful antioxidants called flavonoids that keep your skin looking youthful! It's very nourishing to your skin cells, stimulates blood circulation giving you a rosy glow plus reduces blemishes!
Morrocan red clay: This clay has been used for centuries in Morocco to deep cleanse skin. It literally sucks out impurities and leaves your skin feeling squeaky clean. Red clay also reduces oiliness and smooths skin!
Jojoba oil: One of the best skin care oils is jojoba oil. It has a molecular structure similar to our own skin's oils! It is moisturizing and won't clog pores.
Green tea: I used green tea instead of water because it's full of antioxidants too! So your skin is going to get a real antioxidant boost like never before! Yay! Because this will give you a youthful complexion! It also tightens and firms skin!
DIY Chocolate Clay Mask
Try this chocolate clay mask once a week or any time your skin needs an antioxidant boost!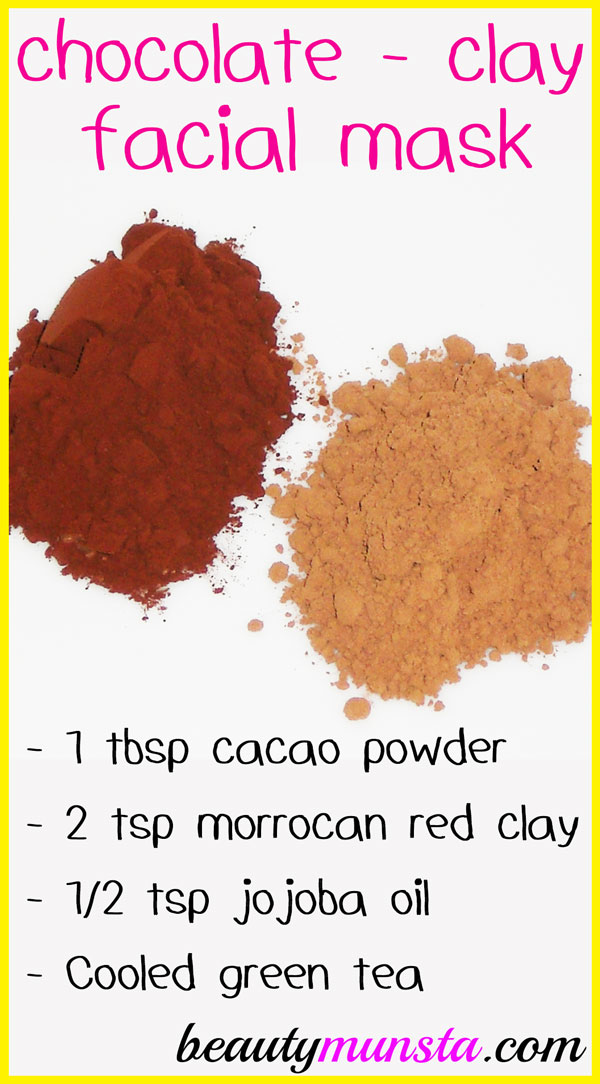 Ingredients:
1 tbsp cacao powder
2 tsp morrocan red clay
½ tsp jojoba oil
Cooled green tea
Bowl & spoon
Directions:
Into your bowl, dump in the raw chocolate powder and morrocan red clay then pour in jojoba oil.
Now slowly keep adding green tea in little splashes while mixing with a spoon to create a thick creamy consistency!
Your DIY chocolate clay mask is ready!
Apply it all over your face and neck in the shower. Let it sit for 10 minutes then gently remove with an old washcloth.
Marvel at your wonderful looking skin!
*img source: A_F

Try this DIY chocolate clay mask and come post your results!