Can you use cocoa powder for skin lightening and does it work?!
Okay, so I've seen people using and recommending cocoa powder for skin lightening – the unsweetened cocoa powder, also known as 'raw' chocolate powder!
I was very skeptical about this because cocoa powder is used in dry shampoo and DIY foundation to darken it so I thought putting it on your skin will stain it darker than your actual skin tone. But that's not the case as we shall discover below!
Can you even use cocoa powder on your skin? Yes, you can! I talked about 12 Beauty Benefits of Cocoa Powder for Skin and Hair  a few weeks ago. It's actually very good for skin and it is incredibly rich in antioxidants that make skin youthful! You can read more about its beauty uses & benefits in the link above.
Cocoa Powder for Skin Lightening
So does cocoa powder work for skin lightening? The answer is…yes, cocoa powder does assist in skin lightening! When you apply it on your skin, the flavonoids in it rejuvenate skin cells and perk them up. Your complexion will become brighter and clearer, which reveals new healthy skin underneath. So definitely try using cocoa powder for skin lightening whether you want to remove blemishes, fade scars/ dark spots or even lighten your skin by a shade!
Here's a skin lightening recipe with cocoa powder that I want to share! Use it 2-3 times a week, especially after you've been in the sun! It helps fade unwanted tans and skin discolorations.
How to Use Cocoa Powder for Skin Lightening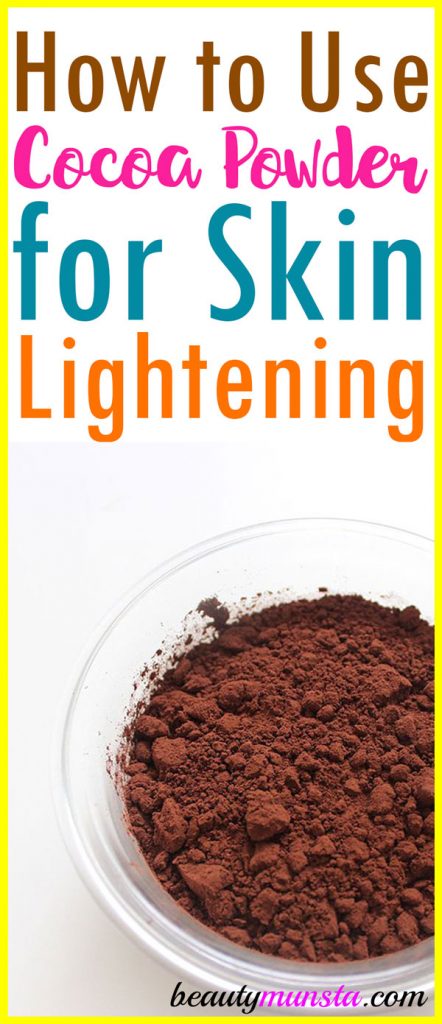 What you need:
½ tsp multani mitti (where to get it)
½ tsp cocoa powder (where to get it)
½ tsp honey (where to get it)
1 tsp rose water (where to get it)
Non-metal bowl & spoon *multani mitti which is a clay that's renowned for its skin lightening properties shouldn't touch metal. That's because the positively charged ions in metal neutralize the negatively charged ions in it which ends up rendering the clay useless! So use only non-metal bowls/spoons when handling multani mitti or any other clay.
Directions:
Into a non-metal bowl, add ½ tsp multani mitti, ½ tsp cocoa powder and ½ tsp honey.
Next mix the ingredients to form a paste then add rose water to the paste to form a smooth easily spreadable consistency.
Apply the mask gently all over your skin, avoiding the eye area.
After 7 minutes, rinse off the mask with warm water then cold water.
Pat your face dry and apply a few drops of a skin lightening oil such as argan oil or sesame oil.

Have you ever used cocoa powder for skin lightening? Did it work? Share your thoughts in the comments below!