Here's an easy and cheap DIY translucent face powder recipe!
If you're someone who wears powder every day before heading to work/school, then you need to try making your own! Just to give yourself a break from chemicals & toxins in the store-bought version – your skin will thank you!
Now this translucent face powder just uses 3 ingredients – arrow root powder, cornstarch and unsweetened cocoa powder! Isn't that amazing! These ingredients also have other great beauty benefits for your skin. You can check them out below:
It's totally optional but you can also add lavender essential oil to make the powder. It's used mainly to improve the scent of the face powder but it also thickens the recipe and holds it together. Sub with any other essential oil of choice but avoid citrus essential oils because they are photo-sensitive!
DIY Translucent Face Powder Recipe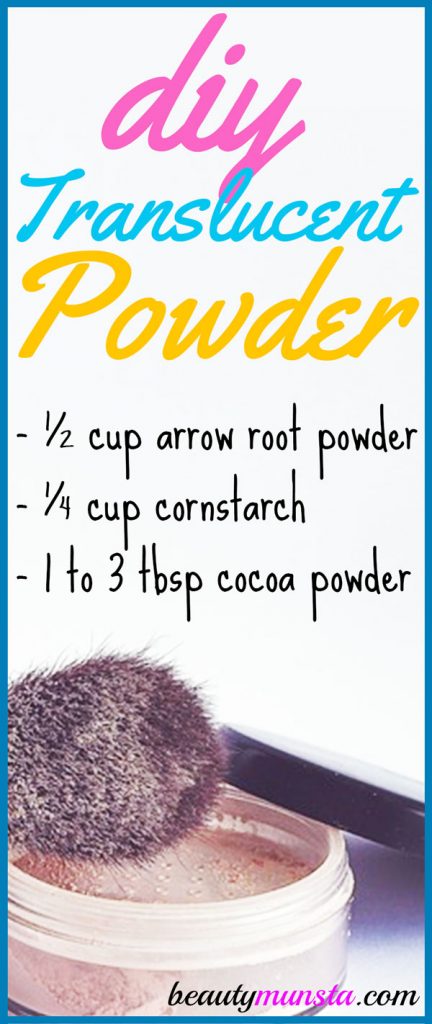 Ingredients:
½ cup arrow root powder
¼ cup cornstarch
1-3 tbsp of unsweetened cocoa powder
5 drops of lavender essential oil
Bowl
Small whisk
Sealable containers
Method:
Into a bowl, pour ½ cup of arrow root powder and ¼ cup of cornstarch. Whisk with a spoon to combine the two ingredients.
Now carefully start adding the unsweetened cornstarch, tbsp by tbsp to suit your skin tone. Yes, you need to keep testing on a small area of your face to know if you've reached the color that matches your skin.
Once you've reached the color you desire, you can now add 5 drops of lavender essential oil. This is totally optional.
Finally, mix all your ingredients using the whisk so you create a mixture.
Transfer your mixture into sealable containers.
Your DIY translucent powder is ready! It keeps for about 6 months!
Lightly apply with a powder brush all over your face.
If you don't want to use cornstarch in your face powder, please see: DIY Translucent Powder without Cornstarch
Other Makeup DIYs You'll Love!