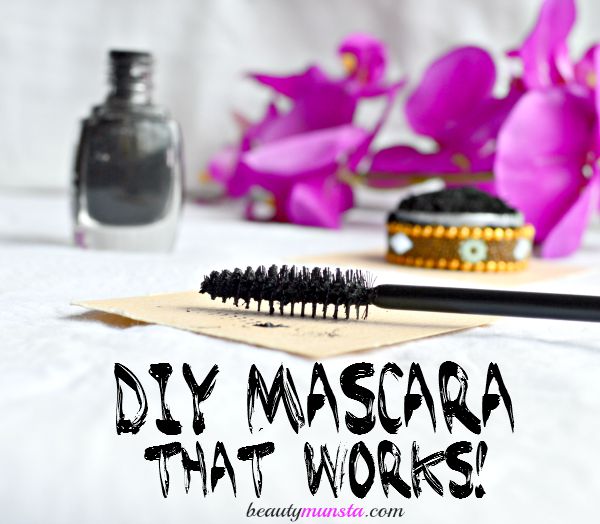 I've tried voluminizing and lengthening mascaras from Revlon, Maybelline, L'Oreal, Sleek and others and my favorite surprisingly has been Sleek, which stays matte, doesn't flake and doesn't clump at all! I don't know about you guys but it's the best drugstore mascara I've been using and I'd continue using – if it weren't for one thing! I may be super sensitive to store-bought mascara but for some reason, all the mascaras that I've tried had one common problem, which is to make my eyes get irritated and itch terribly.
Since mascara is one makeup product that I can do without, I actually stopped using mascara for days and I was fine… until I started missing the way my lashes looked luscious and my eyes looked brighter.
That's where this homemade DIY mascara with activated charcoal comes in! It's easy to make, doesn't contain toxic chemicals, stores for long (provided you keep it away from contamination) and most importantly doesn't make my eyes itch! Whoopee! Another great part of using this homemade DIY mascara is that it'll stay put the whole day and won't flake off.
This DIY mascara contains activated charcoal and I know there are some people out there who say making a DIY mascara with activated charcoal just won't come out right. Well, I have to say that it's not true especially if you know the right ingredients you're going to be mixing with it, the amounts of each ingredient you'll add, the storage, usage and even the way you mix the ingredients matters. If you're really against activated charcoal, then you can try replacing it with black mineral powder/black oxide, which are both good substitutes.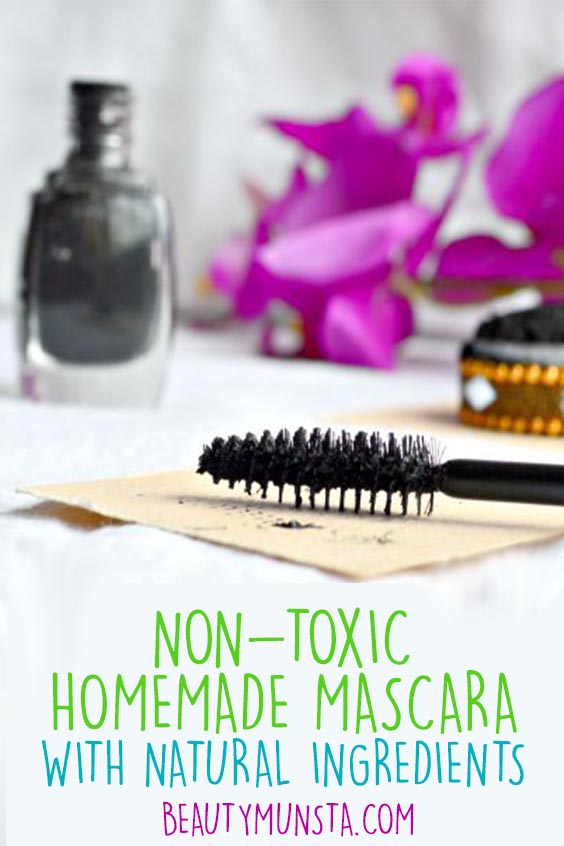 Beautymunsta's Ingredient Profile
➝ Activated Charcoal – Gives the black coloring to this DIY mascara. Some people are sensitive to activated charcoal and find that using black oxide as a substitute works much better.
➝ Aloe Vera – Is a natural astringent, which means it'll help control the oiliness of this DIY mascara. It's also a base ingredient for smoothly mixing up the rest of the ingredients.
➝ Bentonite Clay – Bentonite clay is used to help the mascara dry up faster once you apply it.
➝ Guar Gum – Guar gum basically acts as the thickener in this homemade DIY mascara recipe.
Homemade DIY Mascara with Activated Charcoal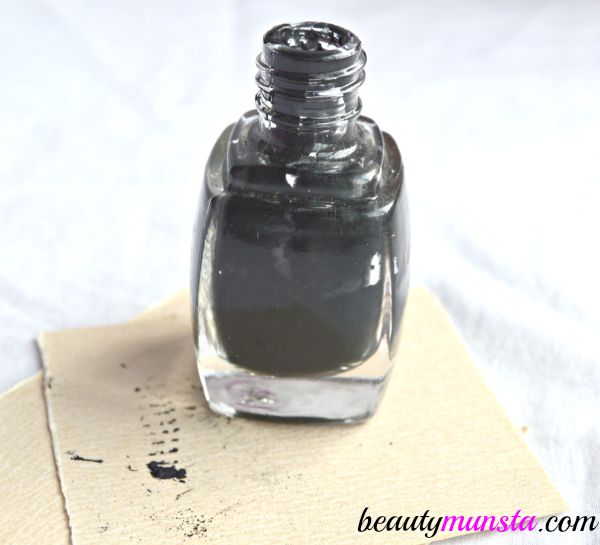 Ingredients
Directions
Start by adding all the ingredients except the bentonite clay in a small dish. Mix very well.
Then add the bentonite clay and mix very well using a tiny plastic spoon (ice cream spoons work just fine).
Place the ingredients in a tiny zip lock bag.
Gently snip off the corner of the zip lock bag and squeeze the contents into an empty mascara tube. If you're lucky to find a container that closes well with a mini mascara wand like mine in the picture above, you can use that instead! You can also transfer it using a syringe.
Close the container properly to prevent it from drying up and store in a clean dry place.
This DIY mascara with activated charcoal will last for about 2 to 3 months without a preservative, provided you keep it away from contamination. If used daily, it'll last for about 2 to 3 weeks.
At the end of the day, wipe off this DIY mascara with a cotton pad with a few drops of coconut oil or any other carrier oil of your choice. Warm water and soap also works well. Please close your eyes tight when removing the mascara.
How to Use the DIY Mascara with Activated Charcoal
► Dip the mascara wand into the container to coat it evenly.
► Smooth out any clumps.
► Apply it to your eyelashes. Three coats are ideal for voluminous luscious eyelashes! Wait for it to dry on your lashes before applying each coat.
► Important: If you're DIY mascara becomes dry and chalky, you have to add more aloe vera gel and a little more vitamin E oil and mix up to get a good consistency. If it doesn't stick to your eyelashes, add more bentonite clay.
Where to Get a Mascara Tube
I just love love this clear mascara tube! It even comes with tiny funnels to pour your homemade mascara in! Is that awesome or what?!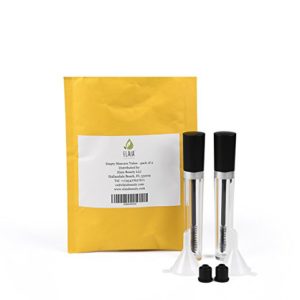 My Tips
Store the homemade DIY mascara in a small 5g container, empty mascara tube or any other tiny container you find around the house. Of course you must make sure the container is clean. You can sterilize it to be safe.
Curl your lashes before applying the homemade mascara and after it dries for best results.
If you have an eyelash comb/small & clean toothbrush, use it to smooth out any clumps if any. But I really don't think you'll have clumps after you curl your lashes.
If you can't find guar gum, you can use vegetable glycerin. Also try out xantham gum and see if it works!
To make this DIY mascara waterproof, you will have to add beeswax.
Since you're going to need only a pinch of bentonite clay, it won't be clumpy. However, if there are any lumps in your clay, please smooth them out by grinding the whole lot in a small blender/Magic Bullet.
Try out different variations of this DIY mascara! If you want brown mascara, add half of brown clay and half of activated charcoal. For a beautiful plum color, you could add a little ultramarine powder. For a softer color, add white kaolin clay and keep adjusting to how light you want your mascara to be.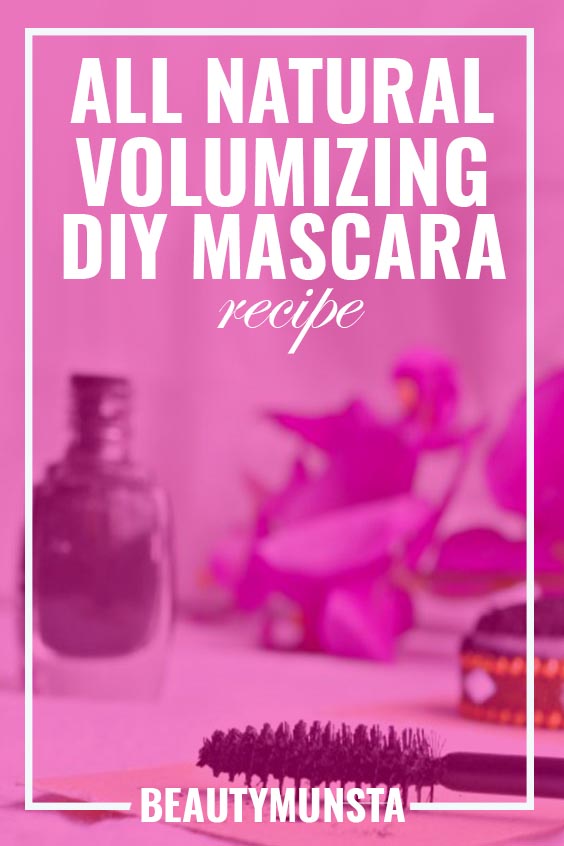 Take Care
Please do not use any of these ingredients if you are allergic to them. Just like any other eye makeup product, if this DIY mascara gets into your eyes, rinse off immediately with warm water. Likewise, if you experience any itching, redness or discomfort after using this mascara, immediately rinse off with warm water and stop using it completely.