Can you use activated charcoal for blackheads? Definitely! It's one of the best things you can use to naturally remove and prevent blackheads!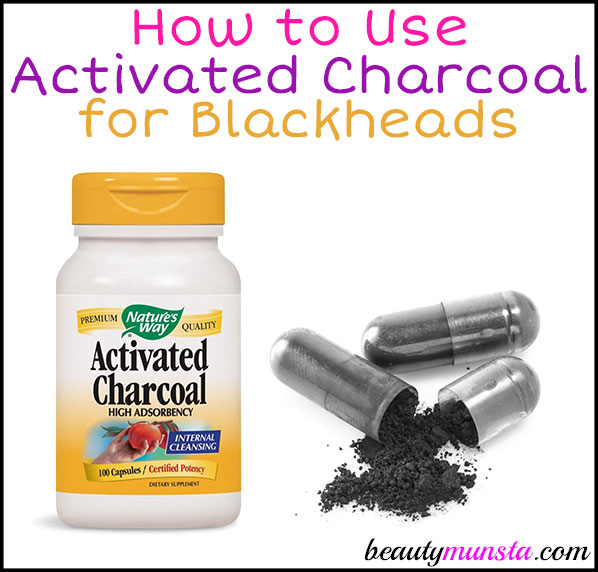 Activated charcoal is a powerful substance. Get this – it can absorb a thousand times its own weight! That's why it's used in hospitals to suck out poison from the body in case of poison ingesting accidents. It can also suck out impurities, stale oils and dead cells in pores which cause blackheads! By sucking out poison and pesky blackheads, activated charcoal is literally a life saver, isn't it?!
What is Activated Charcoal?
Activated charcoal is not the normal charcoal we all know. It's a type of charcoal that is processed to have extremely tiny 'pores' that increase the surface area. Its porous nature gives it an incredible absorption rate, which is useful for many industrial and household purposes.
Activated charcoal has amazing adsorption properties. Adsorption in activated charcoal is a chemical process in which matter such as toxins, chemicals, impurities and other unwanted items bind to the carbon particles and are absorbed by the millions of tiny pores on the charcoal.
Activated Charcoal for Blackheads
When used on skin, activated charcoal immediately starts soaking up all kinds of impurities in the pores such as stale sebum, germs, dirt, grime, dead cells and other impurities. It also removes blackheads stuck within the skin's pores. After you wash off the activated charcoal, your skin will feel and look purified, fresh, clean and soft!
Where to Get Activated Charcoal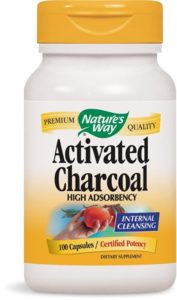 When buying activated charcoal, ensure to buy it in capsule form for easy and non-messy use. I like Nature's Way Activated Charcoal Capsules. The bottle contains 100 capsules! To use, just twist the capsule and empty it to get the powder.
How to Use Activated Charcoal for Blackheads
The best way to use activated charcoal for blackheads is by making a DIY activated charcoal peel-off mask. This mask uses common kitchen ingredients like water, unflavored gelatin powder and activated charcoal mixed together to create a homemade peel-off mask. A simple recipe is as follows:
What you need:
Directions:
Into the shot glass, add the unflavored gelatin powder then add 2 tbsp of pure water. Stir well.
Next, immediately place the shot glass into the bowl of hot water, making sure the hot water doesn't enter the shot glass.
Stir vigorously until the mixture starts thickening up.
Once thickened, empty 2 activated charcoal capsules and add 2 drops of tea tree oil into the mixture and stir well.
It's ready! Using a popsicle stick or clean fingers, apply the mask on your face (make sure it's not hot to burn your face but just warm), avoiding your eyebrows, area around eyes and mouth.
Let it sit for 10 minutes then peel it off starting from the corner of your face.
Wash your face and moisturize! If you want to go natural, you can use a pea-sized amount of shea butter to moisturize!
I actually have a post where I describe how to make the DIY activated charcoal peel-off mask in detail, with more beneficial nourishing face mask ingredients. So please head over to that article: DIY Activated Charcoal Peel-Off Mask