Find out how to make a DIY activated charcoal face mask for acne and what it does for beautiful skin!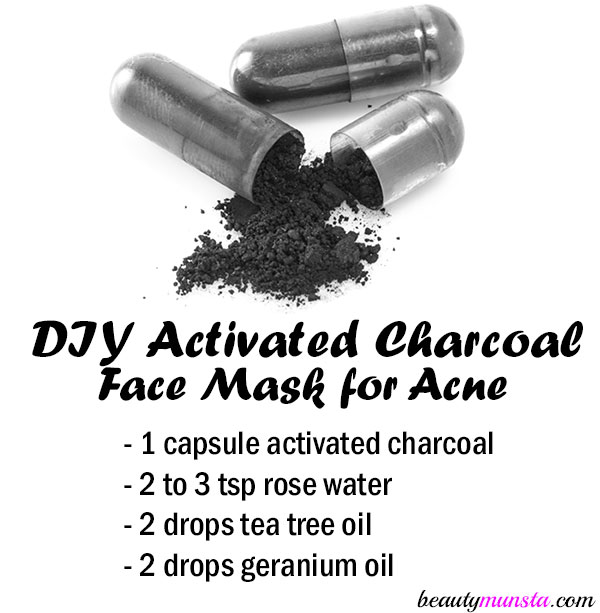 What is Activated Charcoal?
Activated charcoal is simply a type of charcoal that is processed to have very small pores that increase the surface area. Its microporosity gives it an amazing absorption rate, making it useful for both industrial and domestic purposes.
There are many uses for activated charcoal including:
Whitening teeth and removing stains from the enamel
Relieving gas, bloating and stomach pain
Treating poisoning in the body
Overcoming alcohol poisoning and hangovers
Body detoxification
Treating mold growth in the body
Water purification
Acne removal
Skin pore cleansing
Reducing swelling in bug bites
The reason activated charcoal works so well for skin ailments such as acne has to do with its adsorption properties. Adsorption in activated charcoal is a chemical process where elements such as toxins, chemicals, impurities and other unwanted items bind to the carbon particles and are absorbed by the millions of tiny pores on the charcoal.
When applied onto the skin, activated charcoal does an amazing job at reacting with the elements and absorbing the unwanted acne-causing substances found within the skin pores. You can then wash off the activated charcoal, leaving your face cleansed, detoxed and purified.
In this article, I will share with you the recipe for a potent DIY activated charcoal face mask for acne. It works incredibly well, and you'll be addicted to it, even after you get rid of all your acne! It's a great DIY for maintaining smooth flawless skin!
How This Face Mask Works
In this potent face mask, we will be using activated charcoal, along with a few other natural acne-fighting ingredients, that are guaranteed to deep-cleanse your pores as well as destroy acne-causing bacteria like Propionibacterium acnes (P. acnes).
Here's how each of the ingredients we'll be using help:
» Activated charcoal – highly absorptive, chemically reacts with dirt, grime and dead cells to bind them to its surface, detoxes the pores, deep-cleans the pores, cleanses the skin
» Rose water – rich in vitamin C, cooling and refreshing, natural cleansing properties, helps prevent acne and pimples, tones the skin, reduces inflammation
» Tea tree oil – highly anti-bacterial and anti-microbial, has disinfectant properties, has
» Geranium oil – treats hormonal acne, balances the skin, has anti-aging properties, promotes collagen production, speeds up healing of acne wounds, prevents scar formation
DIY Activated Charcoal Face Mask for Acne
What you need:
Method:
In a small glass bowl, mix the activated charcoal with a few drops of rose water to form a thick paste.
Now add in the essential oils and mix thoroughly with a popsicle stick.
Apply the activated charcoal mask onto your face using the same popsicle stick or clean fingers.
Allow the mask to work on your skin for at least 10 – 15 minutes.
Now wash off using warm water. You can also use a wash cloth to gently exfoliate your face as you rub the mask off with water.
No need to use soap or face wash after this mask! Just pat dry and moisturize your face.
Tips
Do this face mask at least 4 – 5 times a week for medium – severe acne. For maintenance on acne-prone skin, use the mask 2 – 3 times a week.
If you don't have rose water, you can use any other flower water such as orange blossom or lavender hydrosols.
If you don't have any hydrosol at all, you can use plain water.
Make sure to drink plenty of water, eat omega-rich foods and avoid processed, sugary foods to keep your skin in a healthy condition.