Take your teeth into your own hands (or should I say mouth) and whiten them naturally using this DIY activated charcoal toothpaste recipe. It's easy, doesn't taste bad, and it works!
Charcoal in TOOTHPASTE?!
I know it sounds crazy, but YES! We're talking about a really black-looking toothpaste with CHARCOAL. Hey, if you want sparkling white teeth, you've got to put up with this. Why? Because it is totally natural, non-toxic and best of all, IT WORKS!
What is Activated Charcoal?
Activated charcoal is a type of high porosity charcoal that is treated to increase the surface area of the the carbon molecules by up to 100x.
Charcoal naturally has absorptive characteristics, but activated charcoal is a super, super absorbent form of charcoal.
That makes it wonderful for teeth whitening simply because it draws out stains from the teeth in a way that no other substance can!
Add to it the fact that activated charcoal has mildly abrasive properties, this DIY activated charcoal toothpaste is all you need to get your whites sparkling like you had a thousand-dollar UV treatment for your teeth. Except, this one costs a fraction of the price, and it's totally natural and free of side-effects!
Why Make Toothpaste Using Natural Ingredients
Now, natural is the name of the game around here. So we will be using completely natural ingredients to concoct this DIY toothpaste. Let's take a look at some of the benefits of the ingredients we'll be using, shall we?
Coconut oil – binds to food particles and other impurities on your teeth, nourishes your gums, acts as a natural seal preventing harmful bacteria from attacking the enamel, antibacterial, strengthens the teeth
Stevia – a great natural way to sweeten your toothpaste
Lemon essential oil – makes your tooth paste smell amazing, has teeth-whitening effects, antibacterial, fights bad breath
DIY Activated Charcoal Toothpaste Recipe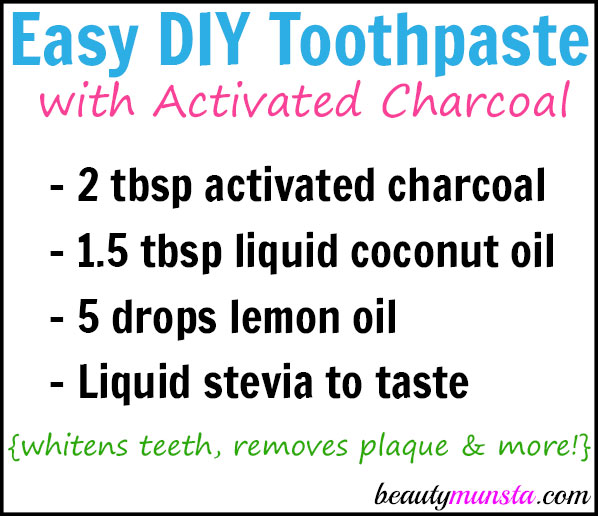 Now let's get on with the recipe!
What you need:
Method:
Mi all the ingredients in a bowl till well combined into a paste. If you have activated charcoal capsules, first break apart the capsules and measure out 2 tablespoons.
Store in a small glass jar.
Tips
When using, just take a pea-sized amount and rub it all over your gums with your finger. (This is how I like to do it, and I find it convenient). Then use your wet brush to brush all your teeth, as you normally would.
Rinse out your mouth and brush again with another pea-sized amount. Brush for at least 2 minutes every day.
You can use peppermint essential oil instead of lemon essential oil, if you wish.