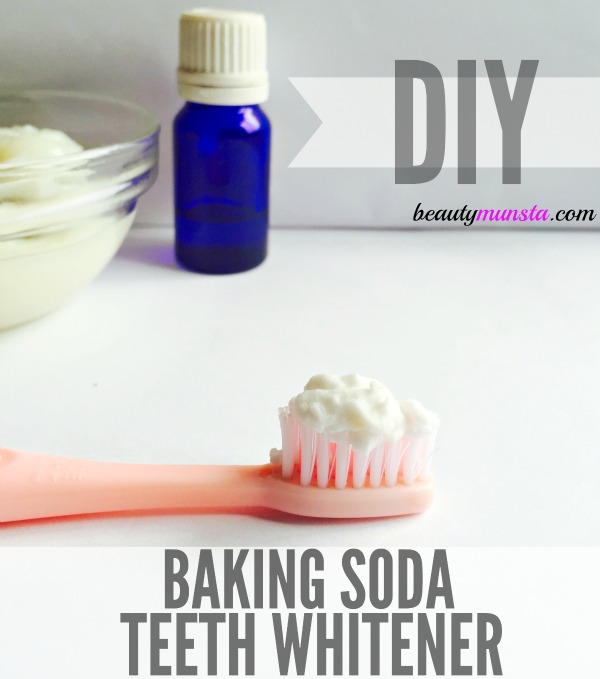 Baking soda for teeth whitening or cleansing is no new age concept – people have been using baking soda to clean their teeth for years. In 1922, A Friend in Need, published by Arm & Hammer suggested using baking soda as a teeth cleanser because of its mild abrasive texture that helps in removing yellow plaque stuck on teeth without endangering the enamel. A paste made of hydrogen peroxide and baking soda was a popular teeth cleansing recipe in the 1900s. In this post, you will find out how you can use baking soda to whiten your teeth, how it works and a simple but super effective diy baking soda teeth whitener recipe.
What Causes Teeth Stains?
From teeth staining beverages & foods to excessive smoking, there are many causes of teeth staining. Below are the most common causes of teeth stains that you can try to get rid of with baking soda:
Acidic Fruits – Consuming too many citrus fruits at a go, such as oranges/lemons can wreak havoc on your enamel and cause sensitivity. Wait one hour so the enamel can harden after being exposed to acidic fruits. You can also rinse your mouth with tepid water to remove the acidic sensitive feeling on your teeth.
Tea, Coffee & Wine – Tea, coffee and wine are the top teeth staining beverages on the planet. Limit drinking strong black coffee and always make sure to rinse your mouth after drinking any of these beverages.
Soda – Laden in refined sugars and other additives, soda is a notorious teeth staining & enamel destroying drink. Replace soda with other drinks such as herbal teas, milk, or good old water.
Blueberries – Munching on too many blueberries can leave bluish stains on your teeth. Try sprinkling just 4-6 blueberries in your morning oatmeal instead of snacking on a few handfuls.
Fluoride – Though fluoride is hard to avoid because it is added to even drinking water, switching to no-fluoride toothpastes make a world of a difference in preventing decays, white spots and stained teeth. Natural toothpastes like Tom's no-fluoride toothpaste and homemade tooth powders can be used to effectively clean teeth.
Smoking – Smoking not only creates ugly black, brown and yellow stains on the teeth that can become permanent but also leads to structural damage of teeth.
How Baking Soda Whitens Teeth
Baking soda, also known as bicarbonate of soda, is an alkali and leavening agent which expands when cooked, hence used in baking to help dough rise. It also has a myriad of health benefits including fighting colds, eliminating heartburn, soothing bug bites & sunburn as well as promoting healthy teeth! Here's how baking soda basically whitens teeth:
By Eliminating Plaque – The mild gritty texture of baking soda helps scrape off plaque and tiny food particles stuck on the teeth.
Removing Stains – When mixed in water, baking soda releases free radicals which are unstable molecules. Applying this mixture to your teeth causes the free radicals to interact with the stain molecules on the teeth, thereby neutralizing and breaking them down, leaving your teeth white and bright.
Other uses of baking soda for oral care include: freshening breath by neutralizing bad odor, deactivating acidic bacteria that forms yellow plaque and causes tooth decay and fighting off germs and microbes.
How to Make Your Own DIY Baking Soda Teeth Whitener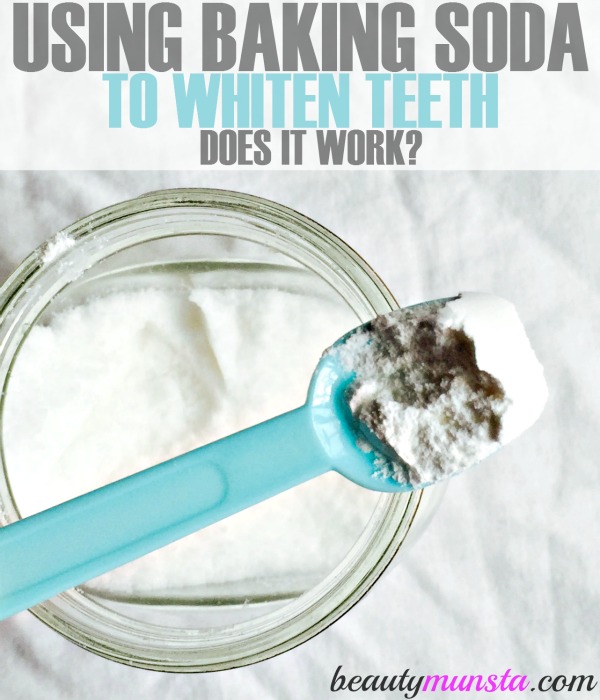 Ingredients
2 tbsp of baking soda (get it here)
2 drops of lemon essential oil (get it here)
2 drops of peppermint essential oil (get it here)
2-4 drops liquid stevia optional* (get it here)
Water
What Each of the Ingredients Do
Lemon Essential Oil – Whitens teeth, reduces yellow stains, removes plaque, fights bacteria, freshens breath.
Peppermint Essential Oil – Kills germs, masks bad breath, freshens mouth.
Stevia – Adds a sweet taste to the recipe which is salty and unpleasant.
Directions
In a small container, add the baking soda, lemon essential oil and stevia.
Mix the ingredients with enough water to form a paste.
Store in a clean dry place.
To apply, first rinse your mouth with warm water then wipe your teeth with a paper towel to remove excess saliva.
Place a little of the paste on your toothbrush and apply.
Leave it on for about 3 minutes, then rinse out.
Behold shiny white teeth!
Other Natural Teeth Whiteners
→ Strawberries – The London Pharmacopoeia, 1967, talks of how the coarse outer skin of berries such as strawberries helps loosen plaque and trapped food particles. Mashing up a juicy strawberry with ½ tsp of baking soda can be brushed onto the teeth, kept on for 5 minutes and then rinsed off for immediate results.
→ Turmeric Root Powder – When I was in my teens, my orthodontist told me turmeric in curries was a major teeth stainer so imagine how surprised I was to learn that turmeric root powder does not stain the teeth and is in fact a natural teeth whitener! Turmeric stains anything and everything yellow but not teeth – it actually does the opposite– it gets rid of yellow stains and gives you shiny pearly whites.
→ Lemon – You've probably heard of using lemon to lighten your hair, skin or acne scars and spots but did you know that it also helps whiten teeth? Lemon combined with baking soda is another remedy for teeth whitening. However, be sure to only use this mixture once or twice a week as it can be very harsh on the enamel if used daily.
→ Coconut Oil – Make a homemade coconut oil toothpaste by mixing a ½ tsp of coconut oil, a pinch of turmeric root powder and a drop of peppermint essential oil. You can also oil pull with coconut oil which not only helps remove plaque and yellow stains but also provides a wide range of health benefits!
Take Care
If you have tooth decays or any severe oral condition that caused teeth discoloration, please visit your dentist. Do not use too much of these natural ingredients such as lemon and peppermint on your teeth as they are potent and can breakdown the enamel, leaving you with sensitive teeth. Apply this DIY natural baking soda teeth whitener only about once a week or 2 weeks.