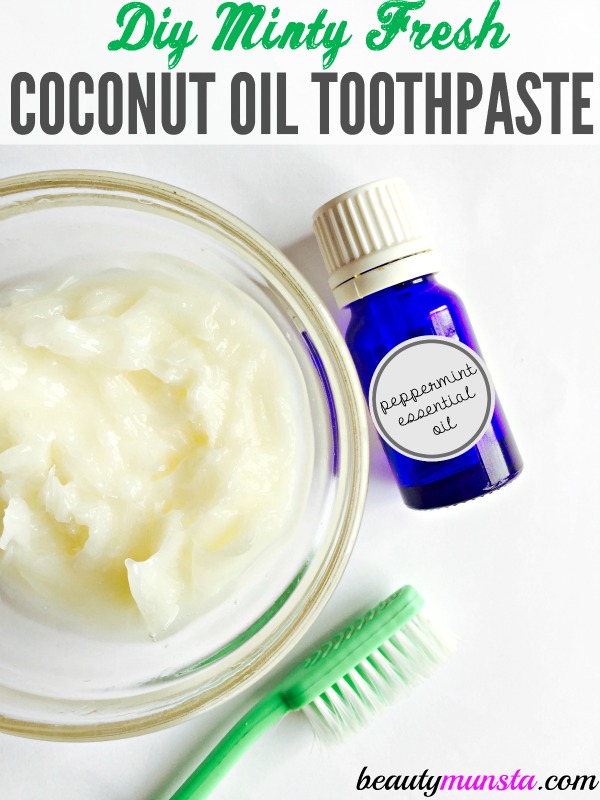 Homemade Toothpaste Recipe without Baking Soda
Baking soda is great for your teeth and gums, being a mild abrasive that helps scrape off plaque build-up and remove teeth stains, but it might be a bit too harsh to use on your teeth everyday plus it's too salty – for these reasons, I prefer using it in my weekly/fortnightly natural teeth whitener recipe instead of brushing my teeth with it every day. This version of homemade toothpaste does not contain baking soda but two other simple but super effective ingredients – peppermint essential oil and xylitol, that both promote healthy teeth and gums as you will see as you read on!
Why You Should Make Your Own Toothpaste
Now you might be wondering why you shouldn't just spare yourself the mess and time in making a diy toothpaste that you've never tried before and simply go buy a toothpaste containing the above ingredients instead. Here are a few good reasons why you need to make your own toothpaste:
► Nasty Chemicals
In this modern age, almost everything out there contains a chemical, preservative or additive that is just not natural. Have you ever stopped to look at the ingredient list on your commercial toothpaste tube? Even though it says fluoride-free there are a host of other nasties lurking around! These chemicals, made up of tiny molecules easily penetrate into the mouth tissue, enter the blood stream and gradually accumulate in the body leading to serious health conditions. Some of them include:
Sodium Lauryl Sulfates (SLS) – This foaming ingredient is used as a major cleansing agent in all sorts of cleaners including toilet bowl cleaners, floor cleaners and engine de-greasers and pesticides! It's also known to be a skin irritant and poses a wide range of health risks when it accumulates in the liver, heart, lungs and brain.
Sodium Fluoride – Fluoride is added to almost every commercial toothpaste on the planet and it claims to prevent and reduce cavities but the thing is, it doesn't! This is proven by recent studies that have even discovered that it has a link to dental deformity, arthritis, allergic reactions, white spots on teeth and the silent lurker – cancer.
Glycerin – Found in most commercial toothpastes, glycerin gives toothpastes the silky and creamy texture and is said to coat the teeth giving it protection from microbes and bacteria – but this coat actually prevents the teeth from re-mineralizing, hence inhibiting cavities from healing on their own. Yes, cavities can heal on their own, with a little dietary changes. Shocked? Read more about it here.
Triclosan – Triclosan is used in many toothpastes and detergents as a natural antibacterial agent but it has been classified as a pesticide by the United States Environmental Protection Agency (EPA) and a chlorophenol, a type of chemical linked to cancer.
Hydrated Silica – An abrasive ingredient in toothpaste, hydrated silica does remove plaque and tartar but it also gives the enamel a hard time with its gritty texture, eventually leading to enamel breakdown. It also prevents re-mineralization and changes the acidic pH of the mouth.
Artificial Colors & Preservatives – Artificial colors and dyes including FD & C color dyes are synthesized from petroleum and can trigger a number of health conditions including migraines, asthma attacks, severe allergies and others.
…and others!
► It's Cost-Effective
If you love frugal living, then you'll be pleased to know that this homemade toothpaste recipe will save you a few good bucks! This homemade toothpaste recipe without baking soda approximately fits into a 130 ml container/jar, which is about 4.4 oz. Colgate, 4.6 oz is $9.24. Now let's calculate:
Coconut Oil – 32 oz is $14.28, using ½ cup, 4 oz is $1.8
Peppermint Essential Oil – 1 oz is $7.20, using 15 drops, 0.025 oz is $0.18
Xylitol – 16 oz is $14.95, using 4 tsp, 0.67 oz is $0.62
Total Cost – Only $2.6!
Save – About $7!
► Only Three Ingredients
You know what exactly you're putting in your mouth – coconut oil, xylitol and peppermint essential oil.
Compare the large list of chemical ingredients in a commercial toothpaste tube to only 3 natural ingredients in this homemade toothpaste and you'll realize how healthy it is!
How to Make a Homemade Toothpaste Recipe with Baking Soda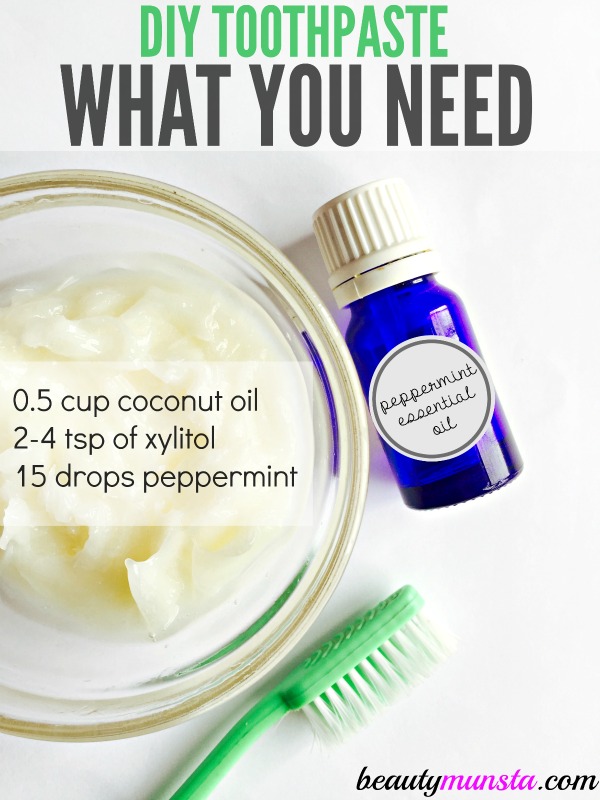 Ingredients
½ cup coconut oil (get it here)
10-15 drops of peppermint essential oil (get it here)
2-4 tsp of xylitol, depending on how sweet you want it to be (get it here)
What Each Ingredient Does
Coconut Oil – Is an antibacterial which fights off bad bacteria that form plaque and cause decay.
Peppermint Essential Oil – Cleanses teeth, removes plaque and tartar, gets rid of stains, whitens teeth, fights bacteria, freshens breath.
Xylitol – Sweetens the toothpaste, rids the mouth of bacteria, balances the mouth's natural pH, repairs deep layers of enamel, thereby helping re-mineralization.
Directions
Add all the ingredients in a bowl and mix well to combine. If your coconut oil is hard, soften it by popping the coconut oil jar in a bowl of hot water.
Transfer to a sterilized container or squeezable toothpaste tubes and store in your bathroom cupboard.
To use, place a considerable amount onto your toothbrush using a clean finger and brush as you would with commercial toothpaste.
Take Care

Don't get water into your homemade toothpaste as it will grow mold. Refrain from dipping a wet toothbrush into the container – instead, just use your clean fingertip to scoop a little onto the toothbrush.
Do not exceed the amount of peppermint essential oil in this recipe. Essential oils are very potent and can burn the mouth if too much is used.
Just like with commercial toothpaste, this homemade toothpaste is not edible. Do not swallow as it contains peppermint essential oil and xylitol.
Xylitol is toxic for dogs so be sure to keep this toothpaste away from them.