Have you finally set out to make your own toothpaste? And want to benefit from the amazing powers of bentonite clay for oral care? Then you've come to the right place! In this post, learn how to make your own homemade toothpaste with bentonite clay!
Before we jump on to the recipe, let's first explore the ingredients in this toothpaste recipe and how they work for healthy and clean teeth and gums:
Ingredients in this Homemade Toothpaste Recipe
1. Distilled water
This is the base ingredient in this homemade toothpaste recipe. It binds the rest of the ingredients together into a paste. You can add more or less of it depending on what kind of consistency you want but I suggest going with a thick paste consistency that's not too chunky or watery for a pleasant brushing experience.
2. Bentonite clay
The stat ingredient in this toothpaste, bentonite clay is rich in minerals and is a great detoxifier. It helps draw out toxins and heavy metals in the mouth and thoroughly cleanses it. Bentonite clay also removes tartar and plaque coating the teeth and helps eliminate stains as well. It has antibacterial properties that fight off cavity-causing bacteria. Use bentonite clay for white polished and shiny looking teeth!
3. Xylitol
A natural sweetener derived from the bark of birch trees. It doesn't just make this toothpaste taste better, though! It is also known to promote healthy teeth and strong gums. It doesn't break down like sugar and it actually prevents bacteria from sticking to teeth. Xylitol also balances the pH of the mouth, keeping it neutral.
4. Himalayan pink salt
A natural occurring salt hand-mined from the foothills of the Himalayas, Himalayan pink salt is very good for oral health. It protects the enamel, kills germs and promotes a neutral pH in the mouth which prevents bacteria from thriving (bacteria love acidic mouths). Just a pinch is enough for this recipe because it has an abrasive texture that can wear down the enamel.
5. Essential oils
Essential oils are great additions to homemade toothpaste! They not only improve the flavor of the toothpaste but also have amazing medicinal properties for healthy teeth and gums. Some of the properties include antibacterial, cavity-fighting, anti-inflammatory properties. They also have strong scents to mask bad breath and their potent nature helps scrape off plaque and tartar from teeth. If you have inflamed and bleeding gums, myrrh would be a good oil to use. For tooth pain, use clove. For fresh breath, use peppermint, eucalyptus and spearmint. For teeth whitening, use lemon and sweet orange.
Homemade Toothpaste with Bentonite Clay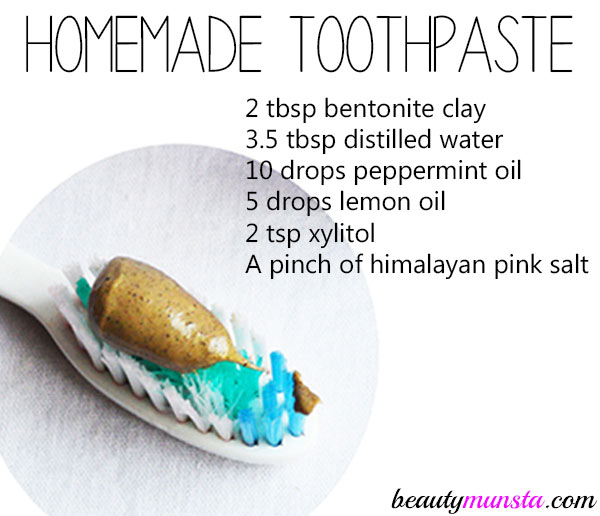 What you need
Directions
Place the bentonite clay in a non-metal bowl then slowly add water little by little while stirring.
Once you form a paste that's not too thick and not too watery, add the xylitol, essential oils and Himalayan pink salt and stir again.
Taste the mixture and adjust the amount of sweetness and essential oil flavors to your liking.
And voila! Your homemade toothpaste with bentonite clay is ready!
Now all you have to do is transfer it into a 2 oz container or squeezable tube.
Place a pea-sized amount on your toothbrush and brush away! How many times? Twice a day is the standard!
Notes
Instead of xylitol, you can use stevia.
Caution
Keep this homemade toothpaste away from dogs because xylitol is very toxic and poisonous to them.
Do not use metal utensils when handling bentonite clay because it reacts with metal and loses its potency.
As with all toothpastes, do not swallow this toothpaste.
Do not put water into it because it will spoil fast. If you used a jar to store it in, then do not use a wet brush to dip in.
That's why it's a genius idea to put the toothpaste in the squeezable tube so you don't forget and dip a wet brush into the jar by mistake.
If you have metal in your mouth (braces, amalgam fillings, etc), then bentonite clay will react with it so I guess you'll have to just use the toothpaste in the front part where you don't have the fillings. Think of it like a teeth mask for a whiter smile! But if you have braces, then you can't use this toothpaste…Don't be disappointed, I have another toothpaste with coconut oil on the blog that I'm sure you'll love!