One of the most amazing skin care ingredients today is bentonite clay! It's great for skin care, hair care and general body health! Let's discover 12 benefits of bentonite clay for skin below!
Note: When handling bentonite clay, do not use metal equipment like metal bowls or spoons. Metal, which contains positively charged ions, will render the clay useless by neutralizing its negatively charged ions.
Where to Get Bentonite Clay
Before we look at 12 benefits of bentonite clay for skin, I first want to give you advice on which bentonite clay to buy.
Not all bentonite clay on the market is the same! Only buy bentonite clay from companies that extract the clay with non-metal, stainless steel or coated extraction equipment, for reasons explained in the Note above. Buying just any random brand of bentonite clay doesn't ensure your buying useful bentonite clay. When bentonite clay touches metal, it becomes useless so beware!
I recommend buying brands such as Aztec Secret Indian Healing Clay, Now Foods, Mountain Rose Herbs and Redmond Clay. My favorite is Aztec Secret Indian Healing Clay!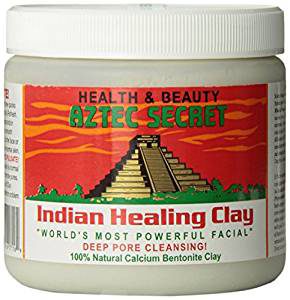 12 Benefits of Bentonite Clay for Skin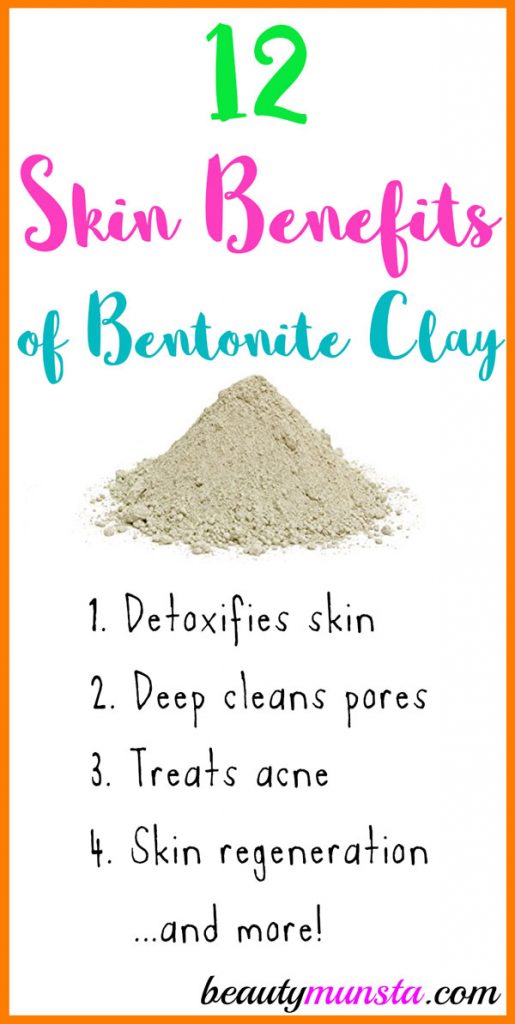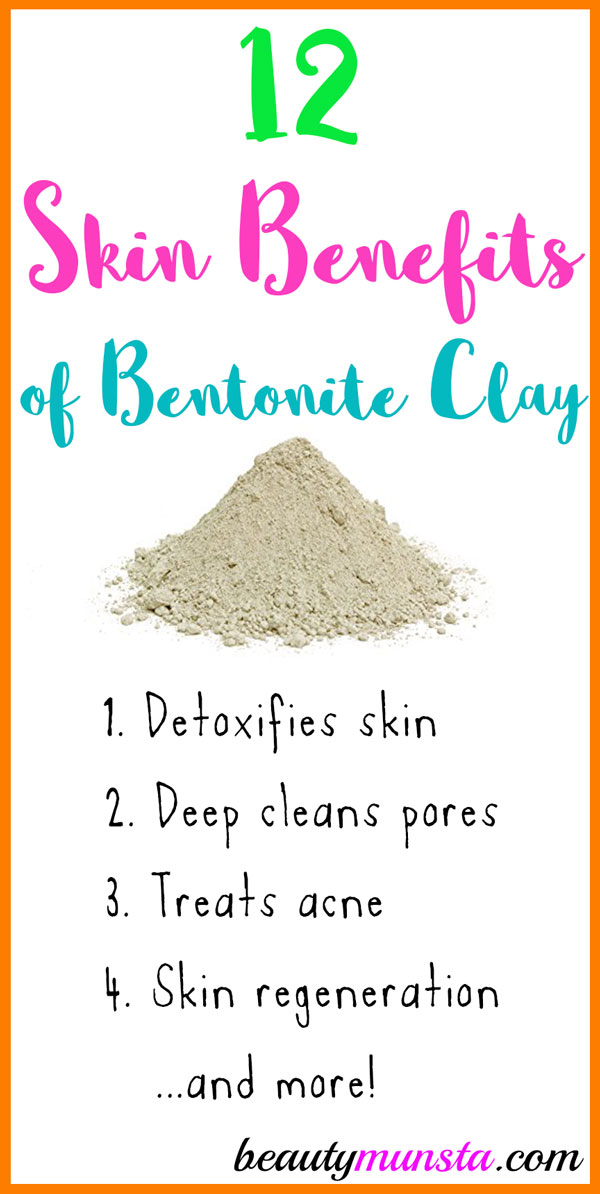 1. Deep Cleanses Pores
Got clogged pores, comedones and whiteheads? Maybe it's time to deep cleanse your pores – using bentonite clay! Bentonite clay literally sucks out bad stuff from deep within the skin pores. It become naturally absorbent when mixed with water which activates it. It pushes out grime, dead cells, germs, pollution, excess sebum, dirt and other nasties from deep within.
To use, simply mix 2 tbsp of bentonite clay with enough water to create a paste. Now apply it onto your face, avoiding the eye area. Rinse off after 7 minutes.
2. Detoxifies Skin
The great thing about Natural Clays for Skin is that they all have powerful detoxifying abilities. Bentonite clay helps detoxify the body from the inside as well as the outside! When you apply it as a paste on your skin, the negatively charged ions in it attracts the positively charged ions found in toxins and impurities on skin. So this grime and bad stuff gets stuck to the bentonite clay, which then gets washed off when you rinse your face.
3. Reduces Oily Skin
Bentonite clay sucks out stale sebum and excess oils within the skin and on its surface. It also diminishes large pores which reduces the amount of sebum secreted onto the skin.
Make an oil-control bentonite clay mask by combining 2 tsp bentonite clay, 3 tsp water and 1 drop of tea tree essential oil. Apply onto your face, avoiding the eyes and rinse off after 5 minutes to reduce oily skin naturally!
4. Prevents & Eases Out Blackheads
Bentonite clay also prevents and eases out blackheads by sucking up excess oils and drying out the area. After facial steaming, wash your face very well and use this DIY Gelatin & Milk Pore Strips. After removing the strips that come out with your blackheads, try a paste made out of bentonite clay and water on your blackhead prone areas. This will keep the blackheads away for good! Use it weekly.
5. Soothes Red Itchy & Irritated Skin
Skin rashes, allergic reactions, bug bites and any other skin irritation can be soothes by applying a bentonite clay paste. You can also add 1 cup bentonite clay with 1 cup colloidal oatmeal into your warm bath for relief.
6. Treats Acne
If you have acne prone skin, you can use bentonite clay as a natural treatment! It helps reduce oily skin, detoxify skin, deep cleanse pores and reduce acne inflammation! Make a cleansing, soothing anti-inflammatory paste with bentonite clay as follows:
Acne Treatment: Mix up 1 tbsp bentonite clay, 3 tsp rose water and 1 tsp aloe vera gel. Spread it evenly on your whole face avoiding the eye area. Remove the mask gently with warm water after 7 minutes. Then splash your face with cold water and apply this DIY Water-Based Green Tea Moisturizer.
7. Reduces Inflammation & Swelling
Reduce inflamed and swollen skin by applying a paste of bentonite clay and water. You can also use a floral water like rose water or lavender hydrosol for more soothing properties. Check out my post on How to Make a Bentonite Clay Poultice for inflammation & swelling of skin. It works on bug bites and more!
8. Helps in Regeneration of New Healthy Skin Cells
Bentonite clay doesn't just detoxify skin but also helps repair and regenerate it! That's because it's filled with minerals that deeply nourish the skin cells. When mixed with other skin regenerating ingredients like aloe vera gel and geranium essential oil, you can achieve healthy glowing skin:
Healthy Skin Treatment: In a bowl, add 1 tbsp bentonite clay, 3 tsp water, 1 tsp aloe vera gel and 2 drops geranium essential oil. Apply onto a clean face, avoiding the eyes, then rinse off with warm water after 7 minutes. Pat dry and moisturize your glowing skin!
9. Reduces Blemishes & Dark Spots
Yup! Regular use of a bentonite clay face mask helps reduce blemishes, dark spots, scars and discolored skn. It lifts off the dark dead cells on the blemishes, revealing new healthy skin underneath.
Blemish Reducing Face Mask: Combine 1 tbsp bentonite clay, 1 tsp lemon juice and enough milk to form an easily spreadable paste. Apply this on your face and neck 10 minutes before a shower, avoiding the eye area. Rinse off in the shower with tepid water. Do this at least once a week!
10. Treats Eczema, Psoriasis and Rosacea
If you've got eczema, psoriasis or rosacea, you can use bentonite clay for relief. Make a simple paste using bentonite clay and rose water then apply it for 5 minutes to soothe and heal your skin. You can also add 1 cup of bentonite clay into a warm bath for full body healing.
11. Nourishes Skin Cells
Bentonite clay is full of minerals including calcium, magnesium, silica, sodium, copper, iron and potassium. These help nourish skin when the clay is taken internally and when it's applied externally! Nourished skin cells make skin look healthy, hydrated and supple on the outside.
12. Firms & Tightens Mature Skin
When you apply a bentonite clay paste on your skin, you'll notice a skin tightening effect which will leave your skin firm! This helps promote tighter, firmer and younger looking skin! Try this Bentonite Clay & Yogurt Face Mask

Hope you learned from the above 12 benefits of bentonite clay for skin! Enjoy this amazing healing clay!