This a bentonite clay yogurt mask for your skin! Please check out the bentonite clay yogurt mask for hair HERE.
Benefits of Bentonite Clay for Skin
Harvested only in some regions of the world, bentonite clay is a by-product of volcanic ash. It is a unique substance because it has extremely negatively charged ions and is highly alkaline in nature.
Being so alkaline, bentonite clay has powerful detoxification properties. It pulls out toxins from deep within the pores by attracting them with its strong negative charge.
Some of the other ways bentonite clay can help give your skin new life include:
Gentle exfoliation
Acne removal
Lightening and brightening of skin
Smoothes out rough and dry skin
Relieves skin rashes, allergies and irritation
Treats hyperpigmentation
Reduces dark spots, blemishes and age spots
Scar removal
And more!
How Can Yogurt Help Your Skin?
Yogurt is rich in so many nutrients, vitamins and minerals that can work wonders for your skin. It's rich in lactic acid, which helps gently exfoliate your skin, lighten your complexion and brighten your skin by removing dead cells.
Yogurt is also high in good fats, which act as an amazing moisturizer for the skin. The protein in yogurt also helps boost collagen production in the skin, making your skin more supple and younger-looking!
How to Make Bentonite Clay Yogurt Mask
Here's how to go about making your own facial bentonite clay yogurt mask at home!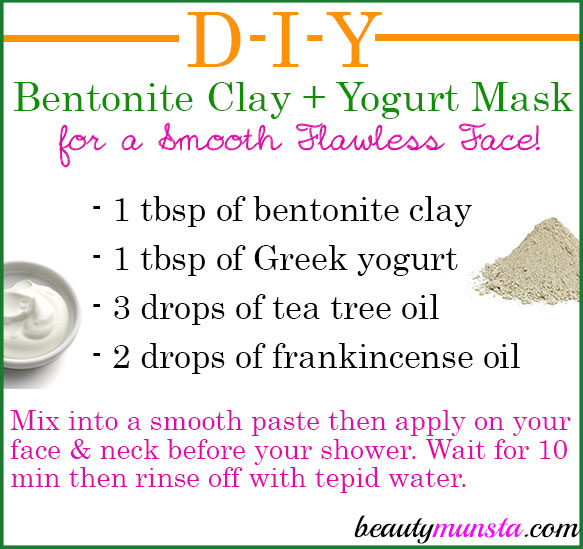 Ingredients:
Directions:
In a small non-reactive bowl, mix all your ingredients together. Use a non-reactive spoon to mix the ingredients. By non-reactive, I mean that you can use plastic, wood or glass dishes. Stay away from metal dishes because it is reactive. Metal will weaken the effect of bentonite clay.
Now apply the mask smoothly onto freshly washed skin. Apply a thin even layer.
Wash off after 10 minutes, with a gentle sulphate-free cleanser.
Tips
Not all bentonite clays are created equal! The way in which these clays are harvested play a crucial role to their quality. Since the clays lose their power when they come into contact with metal, it is important you choose a company that uses non-reactive equipment to extract and handle the clays. That's why I always prefer using THIS clay.
Essential oils are optional but I recommend you add them for extra skin benefits! Some of the best essential oils for the skin include: lavender, helichrysum, chamomile, myrrh, rose otto and geranium. Feel free to use the one you have available!
As for yogurt, you can use any yogurt you have available. Be it Greek yogurt or the more standard, runnier yogurt, both will work. If you are going to use store-bought yogurt, make sure you buy plain, unflavored yogurt for the purposes of facial treatment!

Have you tried this bentonite clay yogurt mask? Please share your review in the comments below!