This a bentonite clay yogurt mask for your hair! Please check out the bentonite clay yogurt mask for skin HERE.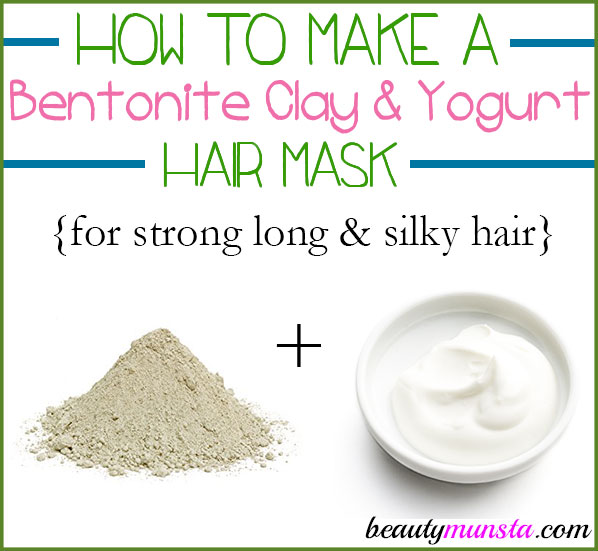 Bentonite Clay Is Amazing for Hair!
If you haven't heard of bentonite clay, you are missing out on so much! Bentonite clay is so amazing hair, and here are just some of the benefits it offers:
Detoxifies the hair
Removes product buildup
Rids hair and scalp of chemical buildup
Softens the hair
Prevents tangling
Tames frizzy hair
Treats scalp acne, scalp psoriasis and others
Treats dandruff
Deodorizes the scalp and removes foul odors in the hair/scalp
And more!
How Can Yogurt Help Hair?
Now yogurt is also an amazing ingredient that you can apply on your hair. Yes, ON your hair. You might think it's going to be stinky, it won't! In fact yogurt will help remove scalp odor, too! Some of the benefits of yogurt for the hair include:
Moisturizes the hair
Nourishes the hair with vitamins and minerals
Deodorizes the scalp
Makes hair silky and shine
Smoothens frizzy hair
Cleanses the scalp and fosters follicle growth
Gently exfoliates the scalp
Clears scalp acne/pimples on the scalp
Encourages hair growth
And more!
If at all you think you'll be put off by the smell of yogurt on your hair, you can always scent it naturally with hair-loving essential oils. Some of the essential oils you can use are:
Not only will these essential oils make your hair so fragrant and lovely-smelling, they will also prevent hair fall, encourages hair growth, prevents hair graying and prevents hair breakage.
Ingredients:
Directions:
In a medium-sized plastic bowl (use any non-reactive bowl) place the bentonite clay in first.
Then add in the rose water and yogurt and whisk it with a spoon or fork.
Finally add the essential oils.
How to Apply Your Bentonite Clay Yogurt Mask
It's best to apply this hair mask while standing over the sink in your bathroom.
Another thing that makes application of this hair mask easier is to apply it on damp hair. To dampen your hair, simply mist it with a spray filled with clean water.
Use a brush or simply your finger tips to systematically apply it all over your scalp.
After applying it on your scalp, now apply it carefully down the strands of your hair.
Allow the mask to work its magic for at least 15 minutes.
Wash off with warm water and once all the mask is washed off, you can continue using shampoo as usual. Preferably use a sulfate-free shampoo + conditioner. For me, I quit shampooing many years ago so I just use plain water to wash my hair after using the bentonite clay mask.
Make sure to moisturize your hair once you're done!
Remember, you can make this bentonite clay yogurt mask more moisturizing for dry hair by adding 1 tbsp of coconut oil or olive oil! Store the excess mixture in the refrigerator for future use!